On Wednesday's episode of "The View," outspoken co-host Joy Behar found herself coming to the defense of an unlikely presidential candidate: Carly Fiorina.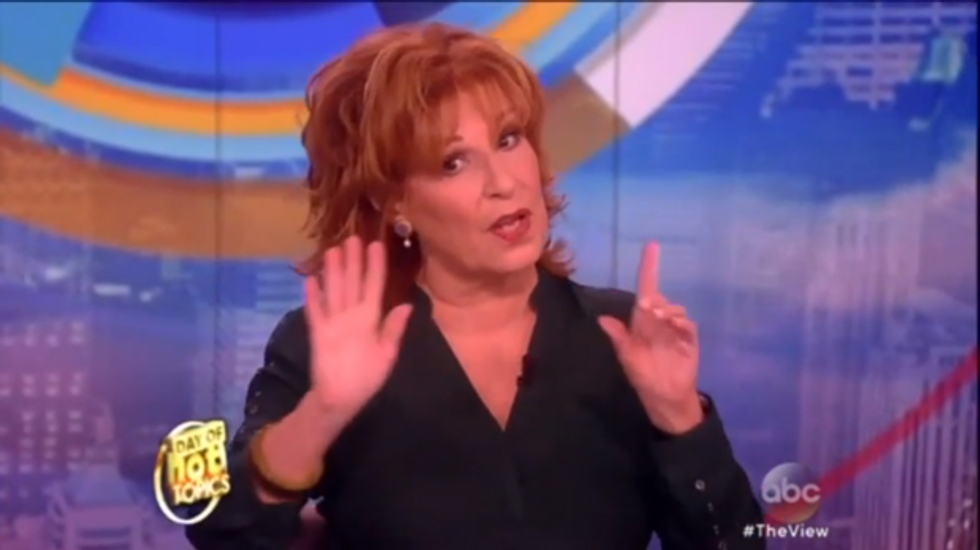 Co-host Joy Behar on "The View" Wednesday, Nov. 11. (Image source: MRCTV screenshot)
Behar's comments came during a discussion about Democratic presidential frontrunner Hillary Clinton's reaction when a supporter said he wants to "strangle" GOP presidential candidate Carly Fiorina every time he sees her on television.
In response to the questioner's comment, Clinton, a declared feminist, laughed and then said, "I wouldn't mess with you."
After a few minutes of discussion on the issue, Behar jumped in, telling her show co-hosts to be "fair."
"Let's be fair," Behar said. "If somebody had said that to Donald Trump and he had laughed, we would be ripping him a new one and she did not — she should have stood up to him. I'm sorry, I have to say that."
Earlier in the segment, co-host Paula Faris said, "We held Carly Fiorina to a certain standard and expected her to stop that voter in his or her tracks ... I think every politician, especially, we're talking about violence against a woman. We're talking about strangling a woman here. You're talking about strangling a woman."
In agreement with Behar's comments, Faris said Clinton needs to stand up for the "only other female" in the presidential election cycle.
Watch the exchange below:
(H/T: Newsbusters)
—
Follow Tré Goins-Phillips (@tregp) on Twitter