While the field of 2016 presidential candidates is vast in both size and philosophical differences, the majority of them have one thing in common — how they get around.
According to an analysis of Federal Election Commission third-quarter reports by TheBlaze, most of the presidential candidates — Republican and Democrat — use the ride-sharing company Uber to get around while on the campaign trail.
However, GOP candidate and former Florida Gov. Jeb Bush seems to blow the other candidates out of the water when it comes to the amount of money dropped on transportation. According to third-quarter filings, his campaign spent $7,040.50 on Uber, as well as $2606.28 on companies with the word "taxi" in them and $997.36 on companies with the word "cab" in them. For Bush, whose campaign has been under pressure from donors and recently cut staffers' pay, that's a grand total of $10,644.14.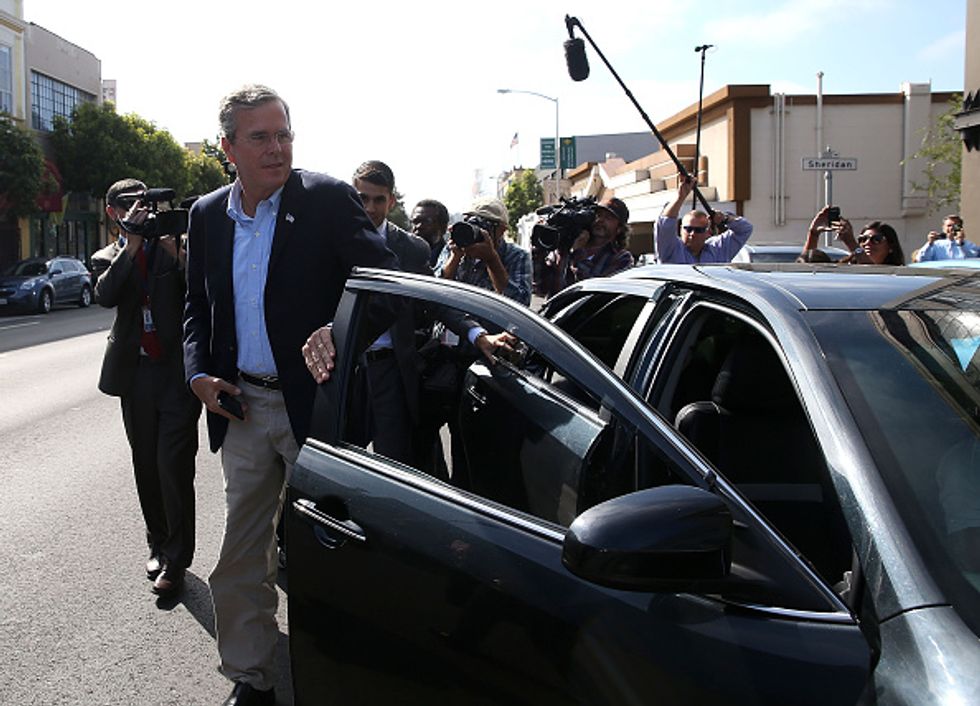 Republican presidential candidate former Florida Gov. Jeb Bush gets out of an Uber car as he arrives at Thumbtack July 16 in San Francisco. (Justin Sullivan/Getty Images)
"If Miami would loosen their big-government, Hillary-supported taxi regulations, we would've spent even more," Tim Miller, a spokesman for Bush's campaign, told Business Insider of the campaign's excessive Uber spending in July after the first financial report was released.
Former Maryland Gov. Martin O'Malley dropped the most money on Uber this quarter, $3,373.81, among his fellow Democratic presidential contenders.
Sens. Marco Rubio (R-Fla.) and Rand Paul (R-Ky.) are also big customers of Uber, spending $5,220.60 and $4,627.20 respectfully.
Only four campaigns did not have any FEC listings for Uber, Lyft or taxi and cab companies: Gov. John Kasich (R-Ohio), Harvard professor Lawrence Lessig, former Pennsylvania Sen. Rick Santorum (R) and former Virginia Sen. Jim Webb (D), whose suspended his campaign last month.
Even though Sen. Bernie Sanders (I-Vt.) has said he has "serious problems" with the "unregulated" service provided by Uber, his campaign spent $615.89 in the third quarter on the ride-sharing business. His campaign did not have any filings for other ride-sharing, taxi or cab companies.
No presidential candidate had Lyft, Uber's competitor, listed on their third-quarter financial reports; however, Sen. Lindsey Graham (R-S.C.) did report spending $433.84 in the second quarter on Lyft.