Two men who are being described as white supremacists were planning to illegally purchase an automatic weapon, bombs and a pistol with a silencer for use against synagogues and black churches, according to the FBI.
The men — 34-year-old Robert C. Doyle and 33-year-old Ronald Beasley Chaney III — allegedly tried to purchase weapons from undercover FBI agents posing as weapons dealers prior to their arrests, the Associated Press reported.
Another man named Charles D. Halderman, 30, is also accused of plotting to rob an unnamed jeweler in an effort to get money to purchase the weapons that would be used by Doyle and Chaney.
An affidavit filed Monday in U.S. District Court in Richmond by FBI agent James R. Rudisill claims that Doyle and Chaney "ascribe to a white supremacy extremist version of the Asatru faith."
It's a religious construct that the AP describes as "a pagan sect that emphasizes Norse gods and traditions."
Agents became involved after learning that Doyle allegedly planned to hold a meeting at his home in September to discuss either bombing or shooting parishioners at black churches and Jewish synagogues, among other purported offenses.
Following that Sept. 27 meeting, an agent went undercover as a weapons seller to meet with both men.
While Chaney had his suspicions as to the identity of the faux buyer and was recorded saying, "It just sounds like, it sounds like ATF to me. It sounds like a ... fed operation," Doyle wasn't so skeptical, the Richmond Times-Dispatch reported.
Doyle proceeded to place an order anyway, reportedly meeting with three undercover agents on Sunday with cash on hand in an attempt to purchase the weapons; Doyle and Chaney men were subsequently arrested.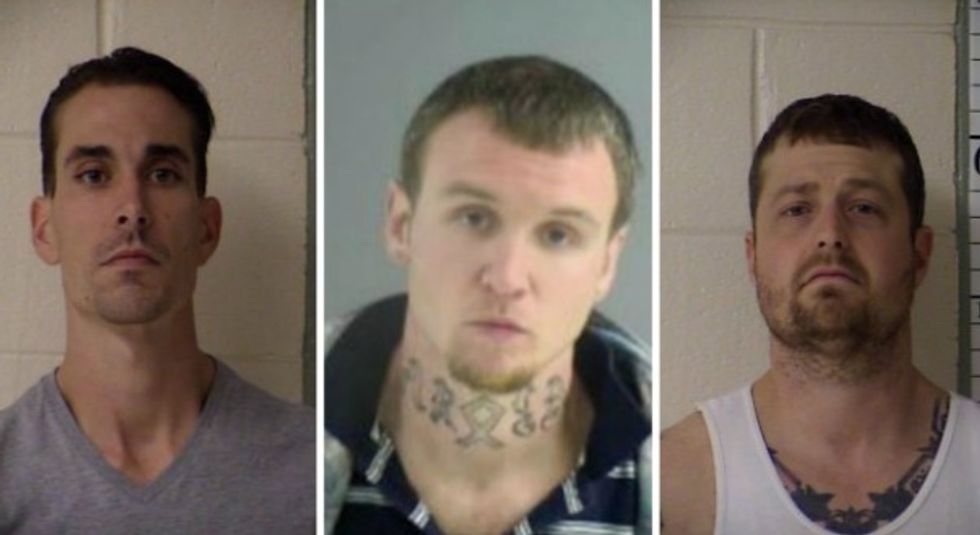 Left to right: Ronald Cheney, Charles Halderman and Robert Doyle (WKRN-TV/WRIC-TV)
Authorities later found 30 rounds of .45 caliber ammunition in Doyle's possession.
Doyle and Chaney will head to court on Tuesday, with Halderman going before a judge on Friday; all three face multiple felony convictions.
Additionally, 58-year-old Ronald Beasley Chaney Jr. — father of one of the accused — is also facing firearms and drug charges after a search warrant was issued for his home. Terry Gunn Chaney, 52, who is believed to be his wife, is also facing charges.
--
Follow the author of this story on Twitter and Facebook: