It was a worst nightmare for a couple on their way to the hospital, the wife experiencing labor pains, ready to give birth.
"We hit the red light at Starbucks, we hit the red light at Skyline, we hit the next red light," Jessica Kober of Sammamish, Washington, told KOMO-TV, setting the scene of what happened Wednesday.
Kober then told her husband, Ryan, to call 911.
"This baby's coming!" she said.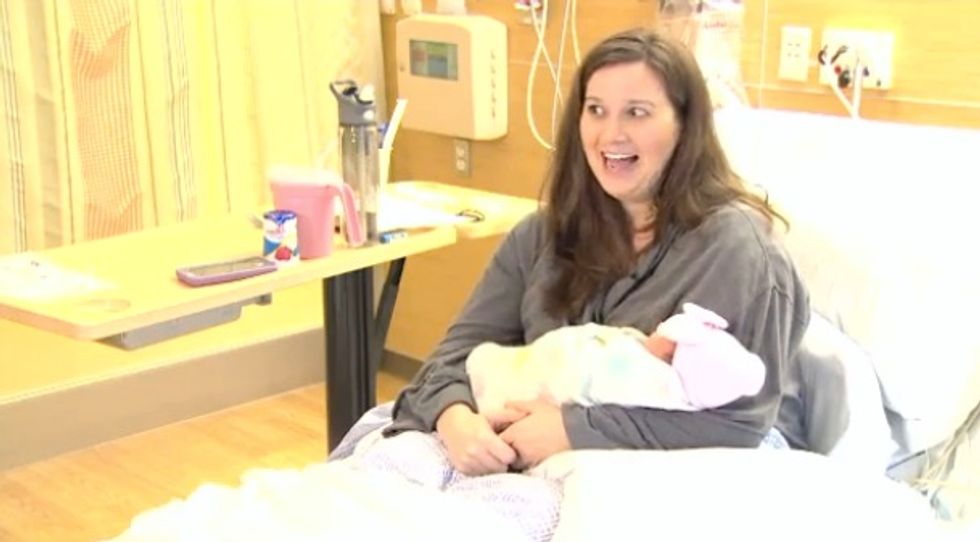 Jessica Kober knew she and her husband were not going to make it to the hospital in time, hitting every red light earlier this week. Instead, she just barely delivered at a local fire station. (Image source: KOMO-TV)
But that's also when she told the news station she remembered a fire station nearby.
"We heard a bunch of pounding on a bay door," Lt. Ryan Anderson with the Eastside Fire and Rescue Department station 83 told KOMO.
The first responders barely had time to get Kober on a stretcher before Melody Grace entered the world still in her amniotic sac as the mom's water had never broken, KOMO reported.
But the story doesn't end there. While Kober's husband had stopped at all the red lights on their attempt to reach the hospital before his child's birth, he wasn't so law-abiding as he followed the team in an ambulance rushing his wife to the hospital after the baby's birth.
"He got pulled over by a policeman for following too closely, speeding of course, and running all the red lights. He stuck his head out the window and was like 'that's my wife' and the policeman was like go ahead," Kober told the news station.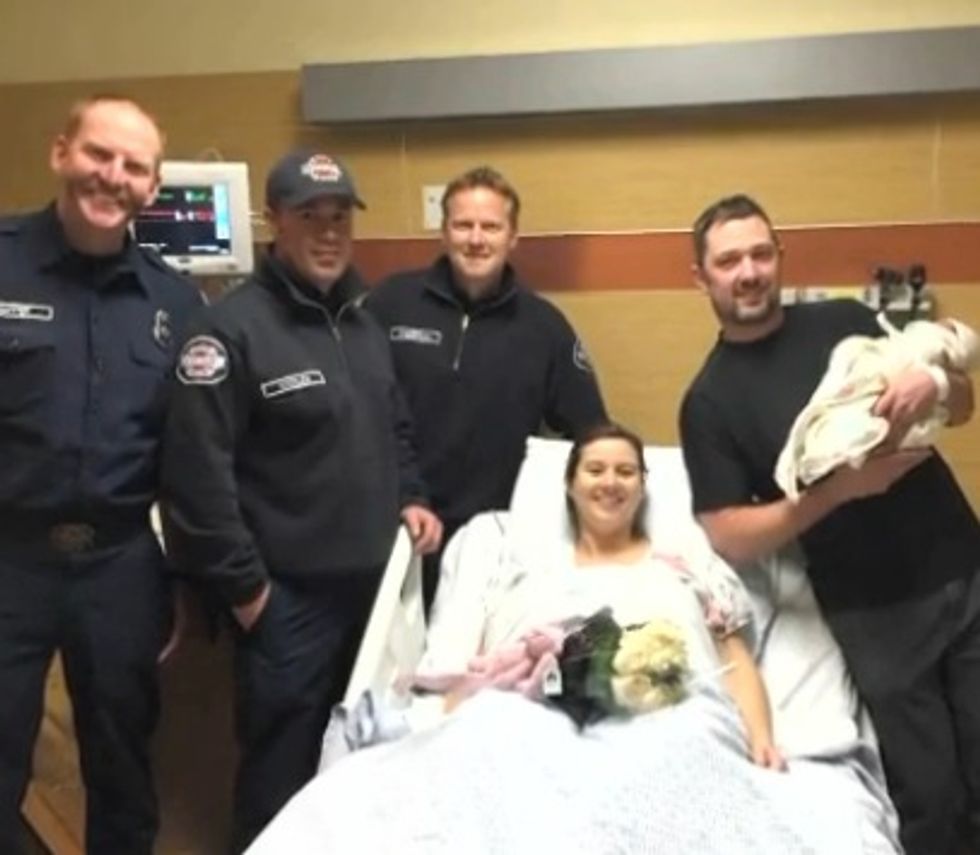 Image source: KOMO-TV
Once mother and baby were settled and doing well in the hospital, the firefighters who helped bring the baby safely into the world paid them a visit with congratulatory flowers.
"Station 83 A-Shift had a great surprise today by delivering a baby girl in the bay of their station after her parents could not make it to the hospital. Welcome to the world little one, what a great gift to be apart of," the fire station said on its Facebook page.
Watch KOMO's report: