A bit of drama unfolded during the feistier-than-usual Democratic presidential debate Saturday night when Vermont Sen. Bernie Sanders sharply criticized former Secretary of State Hillary Clinton's financial ties to Wall Street.
After Clinton discussed her plan for financial regulations, Sanders responded by saying, "Not good enough."
"Let's not be naive about it," he added. "Why over her political career has Wall Street been the major contributor to her campaign?"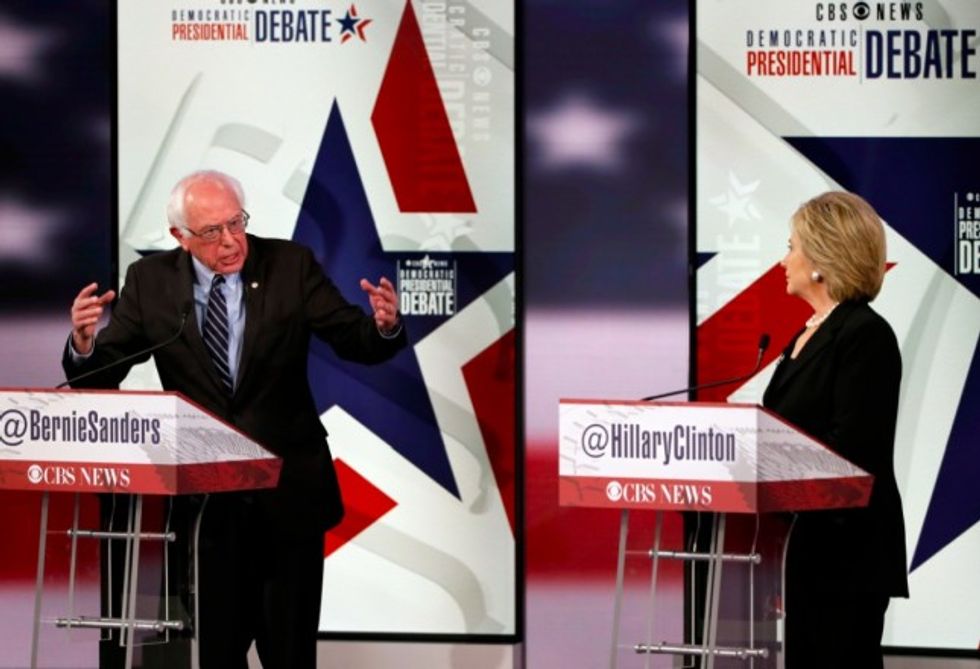 Bernie Sanders, left, makes a point as Hillary Clinton listens during a Democratic presidential primary debate, Saturday, Nov. 14, 2015, in Des Moines, Iowa. (AP Photo/Charlie Neibergall)
But Clinton — who seemed offended by Sanders' remarks — wasn't having it: "He has basically used his answer to impugn my integrity, let's be frank here."
And the room got even more uncomfortable with the rift when Clinton put up a hand and told her opponent to "wait a minute" after he tried interjecting.
She then invoked what she did in the aftermath of 9/11 as a U.S. senator from New York to help rebuild Manhattan's financial district.
"I did spend a whole lot of time and effort helping them rebuild," Clinton said, her voice growing louder. "That was good for New York, it was good for the economy and it was a way to rebuke the terrorists who had attacked out country."
While Clinton drew cheers from the audience, others reacted a bit differently:
This may be forever be known as the Clinton 9/11 debate.

— Zeke Miller (@ZekeJMiller) November 15, 2015
Folks, Hillary's earlier answer on Wall Street donations -- linking them to 9/11 -- was cray-cray... and will haunt

— Glenn Thrush (@GlennThrush) November 15, 2015
That 9/11 response is going to come back to haunt Clinton in the coming days. Not necessarily for the long run, but won't be met well in NY

— Maggie Haberman (@maggieNYT) November 15, 2015
Hillary Clinton seems to suggest that she gets Wall Street money because of 9/11.

— Matt Viser (@mviser) November 15, 2015
—
Follow Dave Urbanski (@DaveVUrbanski) on Twitter