Speaking about the terrorist attacks in Paris, President Barack Obama said that it is time the Muslim community step up and challenge the narrative of extremists claiming to represent their religion.
"I do think that Muslims around the world — religious leaders, political leaders, ordinary people — have to ask very serious questions about how did these extremist ideologies take root," Obama said Monday during a press conference to wrap up the G20 conference in Turkey. "Even if it is only affecting a very small fraction of the population, it is real and it is dangerous and it has built up over time — and with social media it is now accelerating."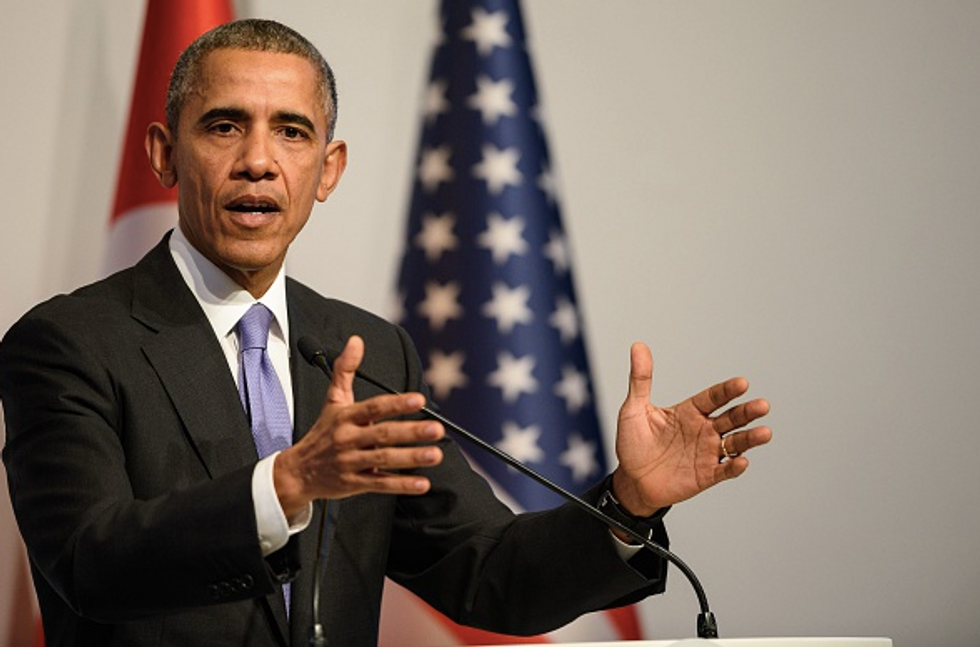 President Barack Obama gestures during a press conference following the G-20 summit in Antalya Monday. (Ozan Kose/AFP/Getty Images)
Obama, speaking in a predominantly Muslim country, was very clear that most Muslims are not violent extremists — a message he has delivered repeatedly during his administration. But he has rarely criticized the peaceful Muslim community for failing to speak out.
"On one hand, non-Muslims cannot stereotype, but I also think the Muslim community has to think about how we make sure that children are not being infected with this twisted notion that somehow they can kill innocent people and that that is justified by religion," Obama continued. "To some degree, that is something that has to come from within the Muslim community itself, and I think there have been times where there has not been enough pushback against extremism."
The president said the pushback often is only Muslim leaders saying they don't believe in violence rather than excoriating those who do.
"There are some who say, 'Well, we don't believe in violence,' but are not as willing to challenge some of the extremist thoughts or rationales for why Muslims feel oppressed," Obama said. "And I think those ideas have to be challenged."
He also told reporters, "To the degree that anyone would equate the terrible actions that took place in Paris with the views of Islam, those kinds of stereotypes are counterproductive, they're wrong."
"They will lead, I think, to greater recruitment into terrorist organizations over time if this becomes somehow defined as a 'Muslim problem' as opposed to a 'terrorist problem,'" Obama added.