Rep. Peter King (R-N.Y) confronted MSNBC co-host Mika Brzezinski when she claimed that the U.S. government is "vetting" Syrian refugees before they are allowed to settle in the country.
King argued there are "no databases to work against" and "no government records" to ensure "thorough vetting" takes place. The Republican's claim, he said, is based on his high-level sources within the government.
"Hold on one second," Brzezinski interrupted. There is vetting. There are face-to-face interviews, there are health screenings, often it takes two years for a family to get here."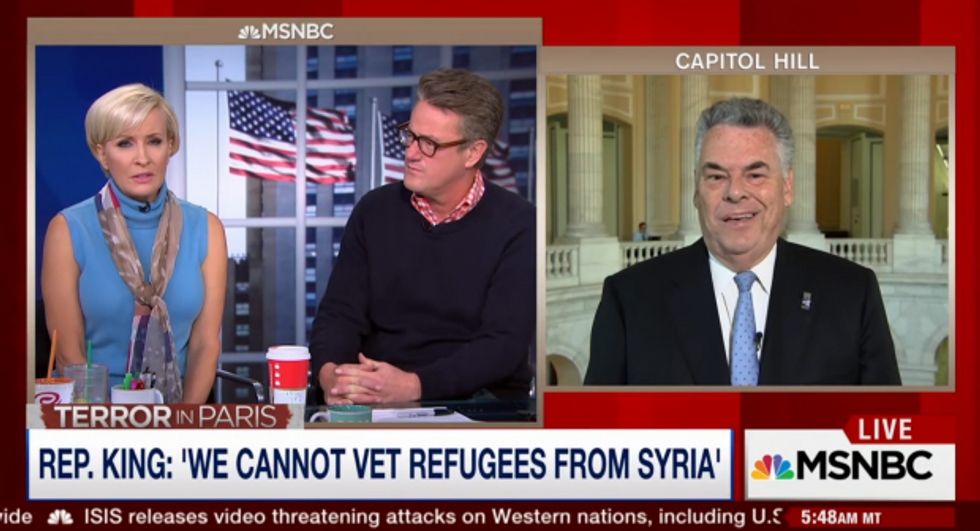 MSNBC
King bluntly told the co-host she was "entirely wrong."
"Actually sir, I think you're wrong," Brzezinski replied. "The vetting is happening, whether you like it or not."
"It is not a real vetting…you are wrong, Mika. You are 1000 percent wrong. W-R-O-N-G," King said, adding that his sources at the highest levels of government are not confident in the current system to vet Syrian refugees.
Watch the exchange via MSNBC below:
(H/T: Mediaite)
---