The deer never really stood a chance.
And yet, the four-point buck Nickolas Melville and other hikers came across in Rancho San Antonio Preserve in Los Altos, California, earlier this month endured a 15-minute battle with a mountain lion before giving in to his demise.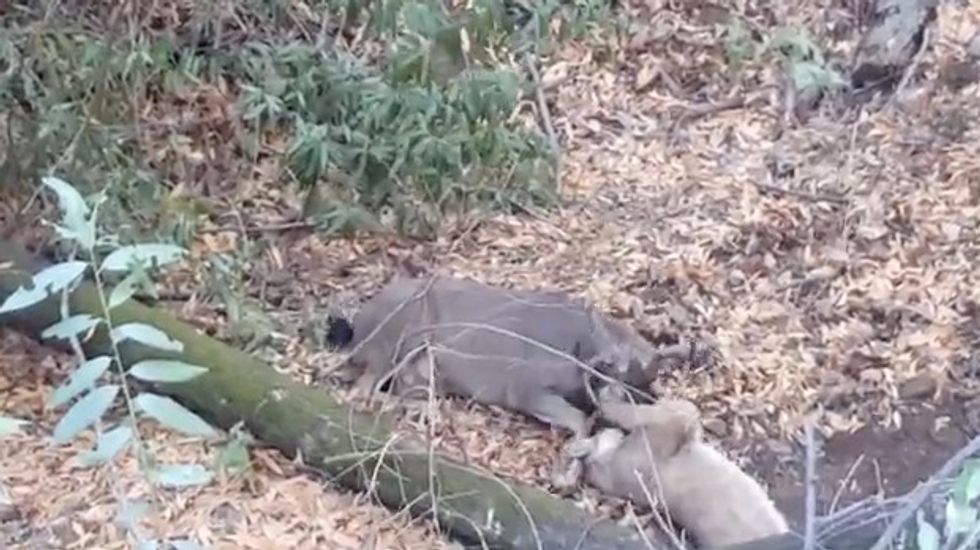 A four-point buck tried to defend himself from a mountain lion but ultimately became exhausted and gave up. (Image source: YouTube)
When Melville came across the struggle, three other hikers were already on the scene. At that point, the mountain lion had the buck by the mouth in what Melville described on YouTube as "almost a lovers' kiss."
Here's some footage from about halfway through the attack:
Eventually though, exhausted, the buck gave up and "finally the mountain lion goes for the throat."
Watch the final moments (Content warning: this video contains imagery that might be considered too graphic for some):
On Facebook, Melville said when the mountain lion then "took interest in us," they contacted the park rangers and remained near the scene to warn other people on the trail.
"I stopped at least [three] people from stumbling on the big cat who seemed worried we would take his kill... eventually the Rangers shut down the trail and I left to file a report at the Ranger Station," Melville wrote.
Melville told KPIX-TV he was "flabbergasted" by the scene.
Senior park ranger Chris Barresi told the news station they don't recommend people stand by and film such scenes because the big cat could turn on bystanders if feeling threatened.
In a comment on YouTube even Melville said sticking around was "a stupid decision that was dangerous for me... but seemed the right decision if another hike ended up getting attacked because I left."
Watch the news station's report: