At Detroit's Mackenzie Elementary-Middle School, one science classroom was turned into a wrestling ring.
This fight was not the usual fisticuffs between the stereotypical duo of disagreeing teenagers. Instead, this brawl happened between a female student and her teacher.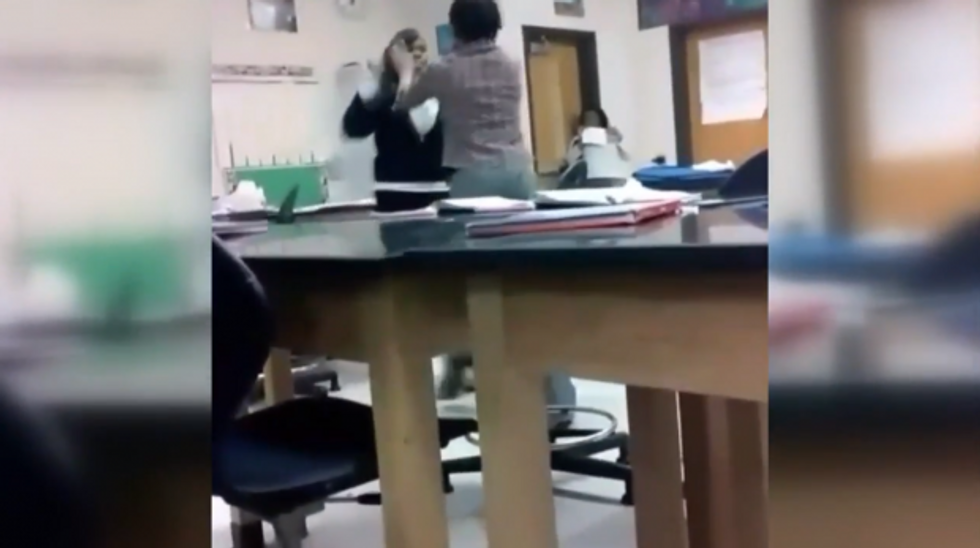 Image source: WJKB-TV
According to WJBK-TV, the teacher, Ms. Burns, got upset because students were throwing paper at her. But when a student allegedly called Burns a "bitch," the teacher lost control.
Burns believed that student to be seventh-grader Diamonique Singleton, despite Singleton's denial that she ever called the teacher any name.
"That's when she got in front of me, saying I'm a 'b,' and she started calling me 'b,'" Singleton told WJBK, "and I said, 'No, I didn't even say that.' She was like, 'OK, "b," you got me "f'd" up.'"
Singleton said she tried to walk away from the angry teacher, but the teacher allegedly refused and then pushed her. That's when the fight ensued.
Ivy Bailey, a representative for the Detroit teachers' union, called the situation "disheartening" but said that teachers in the school system are under immense stress.
"It was a little disheartening to see that," Bailey told WJBK. "These people are at a breaking point. And with all this uncertainty about whether they're going to have a job next year. ... There's just a lot going on, a lot of stress."
In comments to WJBK, a spokesperson for Detroit Public Schools said the situation was "unfortunate" and "disturbing." The school system said they are conducting a thorough investigation into the matter.
Singleton was suspended from school following the fight and is even facing potential expulsion. Ms. Burns, on the other hand, is still on the job pending the conclusion of the DPS investigation.
—
Follow the author of this story on Twitter and Facebook:
[facebook //www.facebook.com/plugins/like.php?href=