Gunfire was exchanged and explosions were heard early Wednesday morning in a Paris suburb as police conducted an anti-terror raid targeting Abdelhamid Abaaoud, the suspected mastermind behind Friday's terror attacks.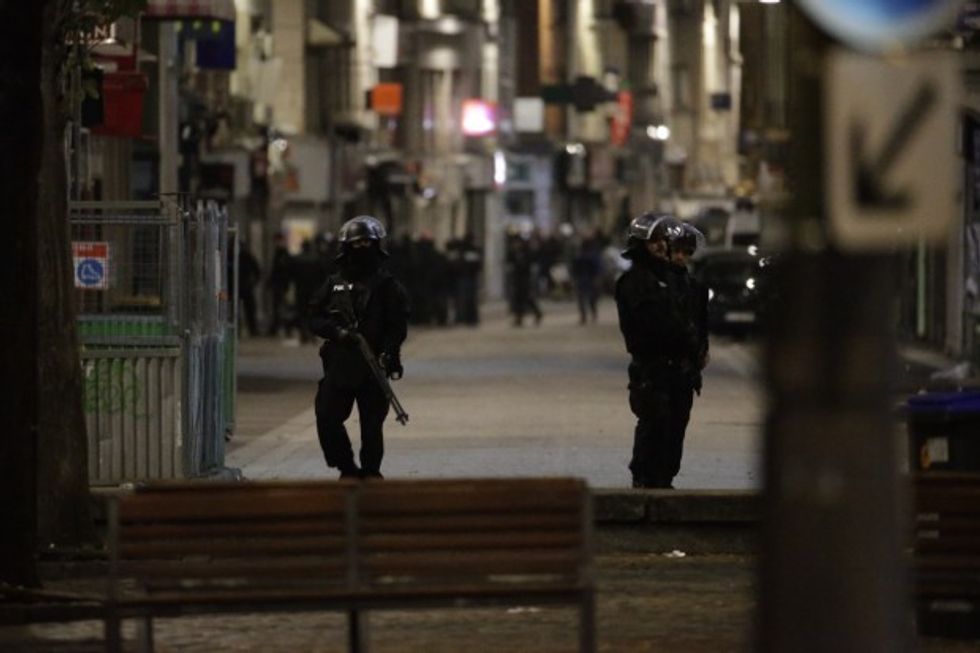 KENZO TRIBOUILLARD/AFP/Getty Images
The Associated Press reported that two were killed, including a woman who detonated a suicide vest. Five police officers were said to have suffered minor injuries and a police dog was reportedly killed.
French authorities confirm a police dog was killed in raid in St Denis this morning. 4 police officers injured. Ongoing operation #Paris

— Gavin Lee (@Gavin Lee)1447837100.0
Britain's Guardian newspaper and the BBC, quoting French police, reported that the second person killed during the police operation was shot dead by a police sniper. Unnamed police sources told the Guardian that the man was wanted in connection with Friday's terrorist attacks.
The Associated Press, quoting French security sources, reported that seven had been arrested during the raid on an apartment building Wednesday.
Latest on Paris attacks: Police say 7 people so far arrested in Paris standoff https://t.co/UQvKIaJ6kS

— The Associated Press (@AP) November 18, 2015
A senior police official and the Paris prosecutor's office said the individuals were arrested in the building in the Saint-Denis suburb north of Paris, the AP reported; however they did not name those detained.
Police operated under the assumption that an individual connected with Friday's terrorist attacks was holed up in an apartment.
Roads near the area had been blocked off. Video captured the exchange of heavy gunfire early in the morning.
Fusillade saint denis centre. 4h30 du matin https://t.co/cxRGQhgZAi

— Pierre-Marie Fenech (@Pierre-Marie Fenech)1447818384.0
Explosions later rang out and were captured on live television.
Residents of the Paris suburb told media outlets they heard another loud bang around the time news of the latest arrests emerged.
French government spokesman Stephane Le Foll said shortly before 6:00 a.m. ET that the police operation in the northern Paris suburb ended after seven hours.
"The operation is over," the spokesman told reporters in Paris, the AP reported.
After the operation ended, Paris prosecutor Francois Molins said the fate of the suspected mastermind targeted by the police raid was still unclear and that authorities were still trying to determine who was inside.
The AP quoted Molins telling reporters that police focused on an apartment they thought might be serving as a safe house for Abaaoud, the Belgian Islamic State fighter.
The information leading to that particular building was gathered form tapped phone calls, surveillance and witness reports, the prosecutor said.
Police had said they were searching for two individuals wanted in relation to Friday's attacks in the French capital which killed at least 129 and left scores more injured.
This story has been updated with new information. Last update: 6:45 a.m. ET.
—
Follow the author of this story on Twitter and Facebook: