WASHINGTON (TheBlaze/AP) -- House Republicans are outlining legislation aimed at increasing screenings for Syrian and Iraqi refugees before they enter the United States, including a requirement for FBI background checks.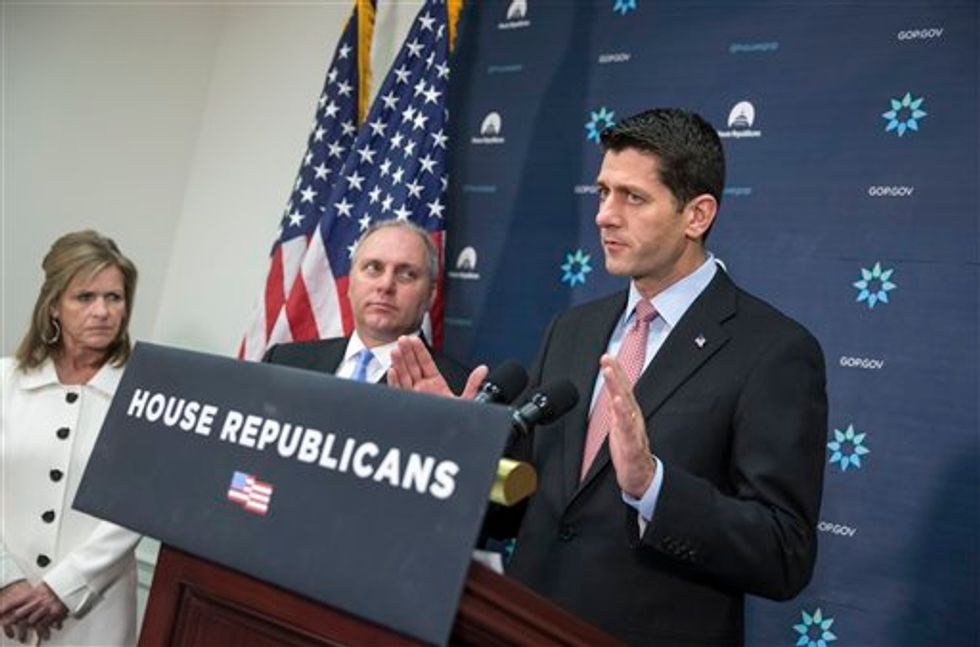 House Speaker Paul Ryan of Wis., joined by House Majority Whip Steve Scalise of La., center, and Rep. Lynn Jenkins, R-Kansas, meets with reporters on Capitol Hill in Washington, Tuesday, Nov. 17, 2015, following a GOP strategy session. Calling this a "moment where it's better to be safe than to be sorry," Ryan said there should be a "pause" in Syrian refugees coming to the U.S. in the wake of the Paris attacks, and has assembled a task force to bring legislation to a vote as soon as this week. (AP Photo/J. Scott Applewhite)
But Democrats say the changes would amount to shutting down the nation's refugee program. They are accusing Republicans of turning their backs on victims fleeing the horrors of Islamic State terrorists.
"Our nation has always been welcoming, but we cannot let terrorists take advantage of our compassion," House Speaker Paul Ryan said, Real Clear Politics reported. "This is a moment where it's better to be safe than to be sorry, so we think the prudent, the responsible thing is take a pause in this particular aspect of the refugee program in order to verify that terrorists are not trying to infiltrate the refugee population."
"We will not have a religious test, only a security test," Ryan added, Reuters reported.
Not all Republicans are supporting the bill, however. Some conservatives, for example, say it doesn't go far enough.
Nonetheless the bill looks likely to pass when it comes to the House floor on Thursday.
Republican leaders say it's important to act quickly in response to the terror attacks in Paris. They say they've tried to strike a balance in the bill, noting it would not limit refugees based on their religion.