In his first year teaching his special education class, Chris Ulmer had a theme for each school day.
But one of those days — "Toast Tuesday" — stood out from the rest.
When that day came each week, Ulmer's took time to spend a few moments complimenting each of his students in front of the whole class at Mainspring Academy in Jacksonville, Florida.
"I noticed the kids were always more motivated, happier and better behaved on Tuesdays," he told ABC News. "So we started doing it every day."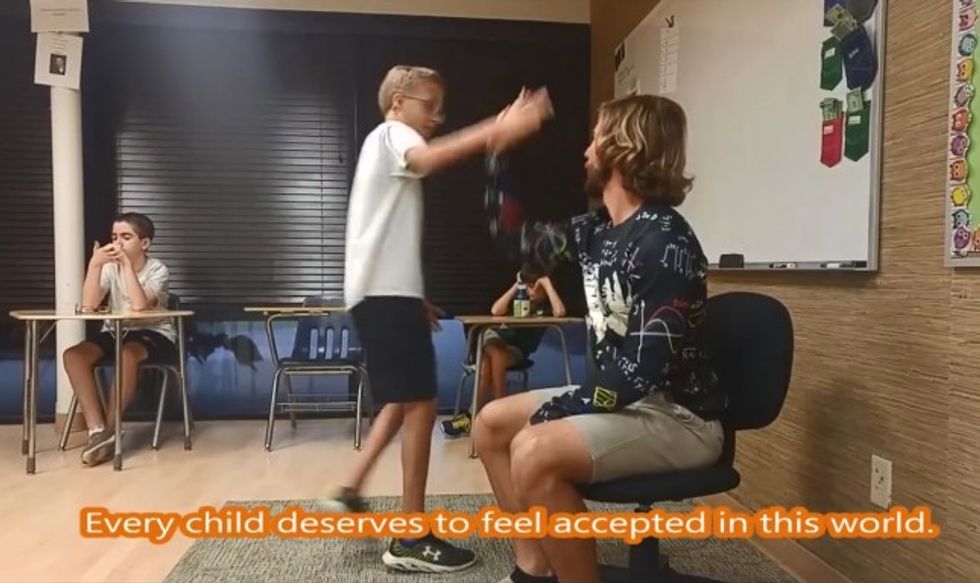 Image source: YouTube
Students would take turns walking up to Ulmer and standing right in front of him as he praised them.
"I love having you in my class," he told one student in a now-viral video. "I think you're very funny. I think you're amazing. I think you are brilliant. I think everyone in here loves you. Great job!" Each brief chat ended with a high-five.
Three years after the experiment commenced, Ulmer said the response from his students — whose disabilities range from autism to traumatic brain injury — have been amazing.
"They all came from a segregated environment [apart from general education students]," he told ABC. "Now they're participating in school activities, dancing in front of hundreds of other kids and in the debate club."
"The children have become much more social, and their communication skills have grown incredibly, both verbal and nonverbal," Ulmer told the Mighty.
In fact, after only a handful of weeks, Ulmer noticed students complimenting each other.
"They praise each other for accomplishments as if it was their own," he noted in the video caption. "They never insult one another and actively work towards helping each other."
Ulmer said he's been posting videos with parental permission about every day, but the one he posted to Facebook Sunday — which he told ABC News he "spent about 10 minutes editing" — caught on. It's been viewed more than 1 million times.
"I actually didn't think a whole lot about this one before posting it," the bearded 26-year-old told the network. "It's just something we do."
Ulmer created his Facebook page, Special Books by Special Kids, as part of his efforts to get a book published about his students, which includes each of their stories "collaboratively" told by students, parents and Ulmer.
His simple preface for his viral clip? "Children learn to love or hate at an early age. I think it's time we actively work towards teaching love and acceptance."
(H/T: Mad World News)
—
Follow Dave Urbanski (@DaveVUrbanski) on Twitter