Kris Paronto, one of the CIA operatives who responded to the attacks on the United States consulate in Benghazi, says it would be "impossible" to vet 10,000 Syrian refugees.
Paronto made his comments Wednesday night during an event in Richmond, Virginia, where he and two fellow operatives spoke about their book, "13 Hours: The Inside Account of What Really Happened in Benghazi."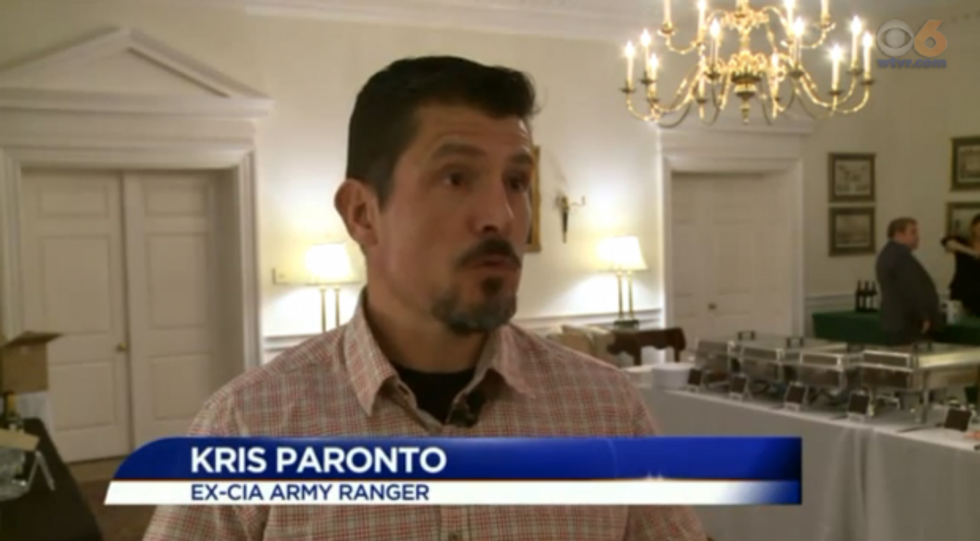 Image source: WTVR-TV
"They're coming in from a country that doesn't have an infrastructure to get background information," Paronto told WTVR-TV. "No, it's impossible."
"If there's a good vetting process to get them in? Sure," he added. "The government's got to come on TV and tell you what the vetting process is. Not come in and say, 'We've got a good vetting process.'"
Paronto also invoked the "warm-hearted" American spirit, saying that radical Muslims know how to "play that."
"They know how to play the hearts and minds game," he continued.
"The radical Muslims, they are very good at what they do," Paronto concluded. "They know what their strengths are, and that is blending, blending in with the local Muslims. And winning the hearts and minds of us Westerners."
Paronto and his two counterparts, Mark Geist and John Tiegen, currently tour the country discussing Islamic radicalism and their book. The book has since been turned into a featured film, which will be released in January 2016.
In a tweet to TheBlaze, Paronto wanted to emphasize that his comments are not "political," but rather they are "logistical." He also urged the government to make the public aware of their plan.
Editors note: This article has been updated to reflect comments Paronto sent to TheBlaze.
—
Follow the author of this story on Twitter and Facebook:
[facebook //www.facebook.com/plugins/like.php?href=