Alonza Gonzalez was pulled over by a police officer in Rosenberg, Texas, in August for a seemingly minor traffic violation — but the interaction ended with the man in handcuffs. Newly released dash cam video, obtained by Gonzalez through a public records request, provides new context on the incident.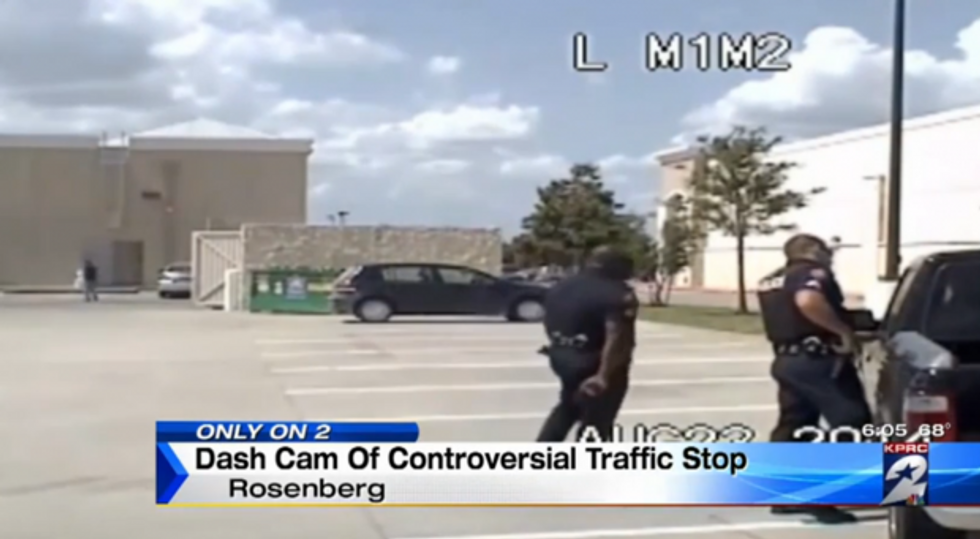 KPRC-TV
Gonzalez claims he was unfairly targeted because he was carrying a gun.
The traffic stop began routine enough. Rosenberg officer Sgt. Anthony Schnacky asked Gonzalez for his license and insurance.
"Yeah, what's the reason you stopped me?" Gonzalez asked.
"I'll tell you in just a minute," the officer replied.
But when Gonzalez informed Sgt. Schnacky that he was legally carrying a concealed firearm, the tone of the situation shifted dramatically.
The officer called for backup and they both approached the driver's window — one of them with his gun drawn. Schnacky ordered Gonzalez to put his hands on the steering wheel and "step out of the truck" with his hands on the back of his head.
Gonzalez was then handcuffed and arrested. When he asked the officer why he was being arrested, Schnacky replied, "For your traffic violations."
video platformvideo managementvideo solutionsvideo player
"Just because I have a handgun on me and a license to carry should not be a big deal, but that is what made it the turning point," Gonzalez told KPRC-TV, adding that he would have likely received a citation and set free if he wasn't armed at the time.
The dash cam footage aired by KPRC-TV is heavily edited and doesn't include the entire interaction that occurred prior to the man's arrest. Schnacky also told the backup officer that Gonzalez was being uncooperative, according to the news station.
The Rosenberg Police Department has reportedly determined the officers didn't violate any police procedures.
---