Rep. Trey Gowdy (R-S.C.) responded to President Barack Obama's mocking assertion that caution from Republicans over accepting thousands of Syrian refugees is about being "scared of widows and orphans."
"The president says we are scared of widows and orphans," Gowdy, the chairman of the House Judiciary Subcommittee on Immigration and Border Security, said Thursday at a hearing on the Syrian refugees. "With all due respect to him, what I'm really afraid of is a foreign policy that creates more widows and orphans."
"So maybe where he ought to start is a foreign policy in the Middle East and Syria where people can go back to their homelands, which is their preference," Gowdy continued. "Maybe you ought to defeat that JV team you thought you had contained. That would be the very best thing you could do to help people aspire to a better life."
In the Philippines this week, Obama said that some politicians seem to be inconsistent when they talk tough about the Islamic State or Russian President Vladimir Putin.
"By the way, these are the same folks oftentimes who suggest that they're so tough that just talking to Putin or staring down ISIL, or using some additional rhetoric somehow is going to solve the problems out there, but apparently, they're scared of widows and orphans coming into the United States of America as part of our tradition of compassion," Obama said. "First, they were worried about the press being too tough on them during debates. Now they're worried about three-year-old orphans."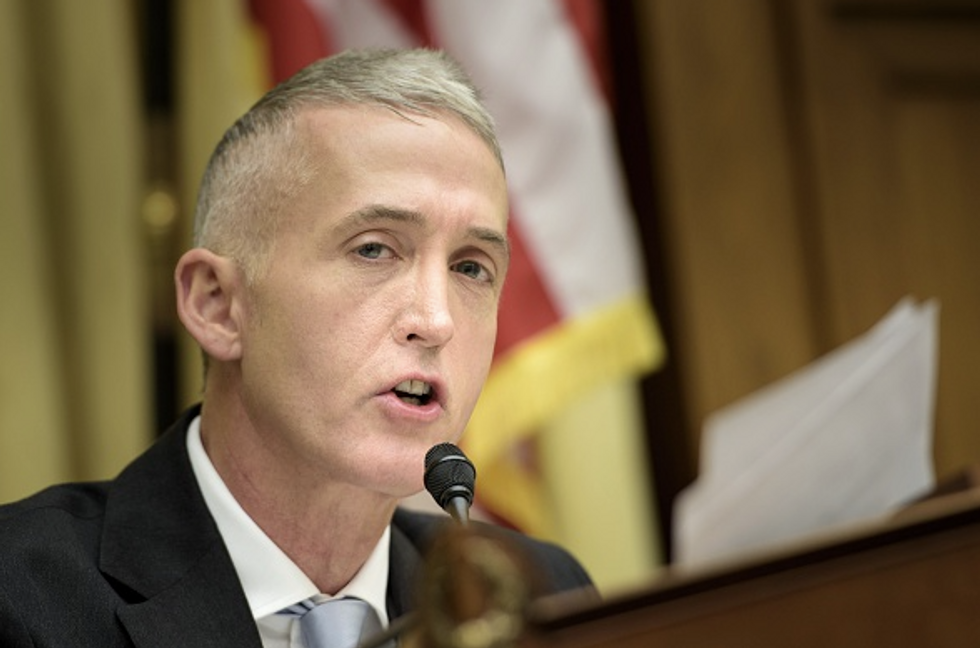 Subcommittee chairman Rep. Trey Gowdy (R-SC) speaks during a hearing of the House Immigration and Border Security Subcommittee hearing on Capitol Hill November 19, 2015 in Washington, DC. The subcommittee held the hearing about security checks on refugees in light of the recent Paris terrorist attacks.  (BRENDAN SMIALOWSKI/AFP/Getty Images)
During the House hearing, Anne C. Richard, assistant secretary of state for the bureau of population, refugees, and migration, told the subcommittee that only about 1 percent of the Syrian refugees are single, young males, which are the most likely demographic for terrorists.
"I know the murderous attacks in Paris last Friday evening have raised many questions about the spillover of not just migrants to Europe but also the spread of violence from not only the streets of the Middle East but to the streets of a major European capital," Richard said. Further, she said the vetting process takes 18 to 24 months.
"Let me assure you that the State Department that I represent and the entire executive branch has the safety of Americans as our highest priority," Richard continued. "As an essential, fundamental part of the U.S. refugee admissions program, we screen applicants rigorously and carefully in an effort to ensure no one who poses a threat to the safety and security of Americans is able to enter our country."
The problem is, Gowdy said, that FBI Director James Comey and CIA Director John Brennan have said the data the administration has is incomplete.
"The head of our own FBI said the concern in Syria, the lack of our foot print on the ground in Syria, that the data bases won't have the information we need. So it's not that we don't have a process. We don't have any information," Gowdy said.
"Another administration official said, I wouldn't put it past ISIS to infiltrate operatives among refugees. So that's a huge concern of ours," Gowdy said. "Those are not the words of some GOP presidential hopeful. Those are the words of our very own intelligence officials who serve this administration."
In fiery testimony before the House panel, Mark Hetfield, president of the refugee advocacy group HAIS, said the resistance to accepting the Syrian refugees is akin to bigotry.
"I am totally disheartened and perplexed by these actions," Hetfield said. "Disheartened because I mistakenly thought that signs and attitudes like 'Irish need not apply,' 'no coloreds,' 'no beer sold to Indians' and 'No Jews or dogs allowed' were ugly relics buried in our past. Apparently not."
---