Update 2 p.m. EST: A U.N. official said, based on initial reports from the field, that 27 people were killed in the attack on the Radisson hotel in Mali's capital.
The official, speaking on condition of anonymity because the operation is still ongoing, said 12 bodies were found in the basement and 15 bodies were found on the second floor. The official stressed that the building had yet to be totally cleared.
Another U.N. official, Olivier Salgado, said two extremists were killed.
Update 10:40 a.m. ET: An extremist group that two years ago split from al-Qaida's North Africa branch and led by Moktar Belmoktar claimed responsibility for the attack, in a recorded statement carried by Al-Jazeera. The group said it wanted fighters freed from Mali's prisons and for attacks against northern Malians to stop.
The group, known as the Mourabitounes, was formed in 2013 after Belmoktar left al-Qaida in the Islamic Maghreb and fused with a Malian militant group. The statement issued Friday said the Mourabitounes had attacked in coordination with the "Sahara Emirate" affiliated with al-Qaida.
Reuters reported that as least 27 were killed in the hostage siege.
At least 27 dead in #Mali hotel siege: https://t.co/SzJAI0gn34 pic.twitter.com/Kh6qMRdlmr

— Reuters Top News (@Reuters) November 20, 2015
---
Update 10:35 a.m. EST: U.S. special forces troops were assisting Malian forces in hostage rescue efforts, said Col. Mark Cheadle of the U.S. Army's Africa Command.
At least six Americans were among those evacuated from the Radisson Blu hotel where armed Islamic extremists took 170 people hostage earlier Friday.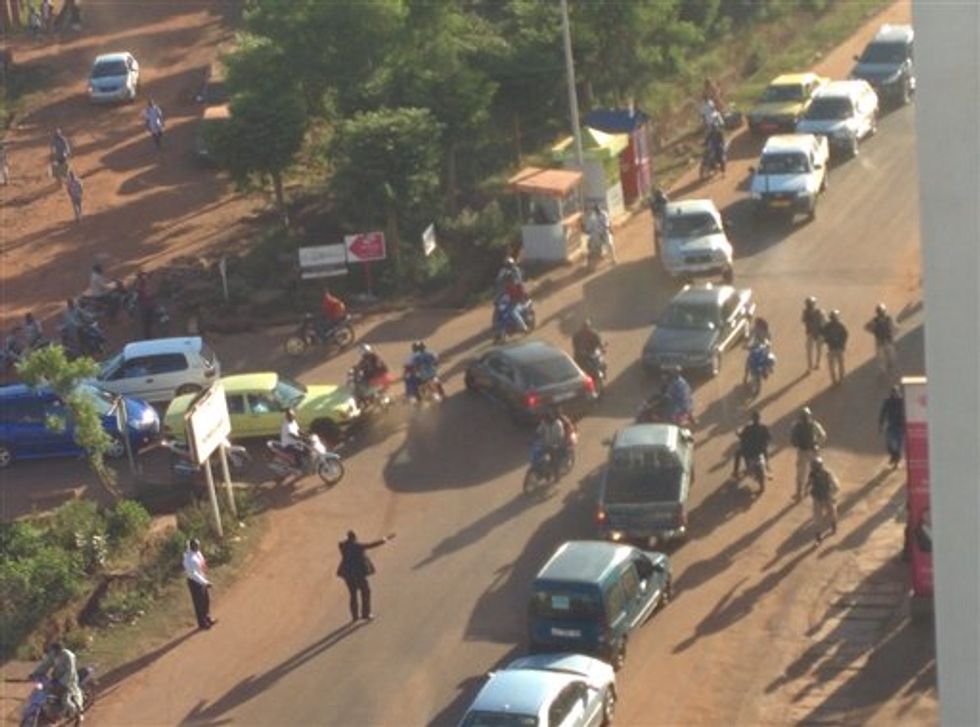 In this image made available by Malikahere.com security personnel, right, attend close to the scene of an attack on a hotel in Bamako, Mali Friday Nov. 20, 2015. Men shouting "God is great" and armed with guns and throwing grenades stormed into the Radisson Blu Hotel in Mali's capital Friday morning. (Malikahere.com via AP)
Cheadle, a spokesman for the U.S. Africa Command, said the U.S. military hasn't received any other requests for help responding to the attack, but that the United States will continue assisting the French with intelligence and surveillance in Mali.
Hours after the assault began, 125 guests and 13 employees were still in the hotel, Malian army commander Modibo Nama Traore told the Associated Press.
Update 8:25 a.m. EST: Authorities updated the number of people freed from the hotel in Mali that was under attack by Islamic extremists Friday to 80.
U.S. President Barack Obama said he was monitoring the situation, making brief comment about the hotel attack after a meeting in Kuala Lumpur with Malaysian Prime Minister Najib Razak. He didn't offer any additional details.
French President Francois Hollande said France is ready to help Mali with all means necessary in the wake of the attack in the capital.
He asked all French citizens in Mali to make contact with the French Embassy there "in order that everything is made to offer them protection."
In Belgium, Foreign Minister Didier Reynders said there were four Belgians registered at the attacked hotel but it's unclear if they were taken hostage by the gunmen or not.
Reynders also said there are "15 hostages who have been freed after an intervention" but didn't provide more details.
Citing Chinese diplomats in Mali, Chinese state broadcaster CCTV reported that about 10 Chinese citizens were sheltering inside their hotel rooms. The embassy was in phone contact with them and all were reported safe, according to the report. All are employees of Chinese companies working in Mali.
The website of the official China Daily newspaper also cited an unidentified witness as saying one Chinese citizen had been rescued.
Five Turkish Airlines personnel were among the freed hostages, Turkey's state-run news agency said.
Update 7:35 a.m. EST: Malian special forces freed hostages "floor by floor," Malian army commander Modibo Nama Traore told The Associated Press Friday after armed Islamic extremists stormed a hotel in Bamako, taking 170 people hostage.
At least three people were killed by the gunmen at the Radisson Blu Hotel, according to authorities, and at least 30 people have been freed.
Malian security forces were trying to make contact with the assailants, Traore said.
He said at least one guest earlier reported that the attackers instructed him to recite verses from the Quran before he was allowed to leave the hotel.
It was not immediately clear which Muslim extremist groups might be behind the attack, which unfolded one week after the attacks on Paris that killed 129 people. A handful of jihadi groups seized the northern half of Mali - a former French colony - in 2012 and were ousted from cities and towns by a French military intervention.
Original story follows below.
—
BAMAKO, Mali (TheBlaze/AP) -- The company that runs the Radisson Blu Hotel in Mali's capital says assailants have taken 170 hostages in a brazen assault involving grenades.
The Brussels-based Rezidor Hotel group said the assailants had "locked in" 140 guests and 30 employees.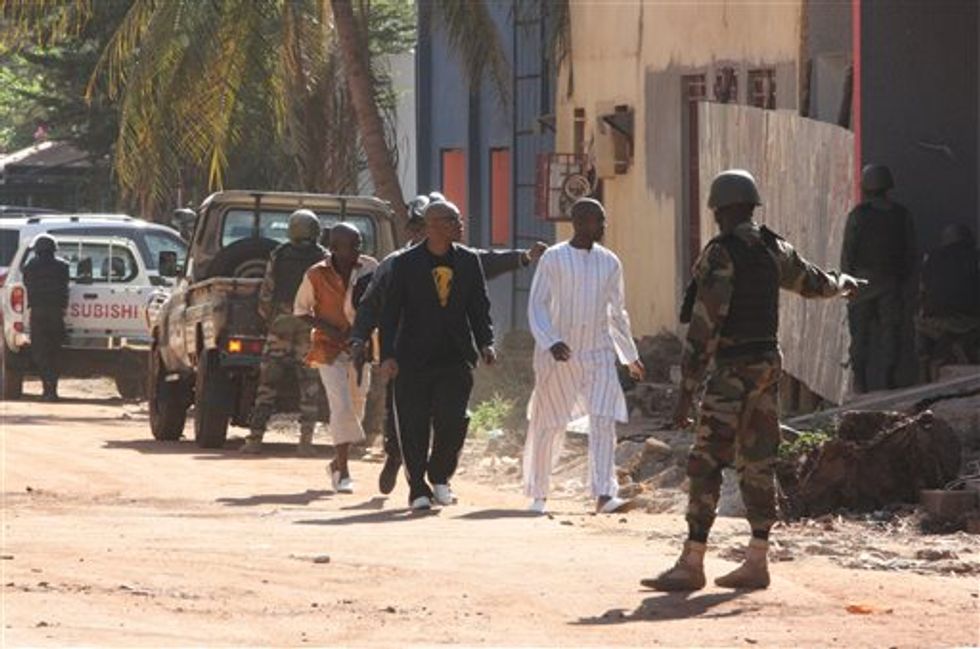 Security force personnel escort people fleeing from the Radisson Blu Hotel in Bamako, Mali, Friday, Nov. 20, 2015. (AP/Harouna Traore)
Malian army commander Modibo Nama Traore said 10 gunmen stormed the hotel Friday morning shouting "Allahu Akbar" or "God is great" in Arabic before firing on the guards and taking hostages.
A security source told the AFP news agency that "jihadists" were "firing in the corridor" on the seventh floor.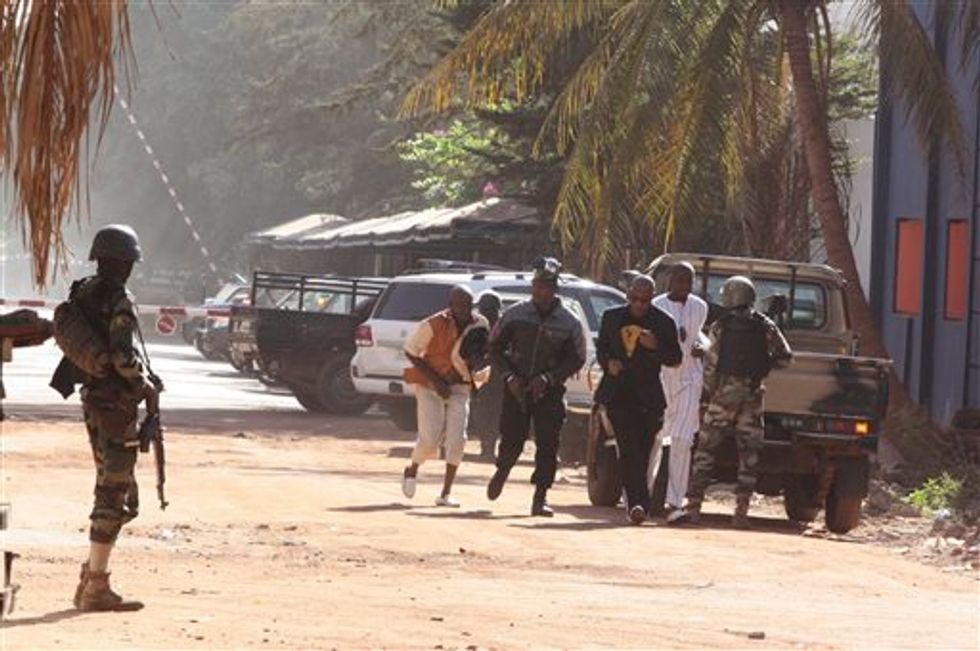 People run to flee from the Radisson Blu Hotel in Bamako, Mali, Friday, Nov. 20, 2015. The company that runs the Radisson Blu Hotel in Mali's capital says assailants have takenhostages in a brazen assault involving grenades. (AP/Harouna Traore)
The U.S. and French embassies asked their citizens to take shelter where they are in Bamako.
SECURITY MESSSAGE (1/4) The Embassy is aware of an ongoing active shooter operation at the Radisson Hotel.

— U.S. Embassy Bamako (@USEmbassyMali) November 20, 2015
SECURITY MESSAGE (2/4) The U.S. Embassy staff has been asked to shelter in place. All U.S. citizens should shelter in place.

— U.S. Embassy Bamako (@USEmbassyMali) November 20, 2015
SECURITY MESSAGE (3/4) Private U.S. citizens are encouraged to contact their families.

— U.S. Embassy Bamako (@USEmbassyMali) November 20, 2015
AFP later tweeted that security forces were on the scene and beginning to rescue some people from the hotel.
#BREAKING: Mali security forces escort two women from besieged Bamako hotel

— Agence France-Presse (@AFP) November 20, 2015
CNN interviewed a restaurant owner about what he witnessed from outside the hotel. Watch the clip:
Following a military coup in 2012, Islamic extremists took control of northern Mali, prompting a French-led military intervention in early 2013. The extremists were scattered from northern towns and cities, though the north remains insecure and militant attacks have extended south this year.
This is a developing story. The Associated Press contributed to this report.