A widow's claims of overhearing conversations between her deceased husband and God will likely be shocking and hard to believe for many, but Rebecca Cooper, author of the new book, "Hey, God? Yes, Charles: Conversations on Life, Loss, and Love," stands by them.
And she's hoping to inspire others who are also journeying through personal loss.
Cooper's central claim is that, following her husband Charles' death, she began to overhear interactions that she believes were unfolding between him and God — discussions that brought her immense comfort; she soon began jotting them down for memory's sake.
It all began after Charles suddenly fell ill in 2007 and died 13 days later, shaking Cooper's faith in God to its core.
"It was awful, because it happened so suddenly to a person that I thought was perfectly healthy," Cooper said. "It seemed to me I lost my husband and I lost my God, because [Charles] was unconscious for 13 days and in that 13 days there must have been thousands of prayers that had been sent up ... my anger was off the charts."
In the midst of her grief and frustration, Cooper said that she began to overhear the conversations, which unfolded on a semi-regular basis "in [her] head," though, at the time, she said that she really didn't think twice about what might have been unfolding.
"I honestly didn't really think about it in terms of analyzing what this is," Cooper said. "I think, at the time, I was so grateful to sort of have something ... that was sort of keeping Charles in my life."
Through the conversations — which Cooper described as therapeutic — she said that she was able to discern through the fog of anger and frustration that at least one thing was true: "Though I was mad at God, it was obvious that Charles was not."
Cooper said that the conversations continued throughout the first year after Charles' death, culminating around November 2008. Over time, she said that the dialogues helped to turn her faith "back around" and assisted her in restoring peace in her life.
But Cooper said she's not quite sure why she experienced the purported phenomenon.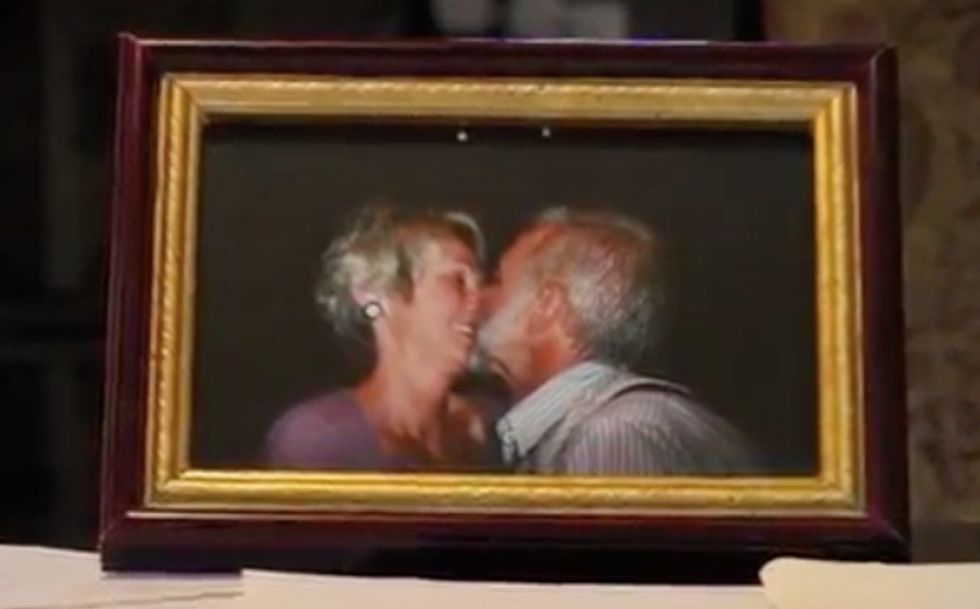 Rebecca and Charles Cooper (YouTube)
"Considering how mad I was at God, I really don't know," she said. "I guess when I look back at particularly this one conversation where Charles and God are talking about my anger and God says, 'It's okay, I can handle the attitude' ... I think, 'You can do whatever you want to, but God is not ready to throw you out.'"
Cooper said that she believes that this lesson was possibly the reason for the conversations, as God wanted to help her through her grief and bring her back to her faith, providing a glimpse into the conversations in an effort to help usher that in.
"I would like to think that God was also trying to give me some relief and peace ... and a path to a life that could be happy and joyful again," she said.
Over time, Cooper achieved both of those things, while also deciding to codify all of the conversations that she had collected into a book that she would save for her children and grandchildren.
That project later expanded to become "Hey, God? Yes, Charles: Conversations on Life, Loss, and Love," which was released earlier this month.
Cooper told TheBlaze that she's well aware of the fact that critics might assume that she's crazy, mistaken or simply making the story up, but she maintains that nothing could be further from the truth, likening the purported overhearing of the conversations to a "gift" from God.
"I didn't have enough sense to make anything up at the time," she said. "I also would be careful to say this is not a series of conversations that are burning bushes — and I know a burning bush story would be more dramatic."
Cooper said that she would respond to critics by telling them that she's simply sharing what she head.
"It did seem very clear in my head that these were the conversations they were having," she said.
As for anyone who might suggest that what she heard was simply her brain's way of making sense of the trauma and pain she was feeling and not, as she believes, a direct message from God, Cooper was candid.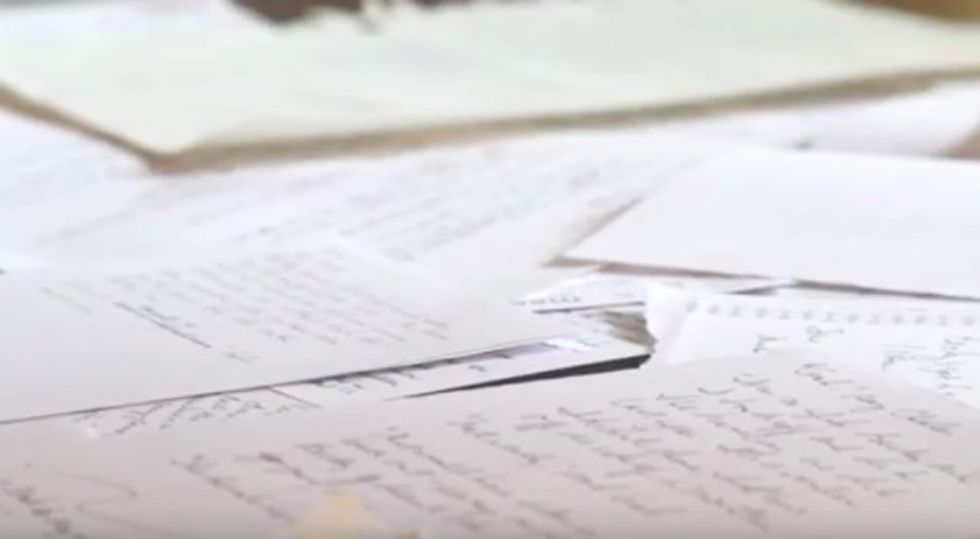 Purported conversations with God that Cooper wrote down before converting them into a book (YouTube)
"I'm not a Bible scholar. I'm not a therapist and I'm not a brain expert. I would have to assume that it's possible, but I would say this to an atheist or anyone else," she said. "Whatever is presented to you, delivered to you, made available — if you're ever in a position of pain as I was, I would just ask that you be open to whatever is offered to you as a way to deal with that."
Cooper continued, "I happen to believe that this was real and it was a gift, but I am so much a proponent of someone figuring out a way to cope and survive, and whatever works for you I would applaud you."
Now, she's hoping to inspire and help others facing the same pain that she once worked through.
Find out more about, "Hey, God? Yes, Charles."
--
Follow the author of this story on Twitter and Facebook: