JERUSALEM (TheBlaze/AP) — Police say a stabbing attack in southern Israel has wounded four people, two of them seriously.
Police spokeswoman Luba Samri says the Saturday night stabbing appears to be ideologically driven, rather than criminal. Police are sweeping the city of Kiryat Gat to try and apprehend the attacker.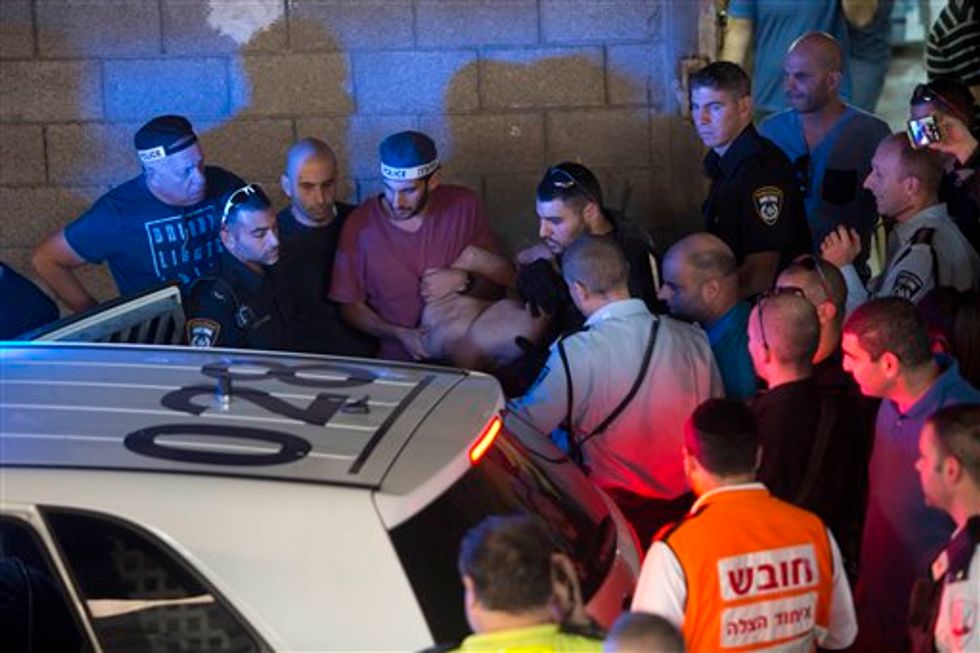 Israeli police arrest a Palestinian identified as Raed Khalil bin Mahmoud, a 36-year-old from the West Bank village of Dura in Tel Aviv, Israel, Thursday, Nov. 19, 2015. Bin Mahmoud fatally stabbed two Israeli men in a Tel Aviv office building on Thursday before being apprehended, police said. (AP Photo/Moti Milrod)
Over the past two months, Palestinian attacks have killed 17 Israelis, mostly in stabbings, while 84 Palestinians have been killed by Israeli fire. Of them, 52 are said by Israel to be attackers and the rest were killed in clashes with Israeli troops.
During an attack on Thursday, Raed Khalil bin Mahmoud allegedly stabbed and killed two Israelis while many gathered for afternoon prayers at an office building. The attack occurred in the commercial center of Tel Aviv. 
"We were in shock," Shimon Vaknin, a witness, told the Associated Press. "We didn't know what happened, and then someone near the door shouted, 'There's a terrorist.'"
The wave of violence began over tensions surrounding a sensitive Jerusalem holy site and has since spread across Israel, the West Bank and the Gaza border.