Ohio State University's star running back Ezekiel Elliott didn't mince words when he placed the blame for the Buckeyes' loss squarely on the coaching staff.
In a press conference after the 17-14 upset loss at home to Michigan State, Elliott announced that he had played his last home game as a Buckeye because he will be declaring for the NFL draft. A junior, Elliott spent the beginning of the week in the hospital after a cut to his leg became infected, but he complained that he had healed and wasn't given enough playing time Saturday.
"I'm disappointed. I'm disappointed in the play calling, I'm disappointed in the situations we were put in and I wish it all played out differently," Elliott told reporters after the game, adding that the loss of the defending national champions felt like a "bad dream."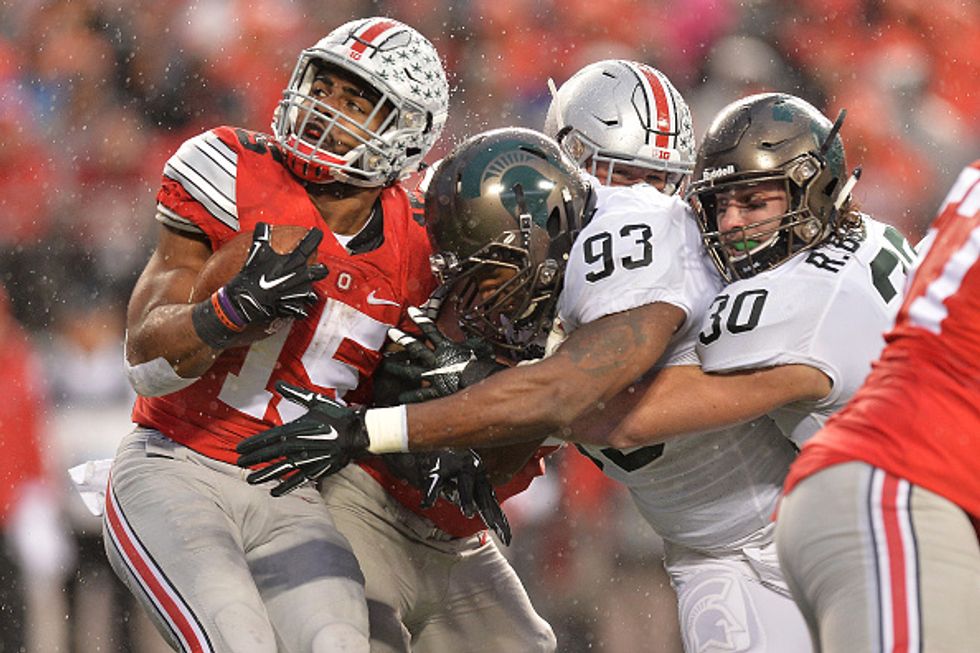 COLUMBUS, OH - NOVEMBER 21: Ezekiel Elliott #15 of the Ohio State Buckeyes runs into Damon Knox #93 of the Michigan State Spartans and Riley Bullough #30 of the Michigan State Spartans at the line of scrimmage in the second quarter at Ohio Stadium on November 21, 2015 in Columbus, Ohio. (Photo by Jamie Sabau/Getty Images)
Elliott said he "couldn't speak for the play calling" and "didn't know what was going on" but said he deserved more than the 12 carries he got during the game. Yahoo Sports pointed out that Ohio State only ran 45 plays during the entire duration of the game, and Elliott accounted for more than 25 percent of the offense that generated only 132 total yards with no drive longer than 32 yards. 
"It's very disappointing," Elliott told ESPN of his team's first loss in 2015. "The one drive that we had where we kind of had some momentum when we scored after the strip sack, the plays we ran, we ran a lot of gap schemes and we were gashing them. You guys saw that on that drive, and we had a lot of momentum. Honestly, we didn't see those plays at all for the rest of the game. Those plays weren't called anymore. I asked for those plays to be called, and they weren't. It just hurts. It hurts a lot."
ESPN reported that prior to the game, Elliott seemed to be in good spirits as he warmed up with a sleeve over his injured leg. He reportedly listened to music while smiling and jumping on the shoulders of teammates — in a mood vastly different than seen after the game.
"This is my last game in the Shoe. There's no chance of me coming back next year. I gotta make the most of my time left," Elliot said, adding that he wanted to thank "Buckeye Nation."
Quarterback Cardale Jones also said on Twitter that last night's game was his last at the Shoe.
Last time walking down them steps and into The Shoe, wish the results were different tho pic.twitter.com/BalXhHTOS7

— Cardale Jones (@CJ12_) November 22, 2015
"It hurts, it hurts a lot, just because of how we lost. I felt like we weren't put in the right opportunity to win this game. We weren't put in the right situations to win this game," Elliott also said. "I don't think Michigan State was better than us. They weren't. But we didn't execute."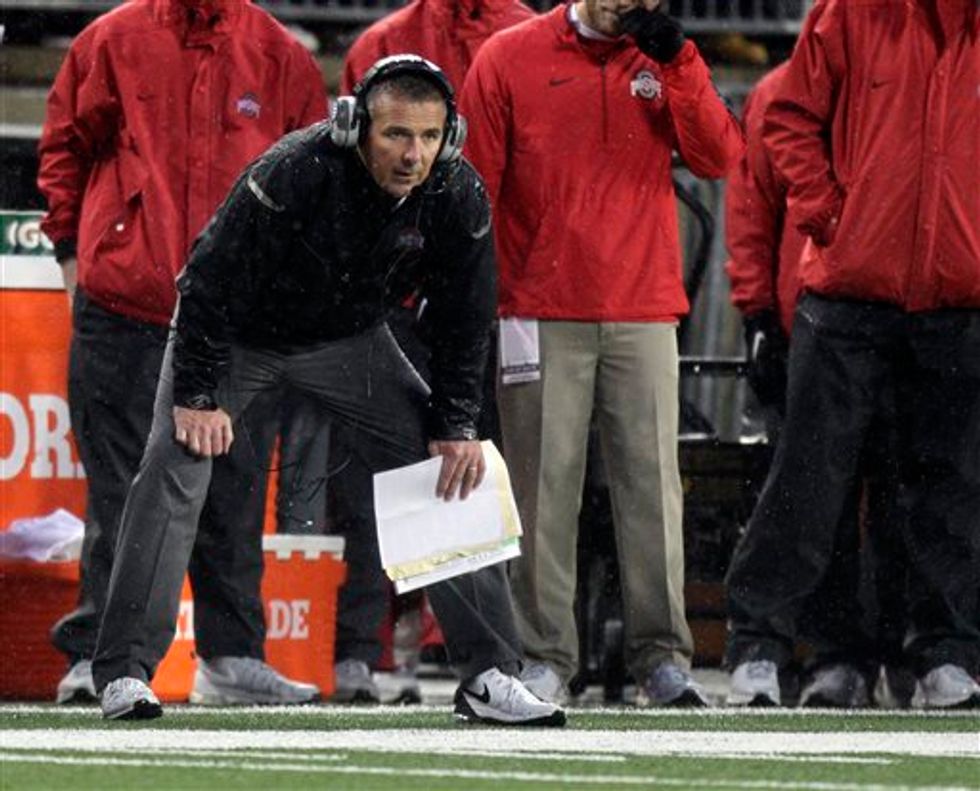 Ohio State head coach Urban Meyer watches from the sidelines against during the second quarter of an NCAA college football game against Ohio State, Saturday, Nov. 21, 2015, in Columbus, Ohio. Michigan State won 17-14. (AP Photo/Jay LaPrete)
For his part, Ohio State Coach Urban Meyer said he took responsibility for the play calls.
"I was not content," Meyer said after the game. "I call a lot of plays anyways. So finger will be pointed right here. And I have to do better. We didn't – very conservative. Seemed like we were backed up a lot."
"You've got the rivalry coming up," Meyer said. "It's easy to lead when everything is going well, and you won a bunch of games in a row. That's not how you judge a team. That's not how you judge character. That's not how you judge a leader. That's how you judge a front runner. That's how you judge when things are going well."
The Buckeyes will take on the University of Michigan Wolverines in the Big House in Ann Arbor next week for the venerable rivalry known as "The Game." No. 3 Ohio State is 10-1, and No. 12 Michigan is 9-2.
Ohio State has won the past 10 out of 11 games versus Michigan, and Meyer has won three in a row for his team, but with new Michigan Coach Jim Harbaugh, the fate of Meyer's Buckeyes isn't quite so certain.
Watch Elliott's comments below.