It was all about Thanksgiving and Syrian refugees on the "Saturday Night Live" cold open this week.
Republican presidential contender Ben Carson, portrayed by Jay Pharoah, made an appearance on the comedy show's parody of "Fox and Friends," warning viewers that they may need to turn their television volumes down as the notoriously soft-spoken doctor was "agitated" by President Barack Obama and the refugee crisis.
"Oh, I'm like a koala bear. On the outside, I may seem nice, but on the inside, I've never held elected office," Pharoah said as Carson.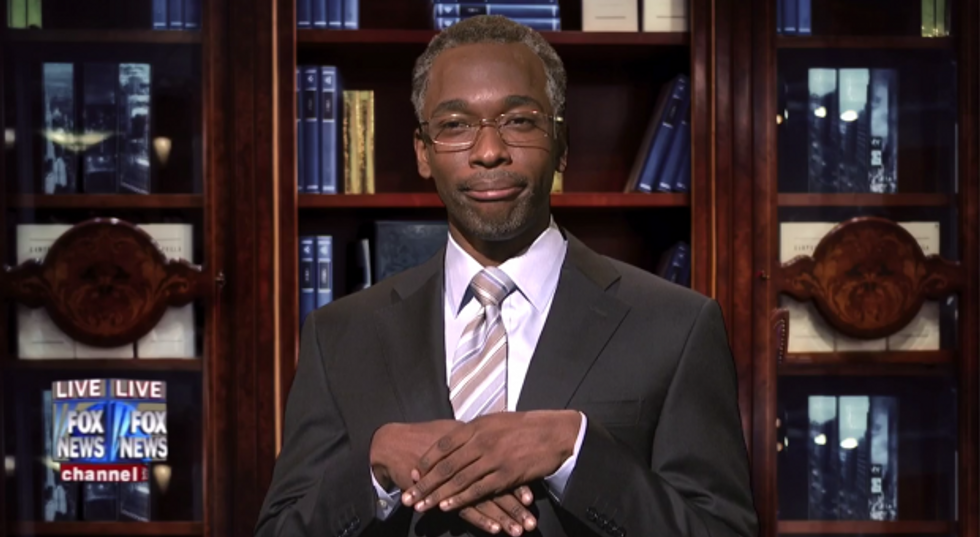 Image source: NBC
"SNL" didn't hold back in its jokes of how "Fox and Friends" hosts Steve Doocy, Elisabeth Hasselbeck and Brian Kilmeade have covered the refugee crisis. In particular, the sketch had Kilmeade's character confuse the country of Syria with his iPhone's Siri.
During the sketch, the "Fox and Friends" hosts showed footage of a "crazed mob of Syrian refugees" which turned out to be Black Friday shoppers. Hassleback, played by Vanessa Bayer, also took issue with the phrase "Black Friday," as "all Fridays matter," she said.
But on "SNL," it was Carson's character who had a "solution" to the refugee crisis and how to properly vet refugees coming into the U.S.
"First we say, you can't come into this country until I see you eat bacon while singing a Christmas carol," Carson's character said. "Or, all refugees will be a given a mad lib with the phrase, 'death to blank.' Anyone who writes 'America' won't be allowed inside America."
Watch the "SNL" cold open below.