One of the Americans who survived the deadly Mali hostage siege revealed the email she sent to her husband at a moment when she wasn't certain she would make it out alive.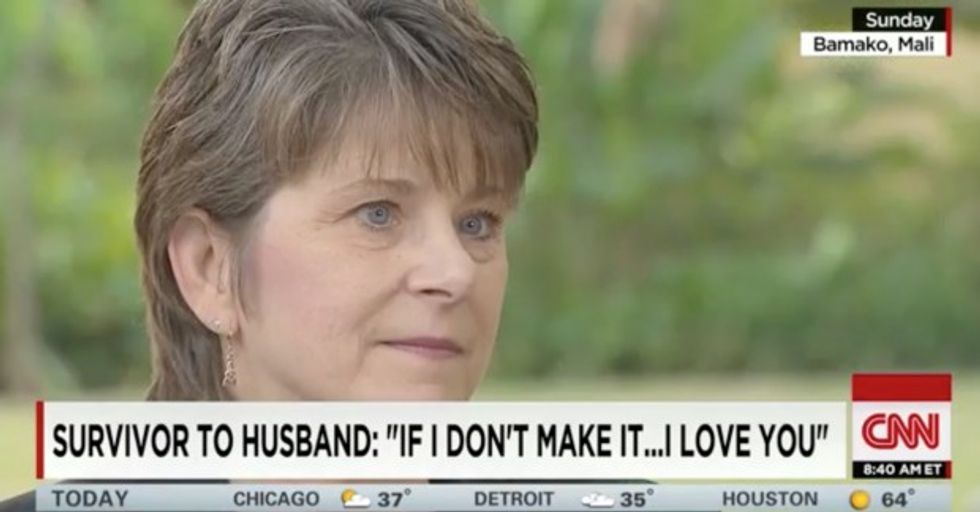 CNN
Kathie Fazekas, who works for the Center for Disease Control and Prevention, recalled the terrifying moments in an interview on CNN's "New Day" that aired Monday.
"I said something like, 'There is something going on and I just want you to know that I love you,'" Fazekas said. "And then a few hours later when they fired down the hallway, I wrote another email and I said, 'I do believe there are shooters here and if I don't make it, I want you to know I love you and my family and my CDC.'"
Even after her near-death experience, Fazekas said she is committed to the work she does for the CDC, which she said remains vitally important at this point in history.
"If I don't make it, I want you to know I love you" -- Mali survivor's email to her husband https://t.co/GdoIPSotbJ https://t.co/3CQIuP0C99

— New Day (@NewDay) November 23, 2015
At least 22 people were killed in the Mali hostage siege. An al-Qaeda-affiliated group later claimed responsibility.
---