A Palestinian father said he is honored to be the "father of a martyr" after his 16-year-old knife-wielding daughter was killed Sunday while trying to stab Israeli girls.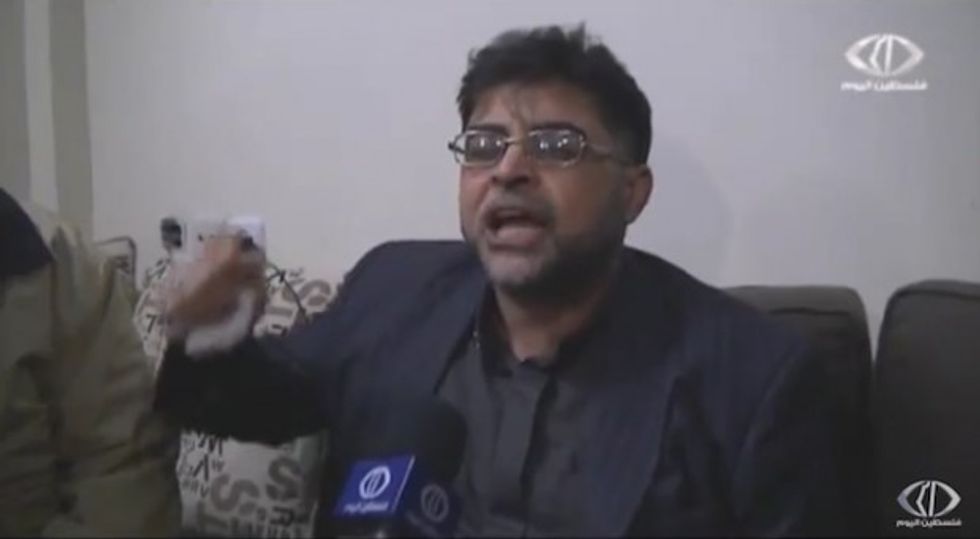 Taha Qattanani said he's proud to be the "father of a martyr" after his daughter was killed trying to stab Israelis. She had said earlier that she wanted to donate her organs. (Image source: YouTube)
Taha Qattanani told the Palestine Today channel that a "great pride that has fallen upon me, the blood of my daughter Ashrakat, who didn't go out and play games … became a martyr and now I won the honor to be the father of a martyr."
Jerusalem Post Arab affairs analyst Khaled Abu-Toameh reported that the assailant had asked to donate her organs, reflecting the premeditated nature of the attack in which she expected to be killed.
Father of 16 year old girl killed today near Nablus: My daughter planned the attack. She asked to donate her organs https://t.co/tJDOUg6TW8

— Khaled Abu Toameh (@KhaledAbuToameh) November 22, 2015
Eyewitnesses said that the 16-year-old Palestinian girl, identified as Ashrakat Qattanani by Raed Amr, a local Palestinian activist, stopped on her way to school Sunday morning at an intersection in the northern West Bank and tried to stab Israeli women.
Gershon Mesika, former head of the Samaria Council, told Israel's Channel 2 that he was pulling over to pick up hitchhikers when he heard young women screaming.
"Suddenly, I heard the screams 'terrorist, terrorist, terrorist!' I lifted my head and saw a big woman, wielding a knife and chasing after two girls … about 2 meters behind," Mesika said, according to a translation of his Channel 2 remarks.
"Out of instinct, I took a sharp right and pushed down on the gas [pedal] and I ran her over," Mesika said. According to Israeli news reports, an Israeli soldier then shot her. It is unclear if she died from the impact of the vehicle or the gunshot.
Her father, Taha Qattanani, who lives near Nablus insisted his daughter "went out to resist" the "Zionist occupation."  Palestinians often refer to violent acts against Israelis as a form of "resistance."
Amr told the New York Times that Qattanani has been involved with the terrorist group Islamic Jihad.
The Palestinian Authority called her death "a brutal war crime against humanity and childhood."
Avigail Shomriyah, 21, told the Jerusalem Post that she was waiting for a ride to her college when the Palestinian girl tried to stab her.
"I turned around and saw a terrorist with a large knife and murderous looking eyes. It was a very large knife. I ran in the direction of the soldiers, she ran after me. Then Gershon ran her over. Then they shot her," she said.


"I continued to run. I was afraid someone would run over me," Shomriyah added.
The attack was one of three Palestinian assaults on Sunday. A 21-year-old Israeli woman, Hadar Buchris, was killed by a Palestinian assailant in the third attack of the day. Her aunt told Israel Army Radio Monday morning that she was stabbed repeatedly in the head and chest.
That attack occurred in the same area where three men were killed on Thursday, including 18-year-old American Ezra Schwartz who was spending a year overseas studying and doing community service in Israel before starting college next fall.