The State Department issued a rare worldwide travel alert Monday, warning Americans of "possible risks due to increased terrorist threats."
The federal agency said that "current information suggests" that the Islamic State, Al Qaeda and other terror groups "continue to plan terrorist attacks in multiple regions."
"These attacks may employ a wide variety of tactics, using conventional and non-conventional weapons and targeting both official and private interests," the alert said.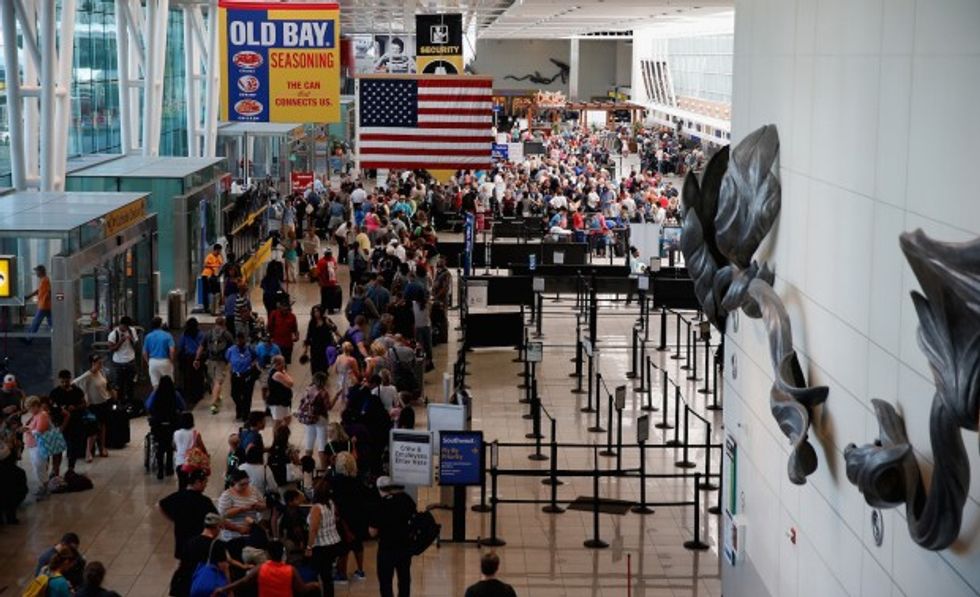 Rob Carr/Getty Images
The State Department bulletin, set to expire in late February, focused particularly on the Islamic State.
"Authorities believe the likelihood of terror attacks will continue as members of ISIL/Da'esh return from Syria and Iraq," it said. "Additionally, there is a continuing threat from unaffiliated persons planning attacks inspired by major terrorist organizations but conducted on an individual basis. Extremists have targeted large sporting events, theatres, open markets, and aviation services. In the past year, there have been multiple attacks in France, Nigeria, Denmark, Turkey, and Mali. ISIL/Da'esh has claimed responsibility for the bombing of a Russian airliner in Egypt."
The State Department advised Americans to "exercise vigilance when in public places or using transportation."
"Be aware of immediate surroundings and avoid large crowds or crowed places," the alert said. "Exercise particular caution during the holiday season and at holiday festivals or events."
The alert comes after a string of terror attacks in Paris killed at least 130 and injured scores more.
The State Department suggested U.S. citizens traveling abroad enroll in the Smart Traveler Enrollment Program which provides real-time alerts on security updates.
In early January, a worldwide travel caution was issued after the Charlie Hebdo attack in Paris.
This story had been amended to reflect that the State Department in January issued a worldwide travel caution, not travel alert.
—
Follow the author of this story on Twitter and Facebook: