A conservative legal firm fired off a letter to a U.S. Department of Veterans Affairs medical center on Tuesday in an effort to push back against a memo that was reportedly emailed to staff last week, effectively banning Christmas trees from display in public areas within the facility.
That decision was overturned following outrage, but the Alliance Defending Freedom, a conservative legal firm, is now requesting a written assurance that the medical center will respect the religious rights of its employees and of those it serves.
The veterans' center, located in Salem, Virginia, purportedly said in the memo that staff members could only engage in "private religious expression in their personal work areas that are not regularly open to the public" in an effort to be welcoming to all.
"The wording of the memo leaves open the possibility that employees could be punished for Christmas decorations or 'merry Christmas' greetings to veterans except in personal workstations that are out of public view," reads a press release from the Alliance Defending Freedom.
Here's the memo that was reportedly emailed to staff: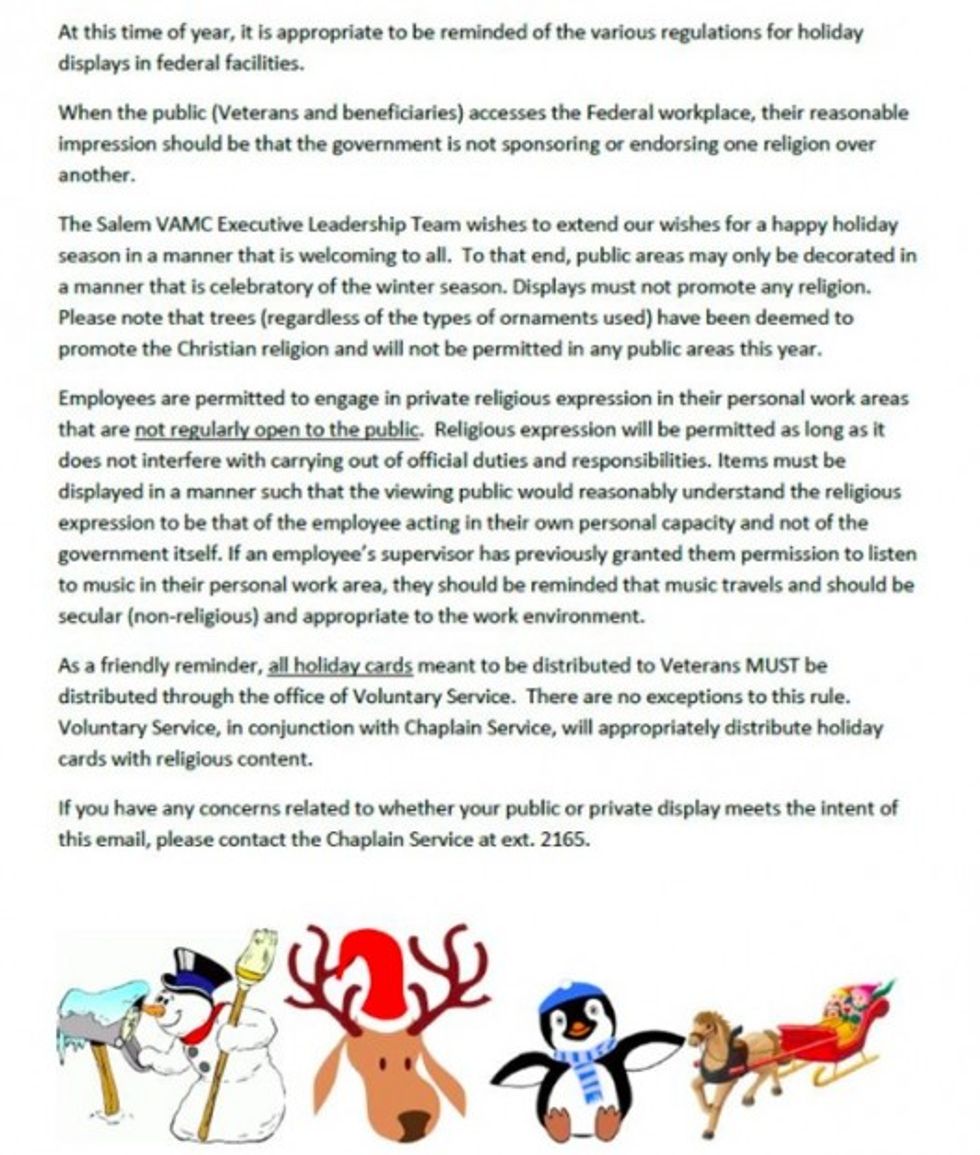 A copy of the memo that was reportedly distributed (Alliance Defending Freedom)
The document reportedly took specific aim at Christmas trees as well, with the text proclaiming that such decorations are unwelcome in public areas.
"Please note that trees (regarless of the types of ornaments used) have been deemed to promote the Christian religion and will not be permitted in any public areas this year," reads a copy of the document that was posted by the Alliance Defending Freedom.
And at least two pastors told Fox News' Todd Starnes that they were restricted in what they were able to sing during Christmas performances.
"They told me I could sing 'Rudolph the Red-Nosed Reindeer' but I couldn't sing about Christ," Pastor John Sines, Jr. told Starnes. "I couldn't sing about anything that had the word Christmas in it. I could sing what they referred to as 'holiday' songs."
The legal firm claims that employees complained about the Christmas tree ban, which was reportedly later overturned so long as secular symbols were also welcomed. A phone call from TheBlaze to the medical center to clarify details has not yet been returned.
Alliance Defending Freedom attorney Erik Stanley is speaking out after the firm sent a Nov. 24 letter decrying the purported policy, claiming that it "went too far" and "exhibited a hostility to religion."
"It's ridiculous that people have to think twice about whether it's okay to celebrate Christmas as Christmas rather than some watered-down winter holiday," Stanley said in a statement. "The courts have never ruled that government employees must hide any hint of religious expression. To the contrary, the courts have clearly stated that any such requirement demonstrates an unconstitutional hostility toward religion."
Photo Credit: ShutterStock.com
The accompanying letter attempted to correct what the Alliance Defending Freedom deemed a misconception: the notion that the Christmas tree is a Christian symbol, accusing the medical center of a "gross misunderstanding of the law."
"The email directive muzzles the very religious diversity it purportedly promotes," the letter concluded. "Please respond to this letter in writing with assurances that the Salem VA will respect the rights of its employees and veterans it services."
--
Front page image via Shutterstock.com.
--
Follow the author of this story on Twitter and Facebook: