Iranian leaders did not actually sign the nuclear deal that it reached with the United States and five other countries, according to the State Department.
"The Joint Comprehensive Plan of Action (JCPOA) is not a treaty or an executive agreement, and is not a signed document," Julia Frifield, the State Department's assistant secretary for legislative affairs, said in a Nov. 19 letter to Rep. Mike Pompeo (R-Kan.). "The JCPOA reflects political commitments between Iran, the P5+1 (the United States, United Kingdom, France, Germany, Russia and China) and the European Union."
"The success of the JCPOA will depend not on whether it is legally binding or signed, but rather on the extensive verification measures we have put in place, as well as Iran's understanding that we have the capacity to re-impose — and ramp up — our sanctions if Iran does not meet its commitments," Friefield continued.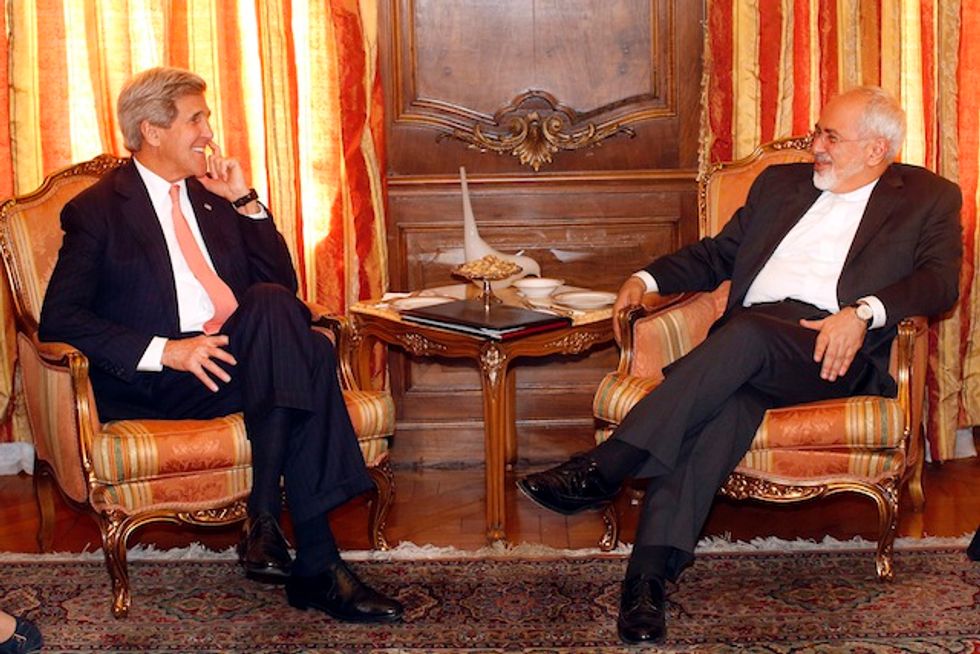 Secretary of State John Kerry meets with Iranian Foreign Minister Mohammad Javad Zarif at the United Nations April 27, 2015, in New York City. The two were meeting at the opening of a U.N. conference on a global anti-nuclear weapons treaty, attempting to make progress in talks on a long-term nuclear deal. (Jason DeCrow-Pool/Getty Images)
The letter was a response to Pompeo, who inquired of Secretary of State John Kerry why the agreement wasn't signed.
"For the State Department to try to defend the unsigned and non-binding Iran nuclear agreement by calling it a 'political commitment' is about as absurd as the terms of the deal itself," Pompeo, a member of the House Select Committee on Intelligence, said in a statement.
"Instead of forging an agreement with Iran that will protect Americans and prevent the world's largest state sponsor of terror from obtaining a nuclear weapon, the Obama administration caved to Iranian bullies and serial nuclear cheaters. Unsigned, this agreement is nothing more than a press release and just about as enforceable," Pompeo continued. "Further, it fails to address to whom Americans should look to uphold this agreement once the Ayatollah dies, or to whom the Iranians must turn once President Obama passes from the stage. Placing our trust in the ability of these nuclear weapon-driven, radical extremists will not ease tensions, but will only get Americans killed."
Already, Iranian President Hassan Rouhani was hesitant to allow a vote by the Iranian parliament.
"If the Joint Comprehensive Plan of Action is sent to [and passed by] parliament, it will create an obligation for the government. It will mean the president, who has not signed it so far, will have to sign it," Rouhani said in August. "Why should we place an unnecessary legal restriction on the Iranian people?"
"This is not a mere formality," Pompeo wrote in September. "Those signatures represent the commitment of the signatory and the country on whose behalf he or she is signing. A signature also serves to make clear precisely who the parties to the agreement are and the authority under which that nation entered into the agreement. In short, just as with any legal instrument, signing matters."
(H/T: National Review)