As former Arkansas Gov. Mike Huckabee spends Thanksgiving Day recovering from knee surgery, he took to Facebook to let his supporters know that he has much to be grateful for — including the fact that he won't be missing any time on the campaign trail.
The Republican presidential contender penned his lengthy Facebook post Thursday and shared a photo of the bone chip doctors removed from his knee during the surgery. According to him, although the chip was small, it reminded him of a lot to be grateful for.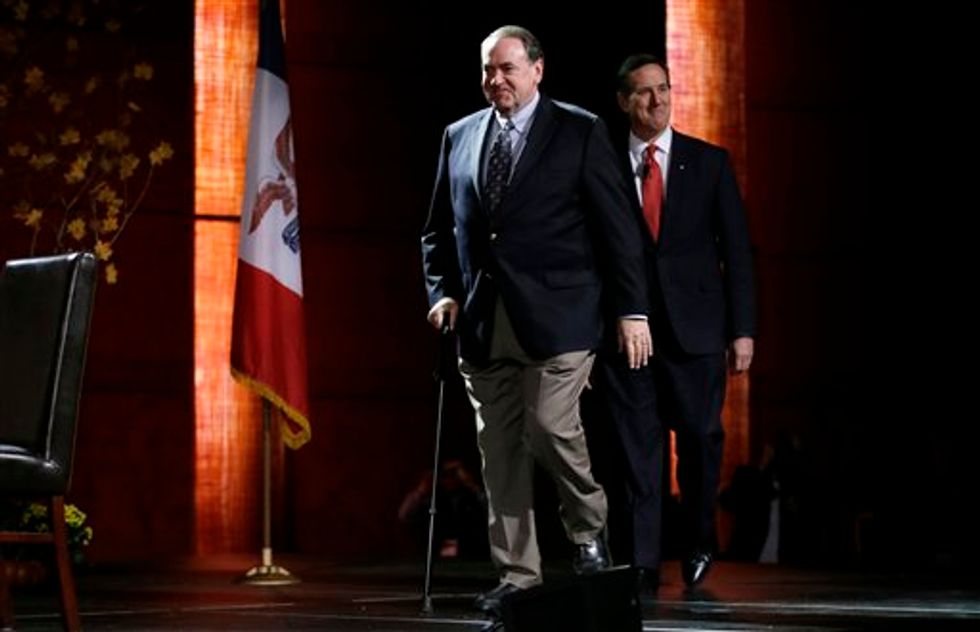 Republican presidential candidates former Arkansas Gov. Mike Huckabee and former Pennsylvania Sen. Rick Santorum, right, walk on the stage at the start of the Presidential Family Forum, Friday, Nov. 20, 2015, in Des Moines, Iowa. (AP Photo/Charlie Neibergall)
"[I]t's reminded me how something very small can have a large impact," Huckabee wrote. "That little piece of bone was tiny compared to my leg and body, but it controlled my movements, my well being, and at times, the tears coming from my eyes when it would suddenly move, sending knife-like pain through my knee and virtually dropping me to the floor. Little things can have a BIG impact."
Huckabee also said the bone chip reminded him of a 6-year-old girl from North Dakota who sent him $6 for his campaign, and because he talked about her small gift during a debate, it inspired many others to donate. He said he was also reminded of the "many men and women in uniform serving in our military and as police officers and firefighters who often will bear permanent scars of battles that will leave them without a leg — far more than just some pain in one knee."
Huckabee announced in the post that his son David would handle his usual Thanksgiving duties — setting the table and deep-frying the turkeys — and said he was sure David will handle those chores with "absolute precision and flair."
Read Huckabee's full Facebook post below.