According to the Supermarket Guru Phil Lempert, the coming year will offer a wide variety of topics for discussion among "foodies." Among the hot topics in the world of eating: genetically modified salmon, dye-free foods with fewer ingredients and smaller supermarkets.
In an interview on TheBlaze Radio, Lempert discussed the FDA's recent approval of a genetically modified salmon that grows twice as fast and requires 25 percent less food as a typical salmon.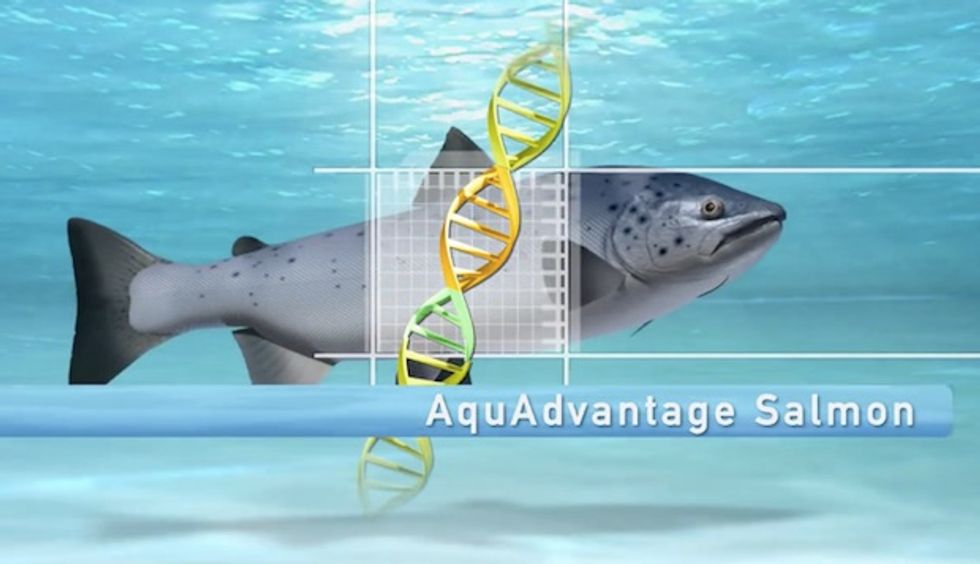 Image source: YouTube
Lempert reports that AquaBounty, the company behind the genetically engineered salmon, actually developed the modified fish 25 ago. But it wasn't until less than two weeks ago that the FDA approved the AquaAdvantage Salmon for sale in America. 
The fish is the first genetically modified animal to receive the agency's green light.
On Saturday, Costco announced its stores would not be carrying the AquaAdvantage salmon, joining Trader Joe's, Whole Foods, Safeway and Kroger in deciding not to sell the fish.
Looking ahead to 2016, Lempert spoke of the possibility of more companies eliminating the dyes that color so many foods.
"When we start fooling around with the color of food, because we eat with our eyes, it changes our taste buds," Lempert said.
Also on the horizon, Lempert predicted an increase of smaller supermarkets. Instead of the 40-50,000 square foot superstores, the supermarket guru believes "smaller footprint" stories like those recently opened by Germany's Aldi chain could soon number as many as 4,000 nationally. Aldi currently operates more than 1,400 stores in America.
Lempert told TheBlaze that 90 percent of the products inside an Aldi store are "of their own exclusive brands" and added that the Aldi brand is "about 30-50 percent less expensive."
In terms of one surprising new food trend for 2016, Lempert said we should all be looking for " a rise of potato-based soups or cold gazpachos."
"We're starting to see food trucks that make them the same way they make smoothies," he said.
Hear Phil Lempert explain the coming food trends on Blaze Radio.
How do you feel about requiring warning labels on genetically-modified foods? Take our Blaze poll and share your thoughts in the comments section below.
__
Follow the author of this story on Twitter and Facebook: