MANCHESTER, N.H. (AP) — Hillary Rodham Clinton unveiled the first piece of a new jobs agenda on Sunday, promising hundreds of billions of dollars in fresh federal spending in an effort to compete with the liberal economic policies of her primary challengers.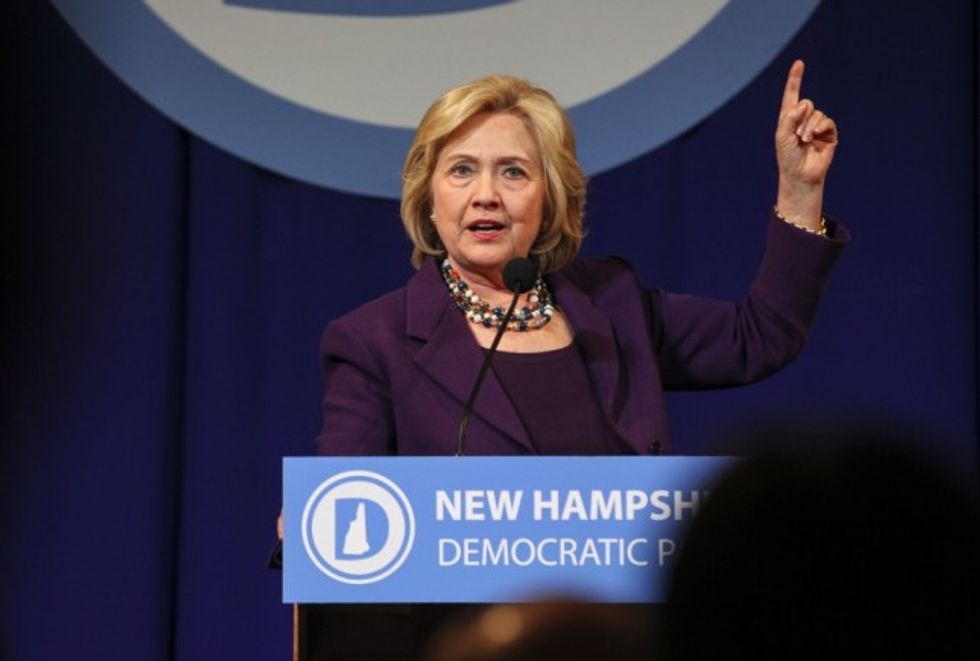 Democratic presidential candidate Hillary Clinton gestures while speaking at the at New Hampshire Democrats annual dinner in Manchester, N.H., Sunday, Nov. 29, 2015. (AP Photo/Cheryl Senter)
Her initial proposal, a $275 billion infrastructure plan, falls short of the $1 trillion pledged by Vermont Sen. Bernie Sanders to rebuild the nation's crumbling bridges, ports, highways and airports. But it marks an effort by Clinton to fulfill her party's desire to use national programs to boost the middle class without alienating independent voters more concerned with increasing the federal deficit.
"Some candidates may be running to make a point," Clinton told New Hampshire Democrats, in a veiled criticism of Sanders. "I am running to make a difference."
The state Democratic Party's Jefferson-Jackson dinner is an annual fundraiser that offers an opportunity for the presidential candidates — former Maryland Gov. Martin O'Malley among them — to woo influential activists in the early voting state.
"I'm not a former socialist. I'm not a former Republican. I'm a life-long Democrat," O'Malley said, taking subtle digs at Sanders, a self-described democratic socialist, and Clinton, who identified as a Republican in high school.
Already Clinton has proposed an array of new federal programs, including a $350 billion college affordability plan. Other new policies, like universal pre-K, combating substance abuse and expanding family leave, could add hundreds of billions in spending.
Clinton aides say her economic initiatives will be the most expensive of her campaign and plan to roll out proposals for new investments in manufacturing and research in the coming weeks. On Sunday, she added a pledge to give all American households access to high-speed Internet by 2020.
So far, she's offered few specifics about how she'd fund her plans. Her campaign said that her infrastructure proposal would be paid for by closing corporate tax loopholes but didn't detail which breaks would be targeted.
Republicans have seized on her spending, with the Republican National Committee accusing her of treating American tax dollars like "every day is Black Friday."
At the same time, Clinton has pledged to roll out hundreds of billions of dollars in middle-class tax cuts, saying she'd increase taxes on the wealthy to fund the new breaks. She's vowed not to raise taxes on families earning less than $250,000 a year, using that pledge to draw a contrast with Sanders.
Clinton says Sanders would require middle-class Americans to pay higher taxes to fund his single-payer health care plan, a charge his campaign disputes.
"I'm the only Democrat in this race pledged to raise your income, not your taxes," Clinton said at an earlier event in Boston.
But Sanders argues that Americans want the federal government to do more to help working Americans, who've spent years struggling through a sluggish economic recovery. His policies include a $750 billion debt-free college plan and $5.5 billion youth jobs program. He's not detailed the cost of his single-payer health care plan, but his campaign says it would save taxpayers money in the long run because it would eliminate wasteful health spending.
"Let me also say that if these were normal times, many people in our country could be supportive of establishment politics, establishment economics and establishment foreign policy," he told New Hampshire Democrats. "But these are not normal times."
Clinton's infrastructure proposal allocates $250 billion in direct investment by the federal government over the next five years. An additional $25 billion would fund a national infrastructure bank, an idea unveiled by President Barack Obama in his first term that has been blocked repeatedly by congressional Republicans. The bank would support $225 billion in loans intended to spur private investment in struggling projects, adding a total of $500 billion in new infrastructure funds into the economy, her campaign estimates.
"To build a strong economy for our future, we must start by building strong infrastructure today," she said at the launch of "Hard Hats for Hillary" on Sunday afternoon, a new effort by her campaign to mobilize union workers.
Clinton also picked up a key endorsement, winning the backing of Boston Mayor Marty Walsh, in a charged rally at historic Faneuil Hall. A former union member, Walsh can marshal his political forces to help Clinton both in the Massachusetts primary and neighboring New Hampshire.
"Get your sledgehammers ready," he told hundreds of cheering union members, "we have a glass ceiling to demolish."
—
Follow Dave Urbanski (@DaveVUrbanski) on Twitter