When Michael and Neil Fletcher went for a hunt in the woods of Chelmsford, Ontario, last week, they had no idea they were about to stumble onto the selfie opportunity of a lifetime.
According to the Sudbury Star, the brothers were looking to hunt a few grouse, but when they walked deeper into the woods, they found a bald eagle stuck in a hunter's trap.
Instead of watching the bird suffer, the brothers decided to free the bird and then alert the Canadian Ministry of Natural Resources and Forestry of what had just happened.
Fortunately, the only one of eagle's talons was stuck in the trap. The bird was also not aggressive with the brothers while they aided it.
"Me and my brother just kind of held onto it, and it calmed right down," Michael said. "It didn't really fuss or give any sign of aggression. I don't know if it knew we were helping him or what."
"There was no blood or anything," he added. "I don't know how long it was caught in there, but I think maybe it had just been in there a little while."
After they released the bird, the brothers had one last thing to do — take a selfie with the massive bird.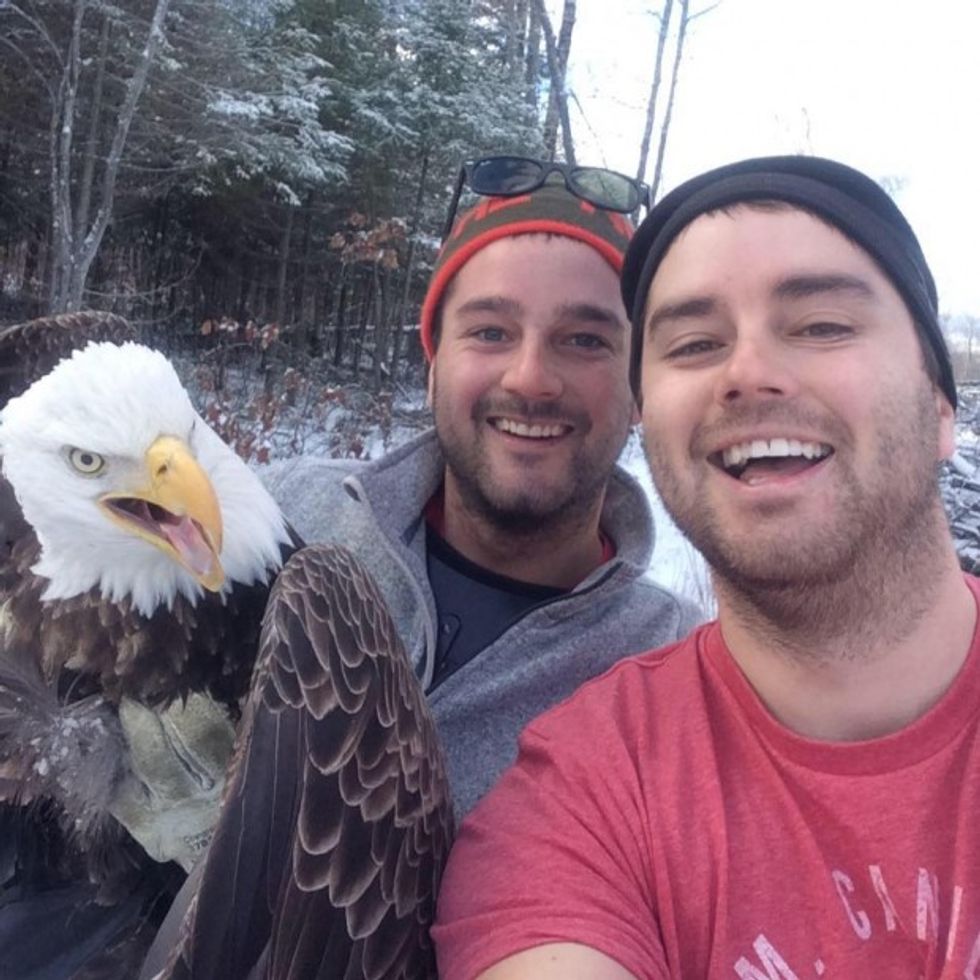 Image credit: Michael Fletcher/Facebook
The brothers were also mindful to take two videos of the incident, both the freeing of the eagle and its subsequent release. The videos, which were posted to Michael's Facebook page, have already amassed more than 1 million views.
Despite their planned hunt being unsuccessful, Michael said he wasn't disappointed, given that rescuing a trapped bald eagle is more exciting than hunting a few grouse.
"I was surprised by the size, and that it's such a beautiful bird," Michael said. "When you see the eyes up close, they're really amazing."
—
Follow the author of this story on Twitter and Facebook:
[facebook //www.facebook.com/plugins/like.php?href=