Onetime Republican presidential candidate Herman Cain ripped current hopeful Jeb Bush in a blistering op-ed Monday, saying that his own 2012 campaign did better than the former Florida governor has done in 2016, despite Bush's famous last name.
"A guy with his name, his money and the team behind him should be one of the top-tier contenders," the former Godfather's Pizza CEO said, "and he should certainly not be letting Donald Trump wipe the floor with him if Trump is as unserious and unqualified as Bush would have you believe."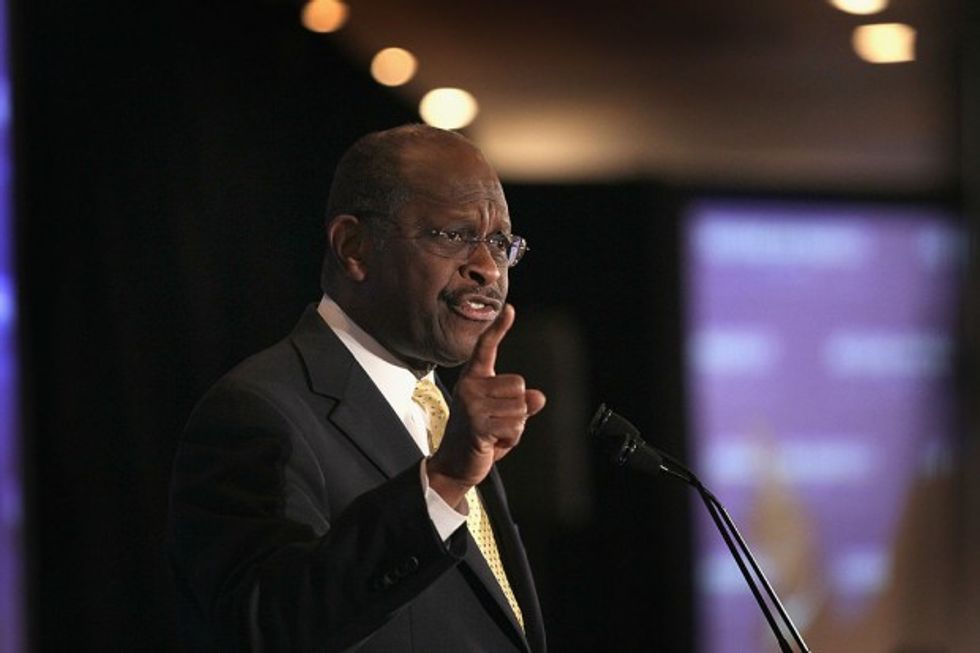 Herman Cain (Getty Images/Scott Olson)
Cain added that Bush has underperformed in the lead-up to 2016, invoking the fact that Bush has more money behind him than any other candidate but has only poor poll numbers to show for it.
"He is the former governor of Florida, and he has one of the most famous political last names in America," Cain said. "He has more political money behind him than any candidate in this race with the possible exception of Hillary Clinton. And how is he doing in the polls? The current Real Clear Politics average shows him in fifth place at 5.5 percent."
Cain began the op-ed by writing that he recently accepted a speaking invitation for a Donald Trump rally in Georgia. Cain wrote that the reason he accepted the simply because Trump asked.
"I accepted for a simple reason: He asked," he said. "But Gov. Bush seems weirdly interested these days in the connection — if only in his own mind — between what he thinks happened to me and what he thinks is going to happen to Trump."
[sharequote align="center"]"And to judge from the polls, 94.5 percent of Republican primary voters agree with me"[/sharequote]
If Cain were to give Bush and his campaign a piece of advice, Cain said it would be to define the "rationale" of a Jeb Bush presidential bid.
"But if I were to give Jeb Bush a piece of advice — not that he probably thinks he needs any from me — it would be to focus on coming up with a rationale for a Jeb Bush presidency. To date, I haven't heard one that's got many people very excited," Cain wrote. "And to judge from the polls, 94.5 percent of Republican primary voters agree with me."
"Even if Trump does come back to the pack at some point, there are other candidates much better positioned to pick up support because they're much more appealing than Mr. Famous Political Name," he added. "And really, when you haven't come anywhere close to what some pizza guy once did, you sound pretty desperate trying to use the pizza guy as your defense."
"At least I was once winning. Jeb Bush has been doing nothing but losing throughout this entire campaign," Cain concluded. "His problem is him."
—
Follow the author of this story on Twitter and Facebook:
[facebook //www.facebook.com/plugins/like.php?href=