Donald Trump insisted on MSNBC's "Morning Joe" Monday that there is a "level of hatred" in the Muslim community that many people, including President Barack Obama, don't want to talk about.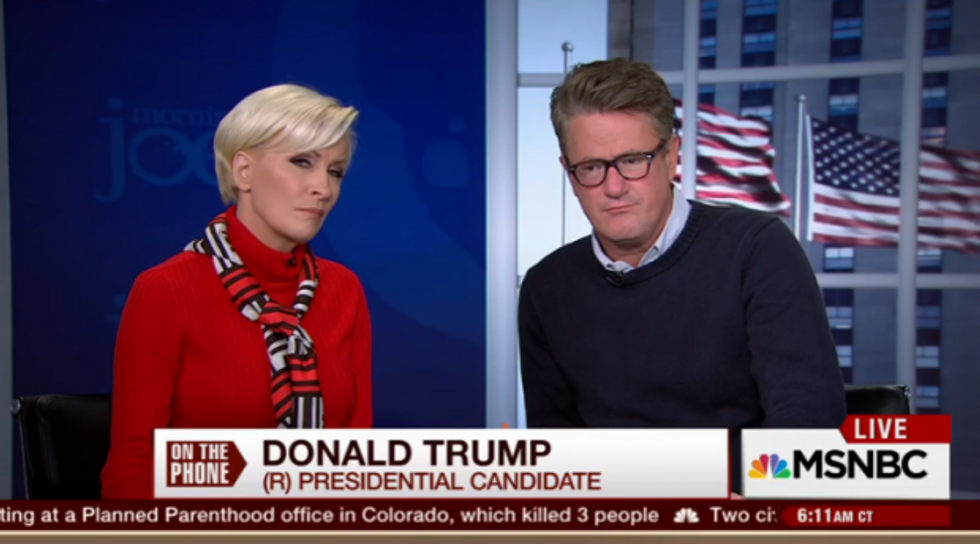 Image source: MSMBC
Responding to comments Sen. John McCain (R-Ariz.) made Sunday on CBS' "Face the Nation" when the Arizona senator said that Trump's rhetoric about Muslims is turning the world against the U.S., the GOP presidential front-runner responded by pointing out that the United States is "not exactly loved by many Muslims."
Asked by show host Joe Scarborough why he continues to bring up at his campaign rallies the topic of Muslims who hate America and why "should that be relevant to voters who are going to vote in Iowa and New Hampshire," Trump responded, "It is important because you have to know the problems."
"We have a president who won't even mention the term or the name — I don't know what his problem is, nobody understands it — he won't mention 'radical Islamic terrorism.' He won't mention it. It could be from a different planet, as far as he's concerned," Trump continued. "And you're not going to solve the problem unless you're willing to talk about what the problem is."
"I'm talking about, there is a level of hatred in a certain community, in this case, the Muslim community, that people don't want to talk about," Trump said in response to a comment from "Morning Joe" co-host Mika Brzezinski.
"So do you believe it is a small percentage?" Scarborough asked the real estate mogul in response.
"You mentioned before, it could be 10 percent," Trump replied. "Hey, Joe, ... 10 percent or 7 percent or 2 percent is a lot when you're talking about the kind of destruction they want to do."
The panel also invoked Trump's hotly contested claim that he saw Muslims in New Jersey celebrating just hours after the terror attacks on 9/11. In response to a question from Scarborough, Trump said that a video of the alleged celebration will eventually emerge.
"They'll find something, they're going to find something," Trump said.
Watch the interview below; the most relevant part comes during the first half:
—
Follow the author of this story on Twitter and Facebook:
[facebook //www.facebook.com/plugins/like.php?href=