President Barack Obama urged leaders and attendees from nearly 200 countries at the opening session of COP21, the U.N. climate conference in Paris, to "act here, act now" to prevent a climate catastrophe.
"I believe, in the words of Dr. Martin Luther King, Jr., that there is such a thing as being too late and when it comes to climate change," Obama said. "That hour is almost upon us."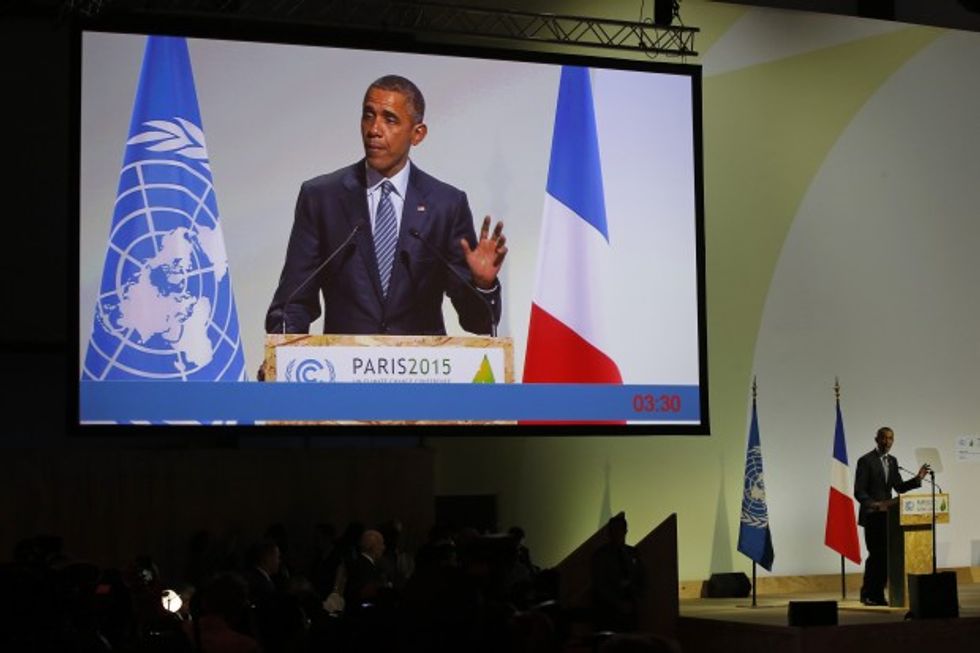 President Barack Obama addresses world leaders at the COP21 United Nations Climate Change Conference in Le Bourget, outside Paris, Monday. (AP Photo/Michel Euler)
The president added that today nations share a "sense of urgency" and know it's within their power to do something about it. He added that his visit to Alaska during the summer gave him a glimpse of the larger impacts of climate change.
"It was a preview of one possible future, a glimpse of our children's fate if the climate keeps changing faster than our efforts to address it: Submerged countries, abandoned cities, fields that no longer grow, political disruptions that trigger new conflict, and even more floods of desperate peoples seeking the sanctuary of nations not their own," Obama said.
He stressed it is a future that can be changed by swift international action.
Without naming the Keystone Pipeline, which his administration rejected earlier this month, Obama said of the United States, "We've said no to infrastructure that would pull high-carbon fossil fuels from the ground, and we've said yes to the first-ever set of national standards limiting the amount of carbon pollution our power plants can release into the sky."
Obama hopes to make an international climate agreement part of his legacy. The administration has already agreed to reduce the country's carbon emissions by 26 to 28 percent below 2005 levels within the next decade.
The climate conference comes in Paris just weeks after the Islamic State terrorist attack on the city.
"We stand united in solidarity not only to deliver justice to the terrorist network responsible for those attacks but to protect our people and uphold the enduring values that keep us strong and keep us free, and we salute the people of Paris for insisting this crucial conference go on — an act of defiance that proves nothing will deter us from building the future we want for our children," Obama said.