CLEVELAND (TheBlaze/AP) -- Brent Urban just wanted a chance to play. Will Hill wanted redemption.
On one dramatic, unforgettable play, the two Ravens achieved their goals.
Urban blocked Travis Coons' field-goal attempt as time expired and Hill returned it 64 yards for a touchdown, sending Baltimore to an improbable 33-27 win Monday night over the luckless Cleveland Browns, who dropped their sixth straight game and may have lost starting quarterback Josh McCown for the remainder of the season.
Coons' potential game-winner from 51 yards was deflected by Urban, who was making his NFL debut after missing his rookie season with a knee injury and then tearing a biceps in training camp.
"It's surreal," said a beaming Urban, a fourth-round pick in 2014. "After being out so long, it's crazy. I'm almost speechless. It's just a wonderful feeling."
Ravens - Browns ends on a blocked FG returned for a TD by the Ravens, sort of how you expected it pic.twitter.com/fcWmCGDPR1

— The Cauldron (@TheCauldron) December 1, 2015
Hill had been beaten by Browns wide receiver Travis Benjamin for a game-tying touchdown in the fourth quarter and was willing to do anything he could to make up for his mistake.
"I was praying," Hill said. "I said, 'If we get a block and it bounced my way, I'm going to take it to the end zone.' Luckily, it did."
In a separate note, a Ravens beat reporter actually predicted the unlikely outcome on Monday night -- leading to pleas from Twitter users asking him to pick their lottery numbers.
I'm calling it now. #Ravens block the field goal and return it for the game-winning touchdown. No one wants to win.

— Luke Jones (@BaltimoreLuke) December 1, 2015
And something finally went the right way for the Ravens (4-7), who have been decimated by injuries all season and seem to take every game down the last ticks on the clock.
"One of the greatest football games you're probably ever going to see in terms of excitement," Ravens coach John Harbaugh said.
Not for the Browns (2-9), who rallied to tie it behind backup quarterback Austin Davis in the closing minutes only to suffer an excruciating loss.
"It's tough to swallow," said Davis, who came off the bench to replace McCown in the fourth quarter.
Ravens quarterback Matt Schaub, making his first start since 2013, threw two touchdown passes but also a costly interception in the final minute to Browns cornerback Tramon Williams, a turnover that appeared to doom the Ravens.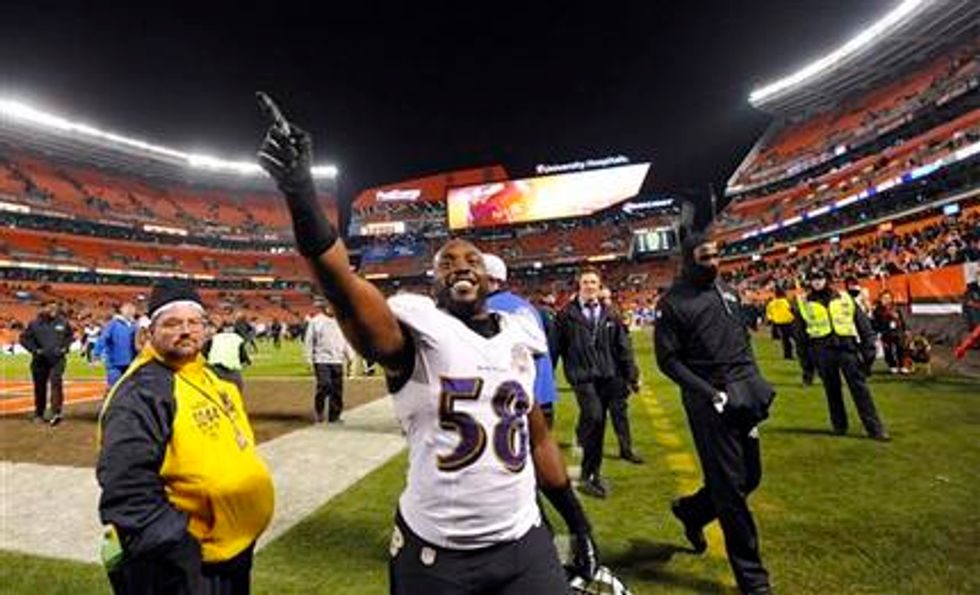 Baltimore Ravens outside linebacker Elvis Dumervil (58) celebrates after the Ravens defeated the Cleveland Browns 33-27 in an NFL football game, Monday, Nov. 30, 2015, in Cleveland. (AP Photo/David Richard)
But as Cleveland attempted to get closer for Coons, who made his first 18 attempts this season, Davis wasted valuable time because of a communication issue with the sideline. Davis slid during a scramble just feet from the sideline, forcing the Browns to call a timeout.
Coons' kick was low, allowing Urban to get a hand on it. As Hill sprinted down the sideline, Browns fans, some of whom came to the game with brown paper bags over their heads, felt more disgust.
"It's a tough one to wrap your brain around," Browns coach Mike Pettine said. "It's frustrating we didn't finish it."
For a primetime game with little TV appeal, this one had a little bit of everything:
MCCOWN GOES DOWN: No one will ever challenge McCown's toughness, but the 36-year-old quarterback finally succumbed to the pain after taking a hard hit in the fourth quarter.
McCown tried to continue playing, but had to leave the field after throwing an incompletion. He was immediately taken to the locker room and left FirstEnergy Stadium with his right arm in a sling.
Pettine said the team will know more Tuesday, but it appears McCown's season is over.
If McCown can't play, the Browns could stick with Davis or go back to Johnny Manziel, who was stripped of his starting job after a video surfaced of him partying during the bye week.
LESSON LEARNED: Ravens rookie wide receiver Kaelin Clay returned a punt 82 yards for a touchdown in the first quarter and squeezed the ball tightly as he crossed the goal line.
When he was at Utah, Clay infamously dropped the ball just short of the end zone on what would have been a long TD only to have an Oregon defender pick it up and return it 99 yards for a score.
ANOTHER CONCUSSION: Browns cornerback Justin Gilbert sustained a concussion while returning a kickoff in the third quarter of his first start this season.
Cleveland has been inundated with head injuries. On Monday, the Browns were without Pro Bowl cornerback Joe Haden as well as wide receivers Taylor Gabriel and Andrew Hawkins because of concussions.
SPECIAL SPECIAL TEAMS: The Ravens got two TDs on special teams and have now blocked a punt or field goal in five consecutive games. It's enough to make coach John Harbaugh, a former special teams coach, smile.
"All the guys on the field goal-block team that set the wall down the sidelines. That was just a thing of beauty," he said. "We scored two touchdowns on special teams and that's an incredible thing."
---