President Barack Obama said that the problem of climate change shares similarities with the problem of terrorism and the Islamic State. On both fronts, the president said, the United States must "keep going at it," "see what works" and "push away fear."
"I'm optimistic. I think we're going to solve it. I think the issue is just going to be the pace and how much damage is done before we are able to fully apply the breaks," Obama said of climate change. "In some ways, it's akin to the problem of terrorism and ISIL."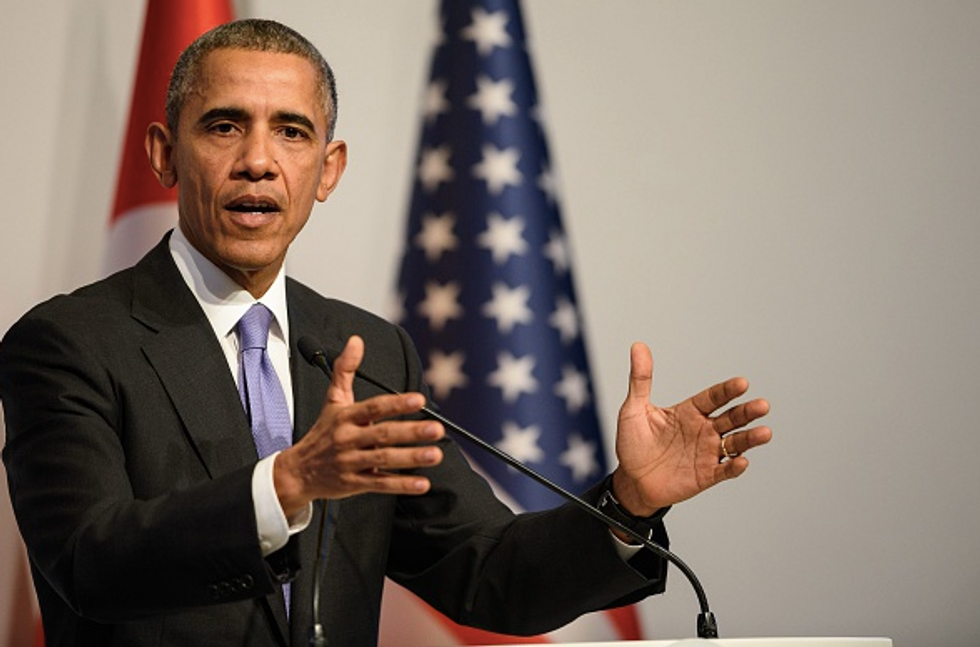 Ozan Kose/AFP/Getty Images
Obama took reporters' questions Tuesday in Paris, the site of an Islamic State terrorist attack on Nov. 13, as part of a press conference at COP21, a U.N. global conference to combat climate change being attended by nearly 200 world leaders.
Shifting from climate change to terrorism, Obama went on to talk about the terror attacks in Paris.
"In the immediate aftermath of the terrible attack that happened here in Paris, sometimes it's natural for people to despair. But look at Paris. You can't tear down Paris because of the demented actions of a handful of individuals," Obama said. "The beauty, joy, the life, the culture, the people, the diversity. That's going to win out every time."
He then explained the commonalities between the fight against climate change and against terrorism.
"But we have to be steady in applying pressure to the problem. We have to keep on going at it," Obama said. "We have to see what works. When something doesn't work, we need to change our approach. But most of all we have to push away fear and have confidence that human innovations, our values, our judgment, our solidarity will win out."
The president said other global problems have been solved through international cooperation.
"I've been at this long enough where I have some cause for confidence," Obama said. "We went what, a month, a month and a half where people were pretty sure Ebola was going to kill us all. Nobody asks me about it anymore. Although we still see flickers of it in West Africa, we still set up a whole global health security agenda, part of American leadership, to deal not only with Ebola but to deal with the possibility of future pandemics."