Real estate tycoon Donald Trump said Wednesday that he wouldn't support impeachment of President Barack Obama because it would serve only to make Obama a "martyr."
Trump's comments came during a radio interview with conspiracy theorist Alex Jones.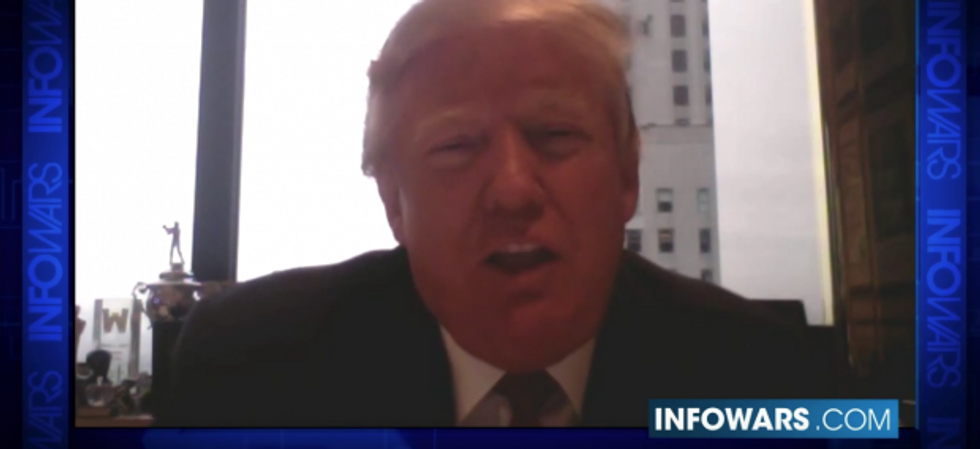 Image source: Youtube/AlexJonesShow
"Is it not time for impeachment hearings against Obama?" Jones asked the billionaire businessman. "I mean, what do we do politically to really try to prosecute Hillary Clinton?"
"The best thing that we have going with Obama is he has a year left, OK?" Trump replied, before being interrupted by Jones."Because by the time you do hearings and everything —"
"So don't make him a martyr?" Jones asked.
"In a way you'll make him a martyr," Trump confirmed.
Trump tried his best to skirt the question and quickly turned to ripping his fellow Republican candidates for failing to fulfill their campaign promises.
Later in the interview, Jones labeled Trump a "true maverick," saying that at least 90 percent of his show's audience supports the Republican presidential front-runner.
"Your reputation's amazing," Trump told Jones. "I will not let you down."
(The relevant part of the video starts around 11:55)
—
Follow the author of this story on Twitter and Facebook:
[facebook //www.facebook.com/plugins/like.php?href=