Jerry Falwell, Jr., president of Liberty University in Lynchburg, Virginia, took the stage Friday at the college's thrice-weekly Convocation gathering to call for "good people" to have concealed carry permits in order to "end those Muslims."
"It was clear [during Convocation] I was talking about radical Islamic terrorist Muslims, not all Muslims," Falwell said in an email to TheBlaze.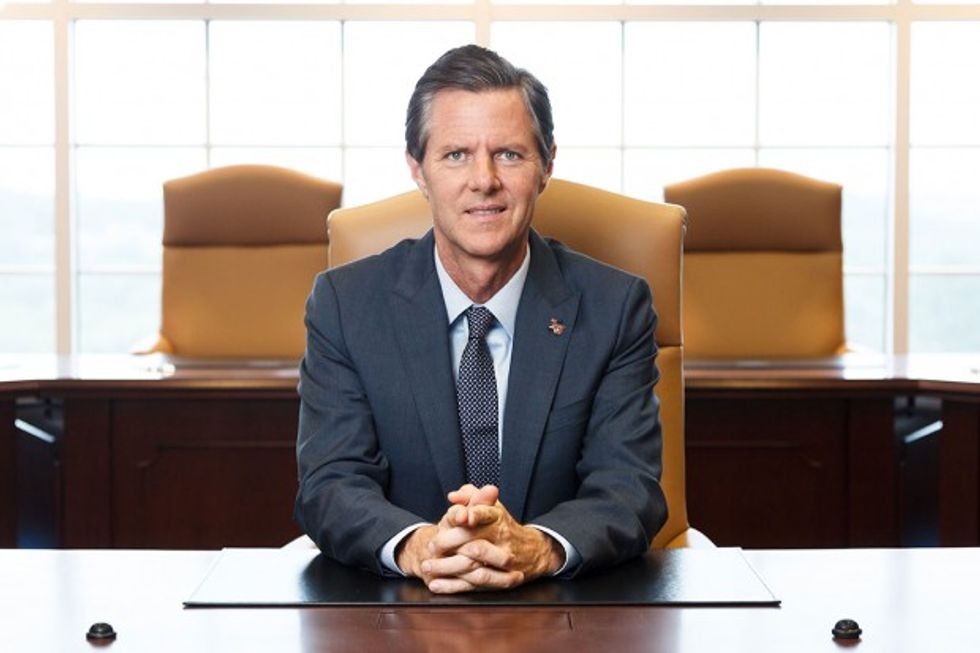 Liberty University President Jerry Falwell, Jr. (Image source: liberty.edu)
Falwell's comments came two days after an attack at the Inland Regional Center in San Bernardino, Calif., that left 14 dead and 21 injured. Additionally, it was confirmed that killer Tashfeen Malik had pledged allegiance to the Islamic State during Wednesday's attack.
"If the people in that community center had had what I got in my back pocket right now, ... Is it illegal to pull it out? I don't know," Falwell said over laughter and applause.
Falwell used the opportunity to promote the university's concealed carry permit course, encouraging students to apply for gun permits.
"I just want to take this opportunity to encourage all of you to get your permit — we offer a free course," Falwell remarked. "Let's teach 'em a lesson if they ever show up here."
In 2013, Liberty amended its gun policy, allowing students to carry concealed weapons in all university facilities except residence halls. Falwell said the university allows concealed carry because "God forbid one of these maniacs ever shows up at LU, I want our students to have a chance to protect themselves."
"It seems many of these terrorist attacks are carried out in gun-free zones," Falwell told TheBlaze. "The victims in Paris were like lambs going into the slaughter because they had no way to protect themselves or shoot back."
Falwell went on to say that it "makes no sense" why President Barack Obama advocates gun control that would "make law-abiding citizens less able to protect themselves against terrorist attacks."
As for the response he received around campus Friday, he said it was all positive.
"I've never received more support or a more positive response from anything I have ever said in Convocation before," Falwell said.
The FBI confirmed Friday that they are officially investigating the California massacre as an "act of terrorism," making it the single deadliest attack on the U.S. homeland since the Sept. 11, 2001 attacks in New York.
Watch Falwell's remarks during Friday's Convocation:
Liberty University has provided clean video of President Falwell's comments at convocation this morning. Falwell says he meant to refer to "terrorists" not all Muslims. We will have reaction from President Falwell tonight on 13 News at 11.

Posted by ABC 13 News- WSET Official Page on Friday, December 4, 2015
—
Follow Tré Goins-Phillips (@tregp) on Twitter