Democratic presidential candidate Vermont Sen. Bernie Sanders is losing big to front-runner Hillary Clinton in national polling, but in the race to be Time's "Person of the Year," Sanders is winning big.
In the magazine's readers' poll, Sanders took more than 10 percent of the vote (10.2 percent), which was enough to edge out the likes of Nobel Peace Prize laureate Malala Yousafzai (5.2 percent), President Barack Obama (3.5 percent), Pope Francis (3.7 percent), TV host Stephen Colbert (3.1 percent), and "Refugees" (3 percent).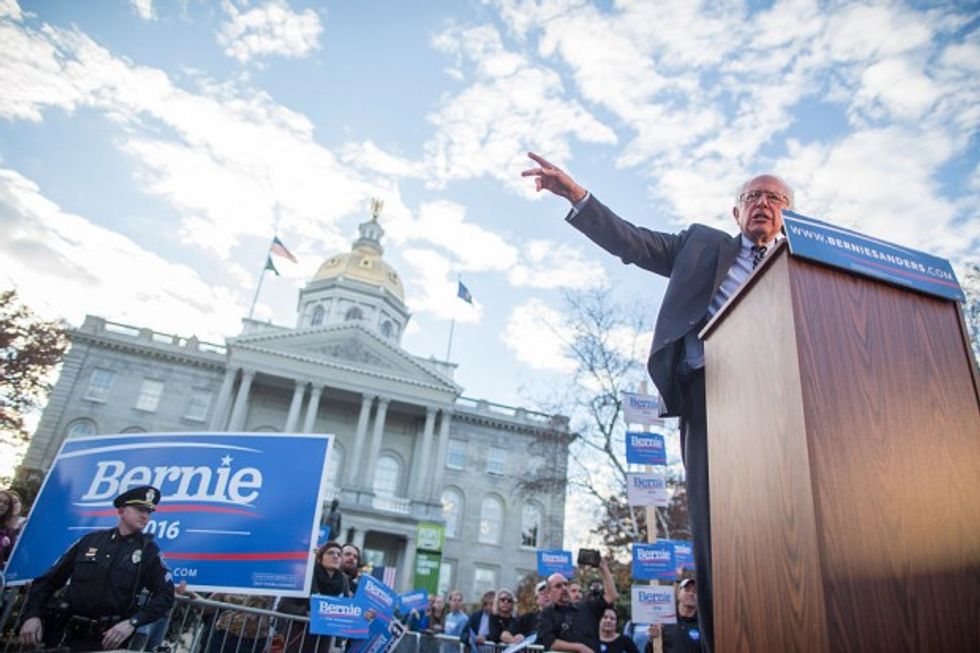 Democratic presidential candidate Vermont Sen. Bernie Sanders speaks at a rally Nov. 5. (Getty Images/Scott Eisen)
Among other presidential candidates, the senator far outpaced fellow Democratic candidate Hillary Clinton (1.4 percent), and easily beat out all Republican candidates, including businessman Donald Trump (1.8 percent), Florida Sen. Marco Rubio (1.1 percent), retired neurosurgeon Ben Carson (1.1 percent), former Hewlett-Packard CEO Carly Fiorina (0.6 percent), Texas Sen. Ted Cruz (0.5 percent), and former Florida Gov. Jeb Bush (0.5%).
More from Time:
"Sanders has helped define the presidential race, calling for big-ticket progressive items from single-payer healthcare to tuition-free public universities. He has mobilized the Democratic Party's liberal base and inspired massive campaign rallies across the country."
Surprisingly, one terrorist was even included in Time's list: Islamic State Caliph Abu Bakr al-Baghdadi, who received 0.6 percent of the vote — tying Fiorina and embattled Kentucky county clerk Kim Davis. Al-Baghdadi was only slightly behind Kim Kardashian and Federal Reserve Chairwoman Janet Yellen.
Last year, the "Ebola fighters" took the top honors in the publication's final decision, with the Ferguson protesters coming in second.
Time editors are set to reveal the 2015 "Person of the Year" Wednesday morning on NBC's "Today" show.
—
Follow the author of this story on Twitter and Facebook:
[facebook //www.facebook.com/plugins/like.php?href=