A Democratic congressman, when defending his vote for increased security of Syrian refugees, cited an audit earlier this year of lax airport security to demonstrate problems already facing the Department of Homeland Security.
"Back in August, we did an investigation — the inspector general did — of the Department of Homeland Security, and they had 72 individuals that were on the terrorist watch list that were actually working at the Department of Homeland Security," Rep. Steve Lynch (D-Mass.) told WGBH radio.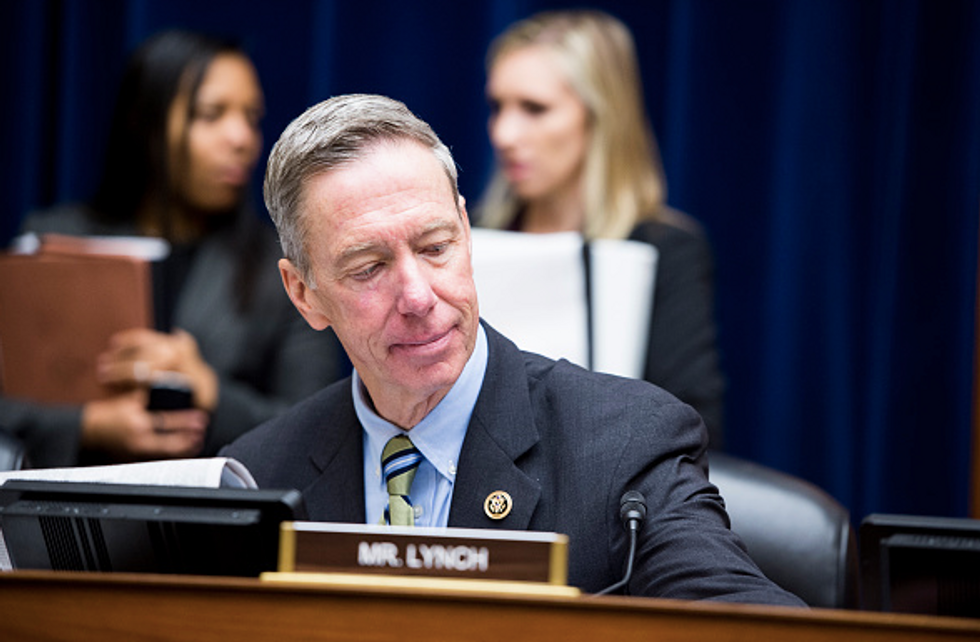 Rep. Stephen Lynch (D-Mass.) participates in a House Oversight and Government Reform Committee hearing Feb. 3, 2015. (Bill Clark/CQ Roll Call)
An inspector general report from last summer said that 73 employees in the airline industry were undetected by the Transportation Security Administration.
Department of Homeland Security spokeswoman Marsha Catron denied there were actual DHS employees on the watch list.
"There is no evidence to support the suggestion by some that 73 DHS employees are on the U.S. government's consolidated terrorist watch list," Catron told TheBlaze in a statement. "In fact, DHS utilizes information on the terrorist watchlist to screen and vet, including those individuals with access to secure areas of an airport. DHS holds our employees to the highest possible standards and fully vets throughout term of employment."
Lynch said during the radio interview that the probe of the effectiveness of the TSA, which is part of DHS, led to the resignation of the head of the administration, Melvin Carraway.
"Then we went further and did and eight-airport investigation," Lynch said. "We had staffers go into eight different airports to test the Department of Homeland Security screening process at major airports. They had a 95 percent failure rate. We had folks — this was a testing exercise — so we had folks going in there with guns on their ankles, and other weapons on their persons, and there was a 95 percent failure rate.
Lynch's office also did not immediately respond to phone and email inquiries.
It would appear the report Lynch was referring to was dated June 4, which is the last audit the DHS Office of Inspector General conducted on airline security pertaining to watch lists.
"Despite these layered controls, our testing showed that TSA did not identify 73 individuals with terrorism-related category codes," the IG report found. "According to TSA data, these individuals were employed by major airlines, airport vendors, and other employers. TSA did not identify these individuals through its vetting operations because it is not authorized to receive all terrorism-related categories under current interagency watchlisting policy."
The report added, "TSA acknowledged that individuals in these categories represented a potential transportation security threat."
The report goes on to explain the methodology.
To assess the accuracy and effectiveness of TSA's terrorism vetting procedures, we asked NCTC to match over 900,000 records of active aviation workers against NCTC's Terrorist Identities Datamart Environment (TIDE). Our analysis of NCTC results determined that TSA did not find 73 individuals linked to terrorism because the watchlist extract TSA received from the DHS Watchlist Service and used for vetting did not contain the terrorism codes associated with those individuals. According to an official at the DHS Office of Policy, in order to receive additional categories of TIDE records, TSA must work with DHS to formalize a request to the Watchlisting Interagency Policy.
Lynch told the Boston radio station he had "very low confidence" in the DHS based on empirical data.
"I think we desperately need another set of eyeballs looking at the vetting process. That's vetting that's being done at major airports where we have a stationary person coming through a facility, and we're failing 95 percent of the time," Lynch said. "I have even lower confidence that they can conduct the vetting process in places like Jordan or Belize or on the Syrian border or in Cairo or Beirut in any better fashion, especially given the huge volume of applicants we've had seeking refugee status."