People have been shooting looks at one of the newest billboards in Charlotte, North Carolina. The sign, an ad for Blackstone Shooting Sports, portrays old St. Nick brandishing an assault-style rifle next to the words, "Santa knows what you really want."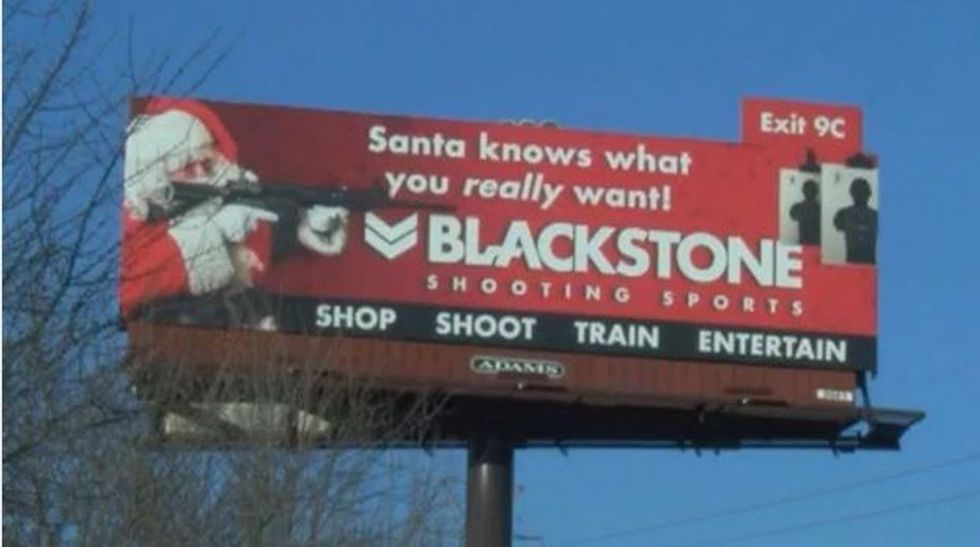 Blackstone Shooting Sports Christmas billboard in Charlotte, N.C. (Image source: WNCT-TV)
The billboard, positioned on a busy highway in Charlotte, has drawn mixed reactions from local residents.
"I have to say, in general, to each their own. It doesn't appeal to me but what are you going to do about it?" one woman told WCNC-TV when asked about her opinion of the billboard.
Another man said it is "promoting something we don't want to promote."
The store, however, meant only to be "amusing," hoping to entertain current customers and attract new clients.
The holiday ad comes as President Barack Obama calls for further gun control measures after last week's terrorist attack in San Bernardino, Calif., that left 14 dead.
"Santa Claus is synonymous with the holiday season," Blackstone general manager Guy Santiago said. "We thought the ad would be amusing and that our customers and potential customers would get a kick out of it."
The store, which opened last December, not only sells guns, but also houses a 27-lane shooting range and provides lessons on how to handle firearms. Santiago told WCNC-TV the company wants to provide a "fun and safe place" to learn how to use guns.
(H/T: WCNC-TV)
—
Follow Tré Goins-Phillips (@tregp) on Twitter