Republican presidential front-runner Donald Trump confirmed Sunday that he is not opposed to banning people on no-fly lists from purchasing firearms, splitting from the majority of the other GOP candidates.
During an interview with John Dickerson on CBS' "Face the Nation" Sunday, the real estate tycoon said he would "certainly" look into restricting the Second Amendment rights of those on no-fly lists, despite claiming that he's really "into the whole thing with [the] Second Amendment."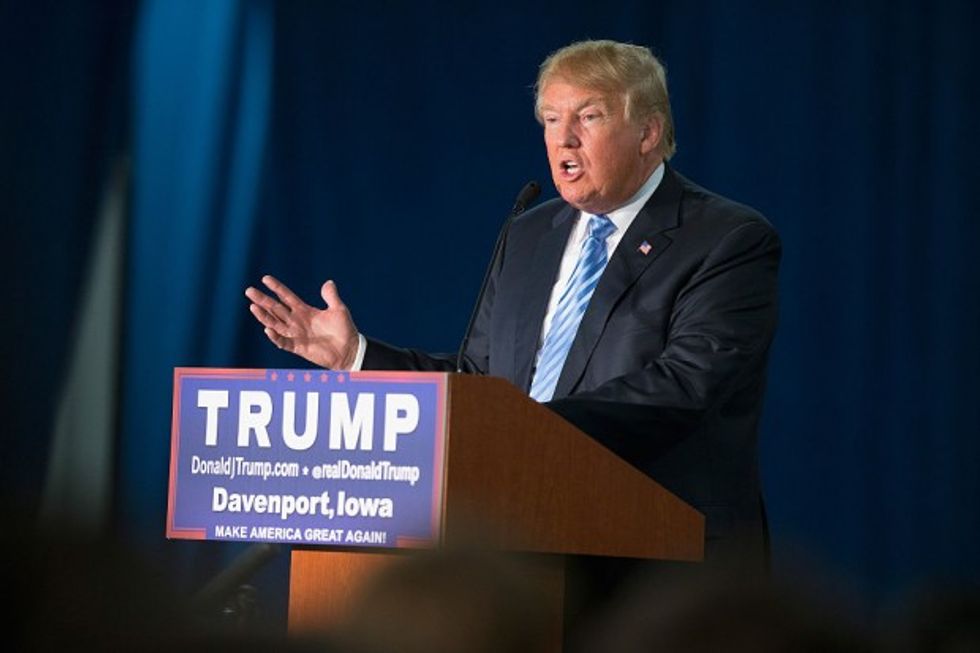 Republican presidential candidate Donald Trump speaks to guests Dec. 5. (Getty Images/Scott Olson)
"Well, I'd certainly take a look at it. I would," Trump said. "I'm very strong into the whole thing with the Second Amendment — but if you can't fly, and if you've got some really bad — I would certainly look at that very hard."
Trump's position stands in stark contrast to the other Republican presidential candidates, who have generally said they oppose the idea, saying that it is too broad and would target many people who aren't guilty of committing a crime.
In fact, according to the ACLU, there are more than 900,000 names on U.S. terror watch lists, which leaves little doubt that there are many innocent people on the lists.
But despite most GOP candidates disagreeing with Trump, a Quinnipiac poll released last week found that the majority of Americans are in agreement with the billionaire businessman. According to the poll, 77 percent of American voters support changing gun laws to ban those on terror watch lists from purchasing guns.
To note, Trump is also in the camp of each Democratic presidential candidate, who have all advocated for the restrictions.
—
Follow the author of this story on Twitter and Facebook:
[facebook //www.facebook.com/plugins/like.php?href=