President Barack Obama's gun proposal — primarily stricter background checks and banning semi-automatic firearms — would have no impact on California, which already has such laws, and those laws didn't prevent the San Bernardino terrorist attack, a gun rights activist in the state said.
"He is a lame-duck president with a Congress which isn't going to pass any of his gun control proposals," California Right to Carry President Charles Nichols said of Obama. "Any executive order he might issue will be like those issued after Newtown, toothless and subject to judicial review."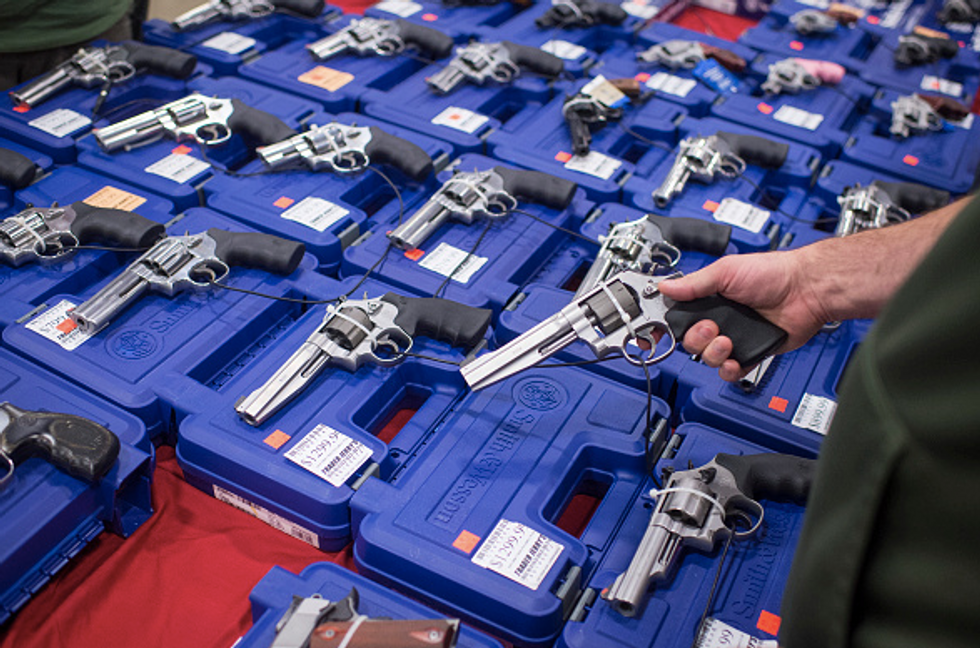 Jabin Botsford/The Washington Post via Getty Images
On top of the federal push, California Lt. Gov. Gavin Newsom, a Democrat, is pushing for a ballot initiative in 2016 that would require additional background checks for ammunition purchases and require gun owners to surrender large-capacity magazines that hold more than 10 rounds.
"There is no federal, state or local law that can prevent these shootings," Nichols told TheBlaze. "One need only look at France, which has far stricter gun laws than does California, for proof."
During his Sunday prime-time address, Obama called on Congress to ban anyone on the no-fly list from buying a gun. Such a law would be out of the hands of states. But he further called for more restrictions on semi-automatic firearms, or what the president called "assault weapons."
"This is a matter of national security," Obama said. "We also need to make it harder for people to buy powerful assault weapons like the ones that were used in San Bernardino. I know there are some who reject any gun safety measures, but the fact is that our intelligence and law enforcement agencies — no matter how effective they are — cannot identify every would-be mass shooter, whether that individual is motivated by ISIL or some other hateful ideology. What we can do — and must do — is make it harder for them to kill."
California law already prohibits the sale of .50 caliber BMG rifles and magazines. Possession of such rifles isn't prohibited, but they must be registered with the state.
As for background checks, applications for sale or transfer must be made with a licensed California gun dealer before the sale is completed. The buyer must present a valid California driver's license and supply their thumbprint. And if someone is buying a handgun, at least one more form of ID is required to prove California residence. The dealer sends the information to the California Department of Justice. The buyer is charged $25 for the Personal Firearms Eligibility Check, and there is a 10-day waiting period.
The California Department of Justice administers the Handgun Safety Certificate test, the certificate is available for five years.
A purchaser must also demonstrate to a dealer they have the ability to safely handle a handgun. The gun dealer must post a sign saying, "If you leave a loaded firearm where a child obtains and improperly uses it, you may be fined or sent to prison."
"California requires that virtually everyone who acquires a firearm do so through a dealer who is licensed by both the state and  federal governments," Nichols told TheBlaze. "In addition, the attorney general maintains her own database of prohibited persons supposedly more extensive than the federal database, and so yes, California does require strict background checks."
Gun control advocates contend that even if one state has strong gun restrictions, it can be affected by weak laws in other states.
"It's too late for the San Bernardino families affected by last week's shooting, but there's a lot political leaders can do to reduce the number of shootings in our country and help prevent future tragedies," Everytown for Gun Safety spokeswoman Lindsey Rosenthal told TheBlaze.
"The first way to do this is by immediately closing the gaping loopholes in our state and federal gun laws that enable dangerous people to get their hands on firearms. Several states, including California, have already started to take action by strengthening their gun laws," Rosenthal added. "But as we know, a chain is only as strong as its weakest link — and other states' weak gun laws negatively affect their neighbors. That's why we worked to get background checks on the ballot in Nevada next November and why we will continue to demand federal action to close the background check and terror gap loopholes."
The laws on purchases also lead to a somewhat de facto registration, Nichols said.
"Californians are generally not required to register their firearms purchased within the state of California; however, in the late 1990s, California enacted a law that required gun dealers to register their sale of handguns with the California Department of Justice," he said. "The DROS [Dealer Record of Sale] system, that requirement was recently extended to long guns."
California does have a "stand your ground" law, but with caveats.
"There is a Catch-22 however. In circumstances where one lawfully used a loaded handgun to defend himself or others or property and there is no question that the use of a loaded handgun was warranted, then one can still be convicted of the crime of carrying a loaded firearm in public and if it is a handgun and not registered in the DROS system then it is potentially a felony because California law prohibits one from loading a firearm until he is in grave, immediate danger," Nichols said. "That's right, in lawful self-defense in California it is not a crime to lawfully use a loaded firearm but it is a crime to load the firearm."