Two Dutch filmmakers recently took to the streets to conduct a social experiment in an effort to measure public reaction to — and shed light on — what they deem to be "shocking verses" in the Judeo-Christian scriptures.
"Muslims have been accused of following a religion that has no place in our Western culture," a voice-over proclaimed in a video that documents the results of the experiment. "This made us wonder — what about Christianity, a religion that has influenced our culture greatly?"
So, filmmakers Alexander Spoor and Sacha Harland purchased a Bible and disguised it as a Koran before heading out and sharing select verses with passerby — scriptures that Spoor and Harland said "are in great contrast with ... western norms and values."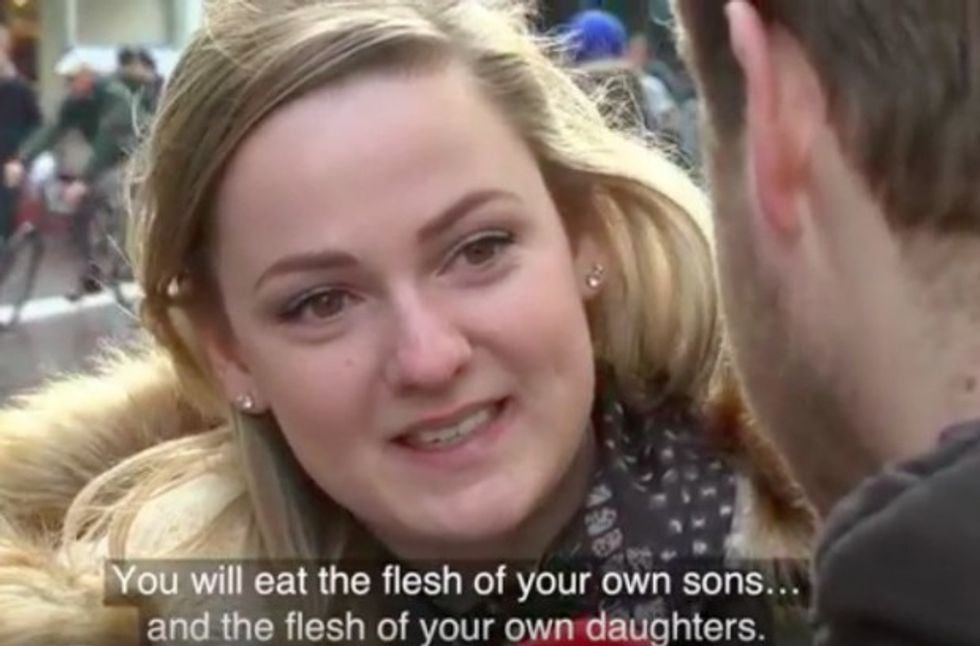 A screen shot from YouTube
Sharing verses from Leviticus 26 and 1 Timothy 2, among others, Spoor and Harland — who did not provide context or explanatory information about any of the verses — read from the Bible, leading interview subjects to believe that it was a copy of the Koran.
"If you reject my commands and abhor my laws," the presenter read, citing Leviticus 26:15 before immediately jumping and combining this sentiment to the text in verse 29. "You will eat the flesh of your own sons and the flesh of your own daughters."
Another verse that was shared was a paraphrase of Leviticus 20:13: "If two men sleep with each other they will both have to be killed."
Spoor and Harland then asked interview subjects what they believed the biggest differences were between these scriptures — Bible verses that interviewees assumed were from the Koran — and what they believed is actually presented in the Bible.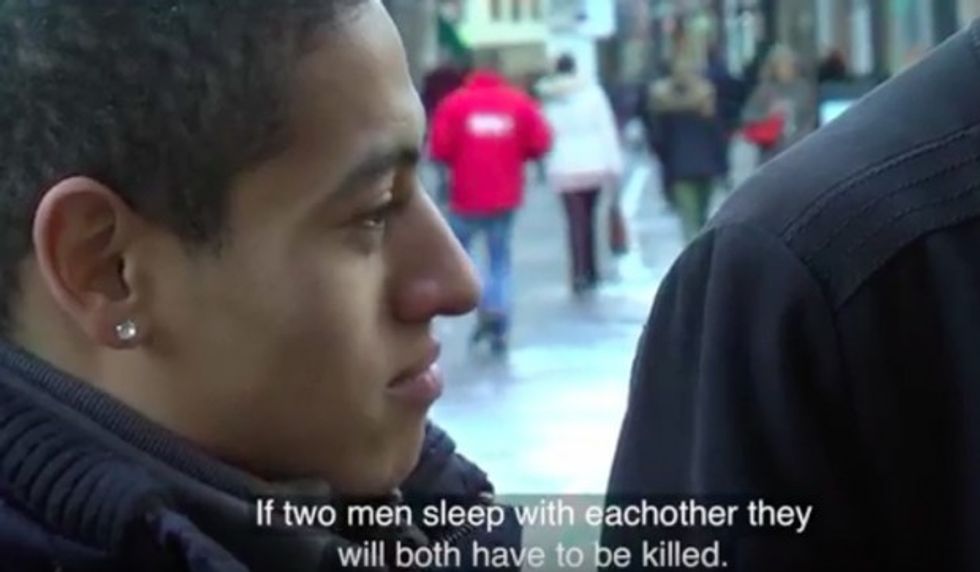 A screen shot from YouTube
"Hearing this, I would think the Koran is more aggressive," one person responded.
Another added, "I think the Bible mostly has a lot of positive things in it."
But when they learned that it was the Bible and not the Koran that the filmmakers were reading from, some were so shocked that they spouted expletives such as, "What the f**k" and "What the hell."
"I really had no idea this was in there," one woman said.
Watch it all unfold below:
The video has gone viral and amassed more than four million views since it was uploaded over the weekend.
Biblical experts who believe in the divine nature of the Bible have long argued that these verses must be placed in context to understand what is being discussed. These individuals often differentiate between cultural rules and norms and biblical commands from God, as TheBlaze has repeatedly documented.
(H/T: Daily Mail)
--
Follow the author of this story on Twitter and Facebook: