CBS TV's late night talk-show host Stephen Colbert returned from vacation Monday night and played a little "catch up" on news events, addressing the recent mass shootings in Colorado Springs, Colorado, and San Bernardino, California.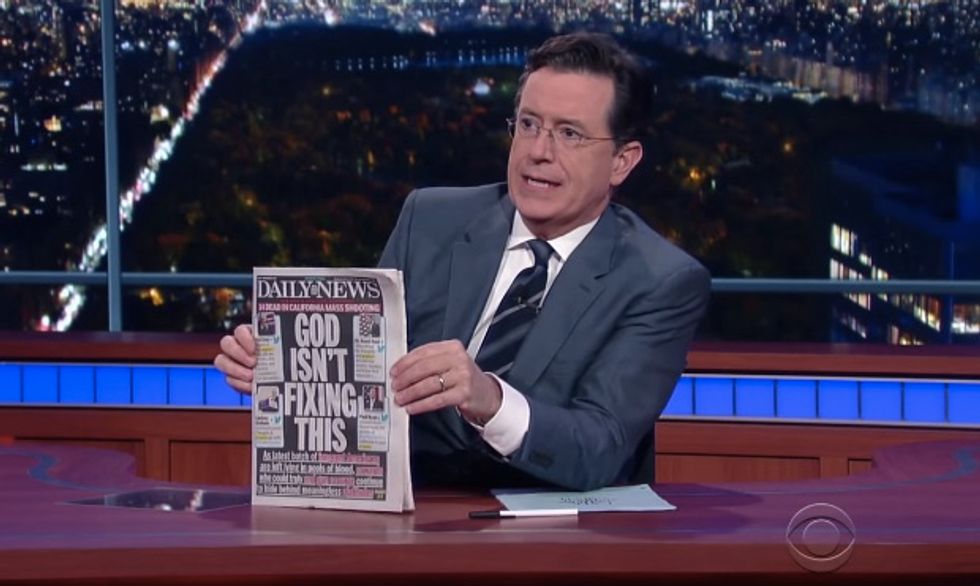 Image source: YouTube
Holding up a copy of the New York Daily News cover that slammed politicians for saying their "thoughts and prayers" were with the victims, victims' families and first responders, Colbert (a devout Catholic) defended sending "thoughts and prayers."
"The reason you keep people in your thoughts and prayers is admittedly not to fix the problem but to try to find some small way to share the burden of grief," Colbert explained.
The comedian's mostly serious segment also managed to slip in a three-sentence plug for gun control. "There has to be some way to make it harder to build up and arsenal," Colbert said, adding, "The San Bernardino shooters had 6,000 rounds of ammunition."
He received a large round of applause when he wondered, "Why is so easy to buy bullets when I have to show three forms of ID to buy Sudafed?"
Watch the segment titled, "So What Do We Do?"
,/p>
__
Follow the author of this story on Twitter and Facebook: