The vast majority of Donald Trump supporters would abandon the GOP if Trump decided to run as a third-party candidate, a new USA Today/Suffolk University poll released Tuesday found.
According to the poll, 68 percent of the Republican front-runner's supporters would continue to support Trump in an independent bid for the White House. Only 18 percent said they would reconsider their support. The rest were undecided.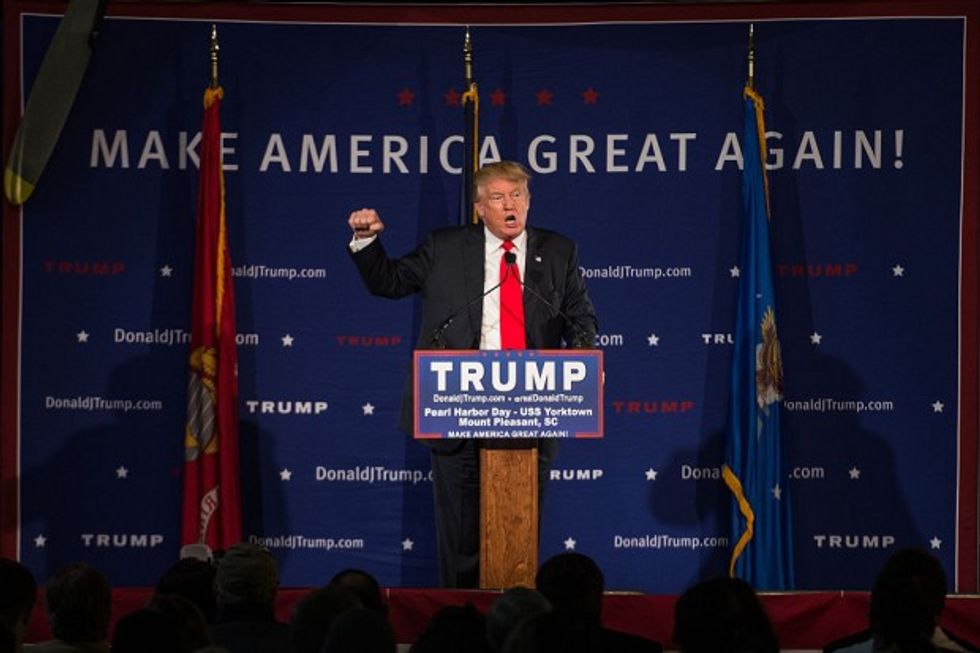 Donald Trump speaks to the crowd at a Pearl Harbor Day Rally at the U.S.S. Yorktown, December 7, 2015. (Getty Images/Sean Rayford)
The poll represents the "perfect storm" for the Republican National Committee — one where enough Donald Trump supporters abandon the Republican party to all but ensure the White House to whomever wins the Democratic nomination.
However, the billionaire businessman did sign a "loyalty pledge" to the RNC in September, vowing not to run as a third-party candidate, but the possibility of a Trump independent run resurfaced last month after Trump tweeted that the RNC wasn't holding up their end of a "deal."
In terms of support, the poll also found that the real estate tycoon continues his dominating lead. According to the poll, Trump received 27 percent of support, while second-place Texas Sen. Ted Cruz received 17 percent. Florida Sen. Marco Rubio was third with 16 percent, while retired neurosurgeon Ben Carson and former Florida Gov. Jeb Bush rounded out the top-5 with 10 percent and 4 percent, respectively.
While the USA Today/Suffolk University poll was conducted before Trump's highly controversial remarks on Muslims, a separate survey from Public Policy Polling released Tuesday found that Trump supporters largely agree with his positions toward Muslims.
The survey of 1,000 likely voters was conducted between Dec. 2-6. The poll had an overall margin of error of +/- 3 percent. Among the 357 Republican likely voters, the poll had a margin of error of +/- 5 percent.
—
Follow the author of this story on Twitter and Facebook:
[facebook //www.facebook.com/plugins/like.php?href=