The University of Tennessee at Knoxville's faculty is scrambling as state lawmakers consider pulling taxpayer funding for the school's Office of Diversity and Inclusion after it published controversial holiday party guidelines.
Scrutiny of the university's diversity office was sparked — once again — after it published holiday season guidelines for employees that urged them to "ensure your holiday party is not a Christmas party in disguise." The list, which was published on the University of Tennessee at Knoxville's website, has since been replaced with three generic paragraphs that ask for those celebrating the holidays to be mindful of others.
The school official who published the guidelines has relinquished his control over the website, TheBlaze has learned.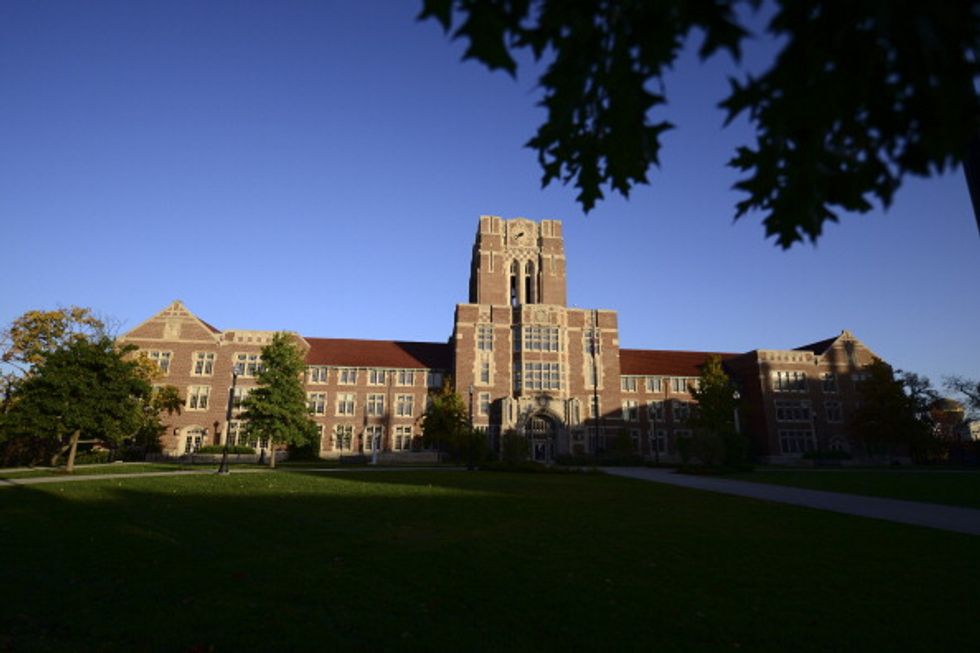 View of Ayres Hall on University of Tennessee campus. (Getty Images)
In light of the published guidelines, Tennessee State Rep. James Van Huss introduced legislation to defund the Office of  Diversity, saying that his constituents have repeatedly been alarmed over some of the things the office promotes. Van Huss first advised defunding the office over the summer when it published a guide urging employees to use gender-neutral pronouns such as, "ze, xe, xem, xyr, zirs and hirs," when addressing students.
"This in no way reflects the values of my constituents," Van Huss told TheBlaze in an interview Tuesday afternoon.
Van Huss said he was not opposed to having a diversity office on the UT system's campuses in general but referred to an earlier press release from his office that called for more oversight and less taxpayer money.
"We had been trying to draft something that would leave the office in place but bring more oversight. However, after this latest action, it is clear that this taxpayer-funded department in no way reflects the values of Tennesseans," he said in a press release provided to TheBlaze. "First, it was Sex Week, then the Gender Neutral Pronouns, now these recommendations to ensure 'holiday' parties have nothing to do with Christmas. What else has the Office of Diversity been doing with our tax dollars?"
The UT system allocates $5.5 million of its $2.1 billion budget to its diversity programs at all of its campuses — including in Knoxville, Chattanooga, Martin and Memphis.
State Rep.  Martin Daniel (R) echoed Van Huss' concerns for how the diversity office uses money to WBIR-TV. "While we respect freedom of speech, our constituents are telling us that they don't want their taxpayer and tuition money in this math," Daniel said.
The university's faculty senate scrambled to throw together an emergency session Tuesday in order to prevent the defunding — even in part — of its Office of Diversity. The organization, which announced its support Sunday of UTK Chancellor Jimmy Cheek amid calls for his resignation, is expected to consider two resolutions, according to WBIR. One resolution would allow UT to continue with its diversity efforts; the other would ask the Board of Trustees to resolve issues within the school system without allowing the state legislator to become involved.
"We should be allowed to do our job and use this process we've already got to resolve any disagreement about things like this," UTK Faculty Senate President Bruce MacLennan told WBIR.
MacLennan did not respond to requests for comment from TheBlaze.
"We are disappointed by this and believe that advancing and supporting diversity and inclusion throughout the UT system is important because it is needed, is the right thing to do, supports providing the proper learning environment, and better prepares our students to enter the workforce," UT President Joe DiPietro said in a statement to TheBlaze. "We hope to have an opportunity to discuss more about the value of diversity and inclusion efforts to the UT system and all of Tennessee higher education when the General Assembly returns in January."
As Van Huss' proposed legislation goes through the legal process,  Cheek announced in a statement Tuesday that, while he appreciated the support he has received from community members, he was "disappointed that the Office of Diversity and Inclusion did not effectively manage the materials posted on its website that have caused such needless distraction."  The Knoxville News Sentinel reported that Vice Chancellor for Diversity and Inclusion Rickey Hall, the author of the guidelines, "has been counseled" and the content published to the website will be now overseen by Vice Chancellor for Communications Margie Nichols.
State lawmakers intervened with the university's practices last year as the university was using students' programming fees to host a "Sex Week." Now, students must choose to "opt-in" if they wish for a portion of the money they pay each year to go toward programming.