McKay Coppins, a BuzzFeed reporter and the author of "The Wilderness," said he uncovered a "tragic" fracture between former Republican Sen. Ron Paul (Texas) and his son, GOP presidential hopeful and Kentucky Sen. Rand Paul.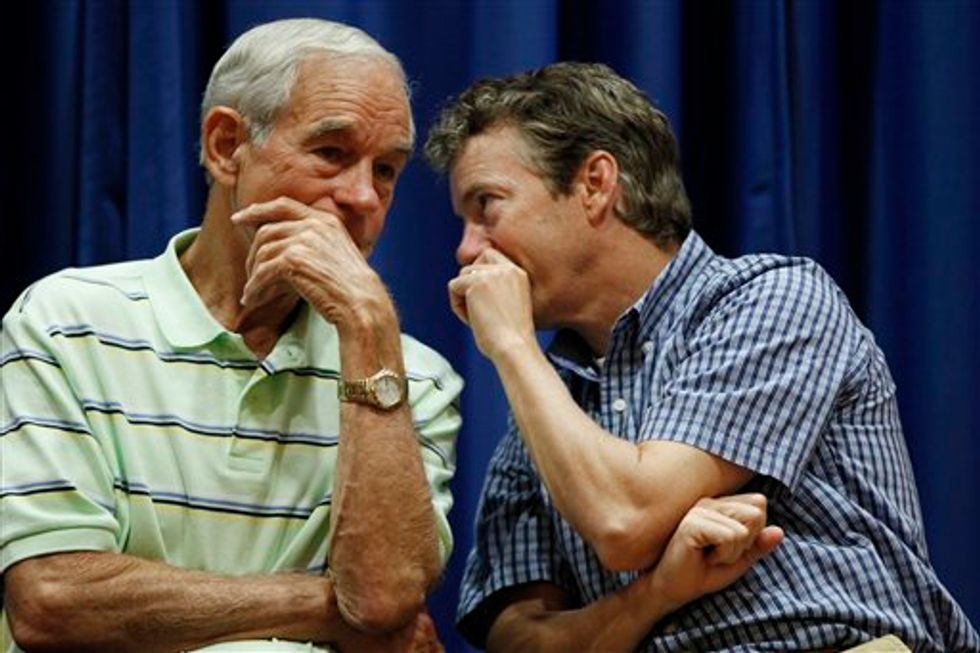 Ron Paul and Rand Paul on the 2012 campaign trail. (AP Photo/Charles Dharapak)
Coppins said Wednesday on The Glenn Beck Program that Ron Paul has never seemed fully on board with his son's political aspirations — from his senatorial run to his current 2016 bid for the GOP nomination. In fact, Coppins described Ron Paul's attitude toward his son as "antagonistic."
"Rand Paul was really excited to — he admires his father, admires the libertarian legacy of his father — go out there and expand [libertarianism]," Coppins said. "Rand's whole mission was to mainstream libertarianism and ... remake the Republican Party in the image of the libertarian agenda that he and his father have ... but Ron — at every single stage — was very antagonistic toward his son's political rise."
Coppins added that he was told Ron Paul in 2012 had decided not to run for president. Then, in order to pass the libertarian torch, much of the elder Paul's team moved their sights to Rand Paul, hoping the then-junior senator would launch a 2012 campaign.
"Rand is really into the idea — they start laying the groundwork, creating buzz — and then as soon as Ron sees that Rand is interested and that he's getting buzz, he actually calls up his advisors and says, 'Actually, I changed my mind, I do want to run,'" Coppins said.
According to Coppins, it was Ron Paul who "derailed" Rand Paul's 2012 campaign for president, characterizing the move as "remarkable."
Coppins told Stu Burguiere, who was filling in for Glenn Beck, that Ron Paul and other libertarian "purists" take "every opportunity they can to undermine" the 2016 presidential aspirant.
"They believe he is not pure enough in his libertarian beliefs," Coppins concluded.
Complimentary Clip From TheBlaze TV The full episode of The Glenn Beck Program, along with many other live-streaming shows and thousands of hours of on-demand content, is available on just about any digital device. Click here to watch every Glenn Beck episode from the past 30 days for just $1!
—
Follow Tré Goins-Phillips (@tregp) on Twitter