Liberty University President Jerry Falwell Jr. announced Wednesday that students will soon be able to conceal carry in their dorms, effectively eliminating the last of the school's "gun-free" zones.
The policy change, which Falwell says is aimed at better protecting the campus and its students, comes after 14 were killed by terrorists in San Bernardino last week.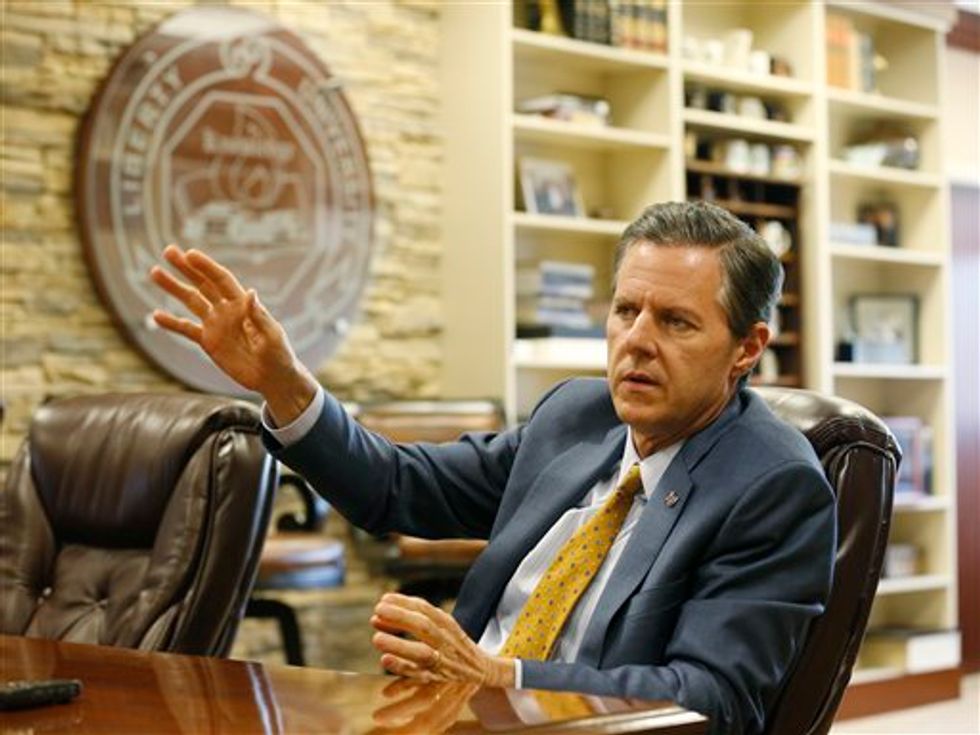 Jerry Falwell Jr., April 21, 2015. (AP Photo/Steve Helber)
Falwell sparked controversy last week after he called for students to defend themselves against terror attacks, should the need arise, during his address to the student body at the trice-weekly convocation assembly.
"I just want to take this opportunity to encourage all of you to get your permit — we offer a free course," Falwell remarked at the time. "Let's teach 'em a lesson if they ever show up here."
"It seems many of these terrorist attacks are carried out in gun-free zones," Falwell added in an email to TheBlaze. "The victims in Paris were like lambs going into the slaughter because they had no way to protect themselves or shoot back."
In 2013, Liberty amended their weapons policy to allow licensed students and faculty to carry on campus, in all areas except for residence halls.
In an interview with the Associated Press, Falwell revealed that the guns-in-dorms decision was in response to students who had requested it. And since Friday, he added, about 240 students had sought free gun-safety lessons offered by campus police required for a concealed-carry permit.
Falwell said that the proposal would have a limited impact because most students who are old enough to get a permit live off campus. In Virginia, 21 is the minimum age to get a concealed-carry permit.
About 950 people on the Liberty campus — students, faculty and staff — already have concealed-carry permits, Falwell said.
"I've never received more support or a more positive response from anything I have ever said in Convocation before," Falwell told TheBlaze last Friday.
The Associated Press contributed to this report.
—
Follow the author of this story on Twitter and Facebook:
[facebook //www.facebook.com/plugins/like.php?href=