Federal authorities are expected to indict the former neighbor of San Bernardino killers Syed Farook and Tashfeen Malik for purchasing two of the guns the shooters used in last week's massacre.
Enrique Marquez legally purchased the two AR-15 rifles the shooters used to murder 14 people and injure 21 others. He will likely be indicted after providing the federal authorities with information about Farook and Malik, according to Fox News.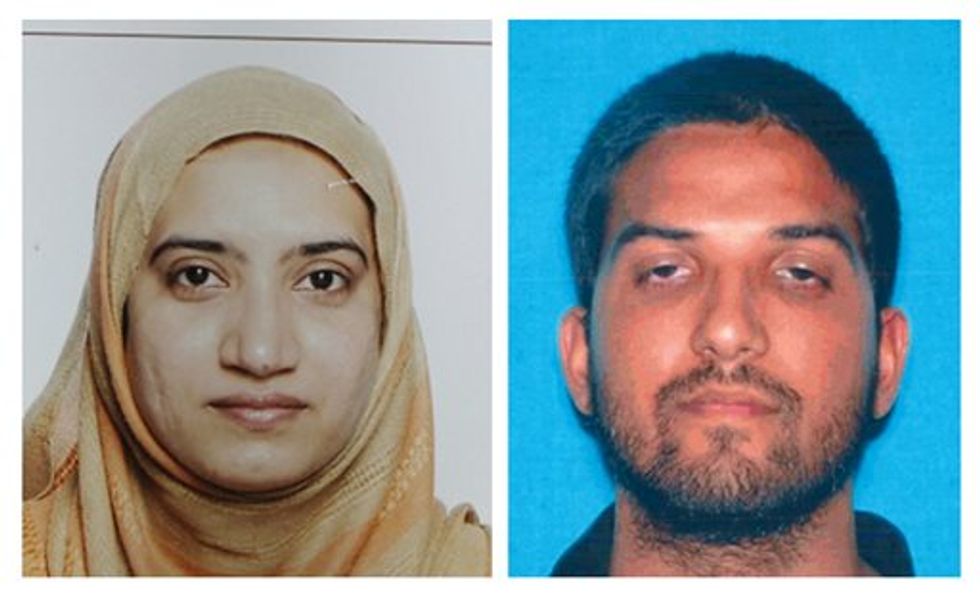 This undated combination of photos provided by the FBI, left, and the California Department of Motor Vehicles shows Tashfeen Malik, left, and Syed Farook. (FBI, left, and California Department of Motor Vehicles via AP) 
Officials investigating the California shooting believe Farook and Malik were planning an 2012 attack in the Los Angeles area, but ultimately decided against it. It is believed Marquez bought the rifles and gave or sold them to the killers for the originally planned attack.
According to Fox News, Marquez is the only suspect who is likely to be brought up on charges any time soon, but law enforcement officials are monitoring other subjects as well.
Federal authorities learned about Marquez when they raided his mother's home over the weekend. Days after, Marquez checked himself into a mental health facility, but his current whereabouts are unknown.
State records show that Marquez is related to Farook through marriage. He married Mariya Chernykh, the sister-in-law of Farook's older brother. However, Viviana Ramirez, a friend of Marquez, told the Los Angeles Times that Marquez rarely discussed his family or his marriage.
Marquez had either recently converted or was in the process of converting to Islam, according to friend Tommy Lopez. But the Islamic Society of Corona-Norco, where Marquez was allegedly married, said his attendance was spotty. Additionally, they denied hosting his wedding.
Azmi Hasan, the mosque's facilities manager, said he believed Marquez had converted to Islam, but insisted that he was not a member of the Islamic Society, and had only worshipped at the mosque three or four times in the last seven years.
Marquez had reportedly worked at Wal-Mart, but was recently fired. He voiced interest in joining the military, according to a student at Riverside Community College. Marquez's brother-in-law Raheel Farook is a Navy veteran who served from 2003 to 2007, earning several awards for his service.
The FBI informed Fox News that this investigation is one of the "most comprehensive" in recent history, adding that the bureau has conducted more than 300 interviews in the U.S. and has dispatched authorities to Europe for further investigation.
(H/T: Fox News)
—
Follow Tré Goins-Phillips (@tregp) on Twitter