The Israel Medical Association issued new guidelines instructing paramedics to treat to the most severely wounded patient at the scene of a terrorist attack, even if that person happens to be the assailant, Israel Hayom reported Wednesday.
One member of Knesset as well as several doctors expressed dismay at the group's decision, which altered the previous guidelines that instructed first responders to prioritize the wounded based on the severity of the injury and the principle of "charity begins at home," meaning that those attacked would receive priority treatment.
"This is an inhumane decision, which shows that those who made it simply don't live in reality," Member of Knesset and former Israeli Foreign Minister Avigdor Liberman posted on Facebook Wednesday.
"This is a decision that entirely lacks judgment, is confused, and a loss of any moral compass," Liberman added.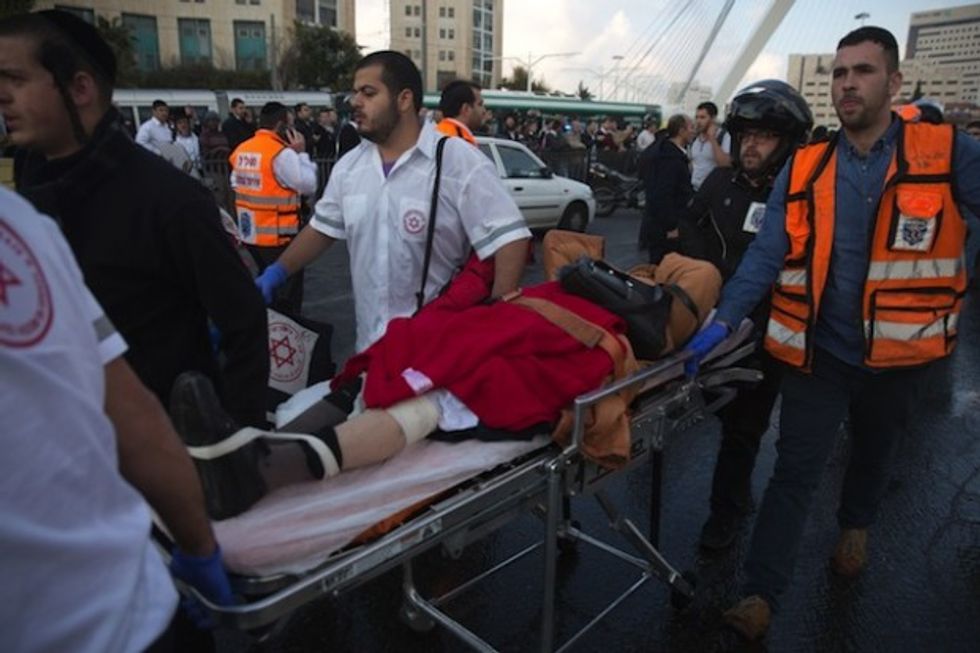 Members of Israeli Magen David Adom rescue service push in a stretcher a woman who was wounded when a Palestinian attacker drove a car into Israelis at a bus stop on Dec. 14 in Jerusalem. (Menahem Kahana/AFP/Getty Images)
Israel Medical Association ethics director Tammy Karni told Israel Hayom that doctors should not be forced to act as judges at the scene of an attack and determine who is the guilty party.
"Doctors are not judges. Leaving the directive as it is means doctors have to determine guilt and penalize the guilty party by withholding medical care," Karni said.
"It's very easy to make mistakes when dealing with a mass-casualty event, and a doctor at the scene cannot be expected to pinpoint victims' identity — he has to focus on saving as many lives as possible," Karni said.
Israel Hayom reported that the guideline was revised following a petition to the Israel Medial Association's ethics committee by Physicians for Human Rights, which protested that the "charity begins at home" principle violated medical ethical standards.
The author of the Israel Defense Force's ethics code called the decision "absurd" and argued the scene of a terrorist attack should be viewed like a battlefield.
"Say you have two people seriously wounded, the terrorist and a victim. The terrorist's wounds are slightly more serious than the victim's. Would you treat the terrorist before the victim? That's unthinkable," Professor Asa Kasher said.
"What are we supposed to tell a victim's family if he dies because we treated the terrorist first? That we're sorry but we had no choice but to treat the terrorist first? That's absurd," Kasher added.
Israel has faced a wave of nearly daily stabbing and car-ramming attacks by Palestinian assailants since September, making the debate over triaging the wounded a highly relevant topic for debate.