After recalling a "sexist" exchange he saw while traveling through the Middle East, Glenn Beck asked a very pointed question Thursday during his self-titled radio broadcast: "Where are the feminists?"
The radio host's question — which was seemingly aimed toward the progressive left — challenges the way in which he believes "feminists" have addressed sexism within Islamic, Middle Eastern culture.
"When I was in Abu Dhabi a couple of weeks ago, I saw firsthand — I couldn't believe it. I've never seen anything so sexist in my life. These guys were arguing at the security about us," Beck said, recounting the exchange he witnessed in the United Arab Emirates. "The woman who was with us, she was a woman from Abu Dhabi. And she was working for the airline. And she walked up and started to approach them and say, 'Guys, this is ridiculous, they're all together.'"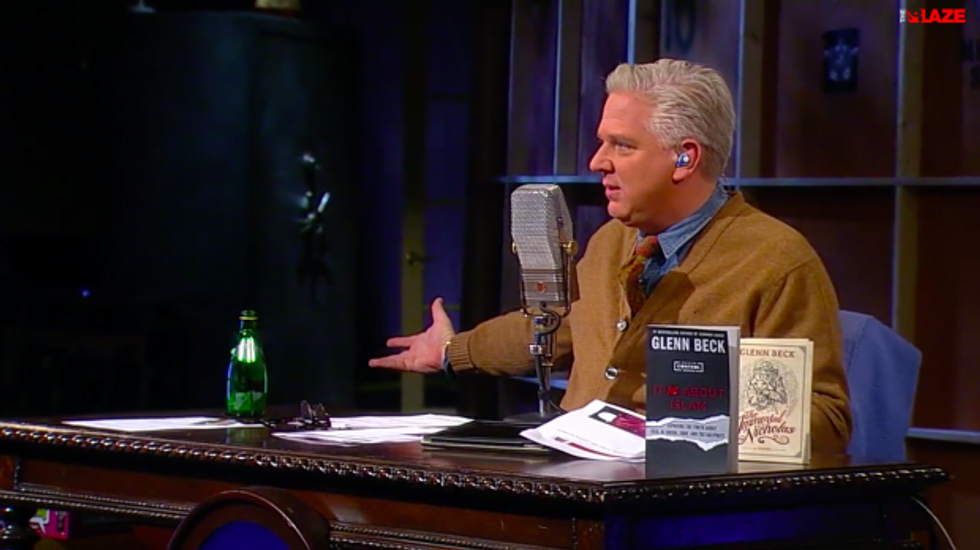 Glenn Beck discusses his trip to the Middle East during his radio broadcast Thursday, Dec. 17. (Image source: TheBlaze TV)
According to Beck, the 11 men she approached immediately turned to her and told her to "get away." Beck said she had to call a man to come and speak with them.
"It was the most incredible and humiliating thing I've ever seen for a woman. And, yeah, nobody seems to care. I mean, where are the feminists on this?" Beck asked.
Beck says feminists are not standing up to the "real" problems, explaining his view with an analogy based on a Swedish altercation he recently learned about.
"When I was in Sweden, I found some amazing things. It started by just accommodating the feminists. They have a shield. ... It's like an angel behind with a sword and then this giant shield and two lions.  And these lions are male lions.  The feminists actually petitioned to have their maleness chiseled off," Beck said.
The situation Beck seemed to be referring is a story from 2008 when the Swedish military removed the penis from the lion depicted in one of its military crests after several female military personnel in the Nordic Battlegroup voiced opposition to the seal.
The crest was eventually altered to remove the genitalia in the interests of gender equality, Swedish news outlet The Local reported.
"And so all of these old buildings that have the shield — they actually went up with a chisel and chiseled off their maleness because the feminists said that they looked too much to the ready that they were affected by it," Beck said of the situation.
"But who is standing up against the real lions?" Beck continued. "Who is standing up against the people who are actually raping women? Nobody."
Complimentary Clip from TheBlaze TV The full episode of The Glenn Beck Program, along with many other live-streaming shows and thousands of hours of on-demand content, is available on just about any digital device. Click here to watch every Glenn Beck episode from the past 30 days for just $1!
—
Follow Tré Goins-Phillips (@tregp) on Twitter